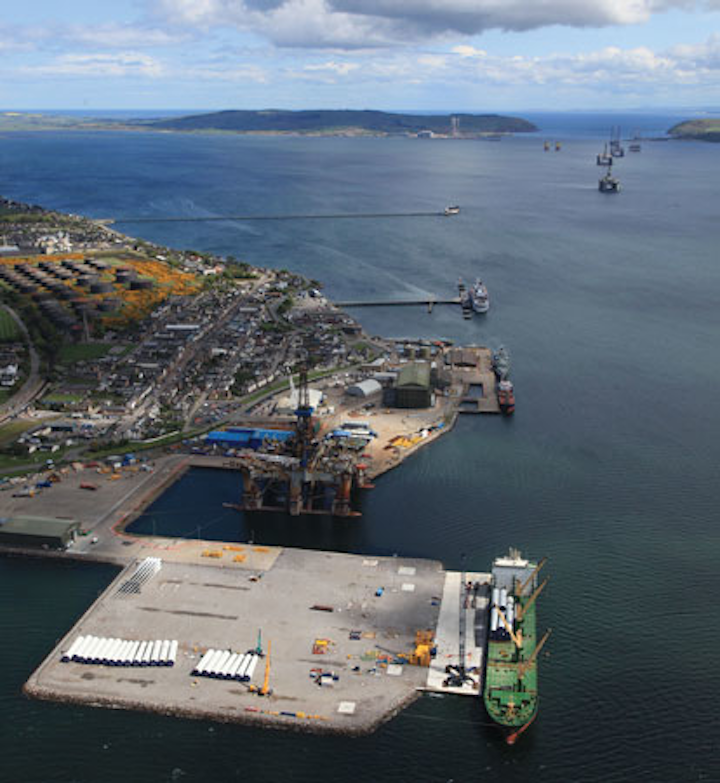 Joanne Allday •Zeina Sawaya-Melville
Port of Cromarty Firth
A new berth and yard for decommissioning North Sea oil and gas structures has opened at the Port of Cromarty Firth (PoCF) in northeast Scotland, positioning the port as one of the principal decommissioning facilities in the UK. The sheltered, deepwater facility can accommodate the largest offshore decommissioning projects, supported by a strong local supply chain. In addition, PoCF recently became Scotland's first port to apply to operate under the most up to date environmental regulations (Pollution Prevention Control and Radioactive Substances Act) for the permits needed to provide decommissioning services. It expects to secure these permits by the fall.
The Cromarty Firth is ideally located to accept oil and gas assets from the central and northern North Sea. It is naturally sheltered and accessible throughout the year, with a wide and deep channel (ranging from 15-50 m (49-164 ft)), an easily navigated entrance, and no tidal restraints. It is one of Europe's leading locations for offshore rig inspection, repair and maintenance and subsea construction vessel-related projects, and can handle decommissioning projects ranging from large subsea structures to topsides pieces small to large, including single lift.
The recent £25-million ($32.3-million) development added a 154-m (505-ft) long quay capable of accommodating over 11,000 metric tons (12,125 tons), with a laydown space of 45,000 sq m (484,376 sq ft) and a minimum water depth alongside of 12-13.5 m (39-44 ft). So the port now has three dedicated deepwater decommissioning berths (Berths 5, 4 and Queens Dock) at its Invergordon Service Base, able to take in vessels up to 300 m (984 ft) long, with total laydown space of 80,000 sq m (861,113 sq ft).
Decommissioning started at the port in the 1980s. The semisubmersible drilling rigsPentagon 84and West Venturewere dismantled on site during the '80s and the following decade. More recently, two subsea manifolds, a Voith Hydro Demonstrator and a 190-metric ton (209-ton) OPT Demonstrator were all decommissioned. In 2012, the Pollution Prevention Control (PPC) regulations were updated. To ensure compliance with the latest environmental standards, PoCF lodged two applications to perform decommissioning activities with the Scottish Environment Protection Agency (SEPA) in May.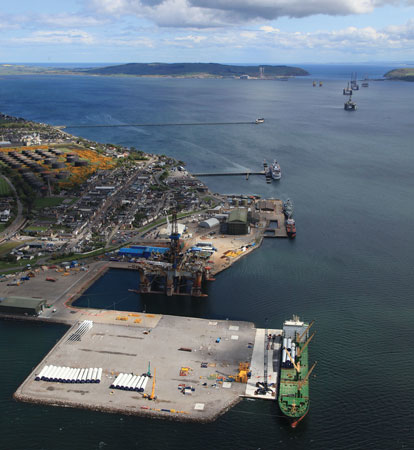 Aerial view of Port of Cromarty Firth. (Photo courtesy Port of Cromarty Firth)">
Aerial view of Port of Cromarty Firth. (Photo courtesy Port of Cromarty Firth)
Over the next 10 years, decommissioning expenditure across the UK continental shelf is estimated at £17.6 billion ($22.7 billion), with onshore recycling and disposal accounting for 1-2% of this sum. Operators are looking for ports capable of a quick project turnaround and the ability to de-risk onshore decommissioning activities. North Sea oil and gas accounts for 70% of PoCF's business, and the port recognizes the importance to operators of de-risking activities and carrying them out safely and quickly.
Companies already operating at the port include lifting solution providers ALE, James Jack Lifting Services, Mammoet, Osprey HeavyLift, Port of Cromarty Firth Services and Weldex. John Lawrie Group and Highland Waste Services provide dismantling and recycling expertise, while waste management companies established at the port and certified to handle hazardous waste and NORM include MSIS and NRC (formerly Sureclean). In addition, the port hosts engineering and support companies such as Semco Maritime, Rigmar Group and Port of Cromarty Firth Services. These organizations offer services that include project management, engineering and design, risk management and feasibility studies. The port is also in alliances with various decommissioning specialists.
PoCF oversees decommissioning work performed by companies at its Invergordon Service Base. It operates under a quality management system, with ISO 9001 accreditation; the International Ship and Port Facility Security (ISPS) Code; and in compliance with all Port Marine Safety Code regulations. In addition, it has approved waste management and oil spill contingency plans in place.
The port has a statutory responsibility to protect the environment of the Cromarty Firth. It employs a full-time environmental advisor and operates tightly regulated procedures to minimize the impact of industrial activity on the Firth's unique ecosystem. The aim for decommissioning is to achieve the highest level (98%) of recovery, reuse or recycling of materials.