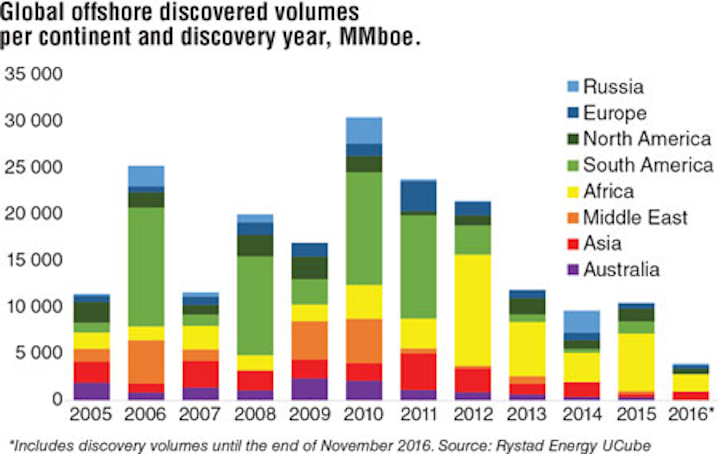 Higher potential yields remain attractive
Espen Erlingsen
Rystad Energy
As E&P companies finalize the 2017 investments budgets, the oil price continues to trade around $50/bbl. At the same time, exploration results over the last four years have been disappointing. The question then becomes, how can companies maximize the value from exploration?
In 2016, a total of ~4 Bboe was discovered, out of which 1.6 Bboe was liquid and 2.4 Bboe was gas. The largest discovery was the Kosmos Energy-operated Teranga/Ahmeyim gas discovery in Senegal. Combined, this discovery is expected to deliver ~1 Bboe of production. There were also two major discoveries in Angola, where Sonangol discovered both Zalophus and Golfinho. These discoveries make Africa the continent with the largest discovery in 2016. In fact, Africa has been the largest continent for discoveries since 2012. The exploration success in East Africa and Egypt are the main drivers for this. In addition to Africa, South America has been a continent with high exploration success. Here, Petrobras and other companies have opened up a new frontier by targeting subsalt prospects in Brazil.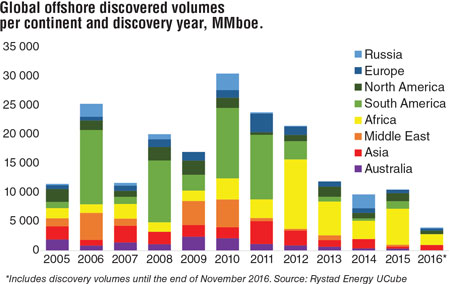 The 2016 exploration adds to the trend we have observed over the last four years, where discovered volumes are decreasing. As a benchmark, total offshore production in 2016 was ~16 Bboe, which means that the resource replacement ratio in in 2016 was only 25%.
From 2005 to 2014, the yearly investment related to offshore exploration increased from $25 billion to $71 billion. This increase in investment is from a combination of higher activity as well as inflation. In 2005, the average cost per exploration well was $34 million; by 2010 it increased to $75 million; and again to $95 million by 2014. Since 2014, investments have fallen sharply and are expected to be $35 billion in 2016. This represents a 50% drop over two years. The change is a combination of activity and lower unit prices. In terms of exploration wells, the offshore exploration well count has fallen from ~730 wells in 2014 to ~490 in 2016. At the same time, the average cost per well has fallen to $70 million.
The rising unit costs and the lower exploration performances have resulted in lower profitability for exploration. From 2008-2012, the average discovery cost was $2.5 /boe, this value surpassed $7/boe in 2014. The reduction in unit costs improved this metric in 2015, but the disappointing exploration results in 2016 have caused this metric to increase again to almost $9/boe globally.
In terms of average offshore discovery cost/boe for different water depths, deepwater exploration was the most successful from 2013-2015. The main reason is that deepwater is the least mature of the three groups and the drilling prospects are larger. So while deepwater exploration is more expensive per well and has a higher risk, it is paying off. This means that for companies willing to take a risk of drilling on new frontiers, there could still be large potential from exploration. This also shows that drilling in the more shallow water is not very commercial. Companies are often doing this to add additional volumes close to existing infrastructure; on average, this activity has been less successful than the deepwater frontier drilling.
The disappointing exploration results we have observed over the last couple of years are important to reflect on. If exploration should be commercial in a time with a low oil price, the trend needs to be turned. Based on experiences, frontier exploration has proven successful and may be one way to turn around the current trend.