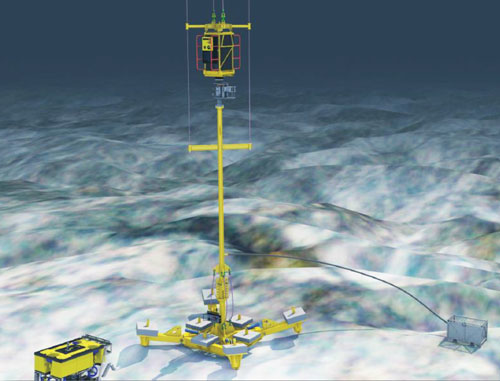 Technique proven during shallow gas investigations
Jeremy Beckman
Editor, Europe
A riserless coil tubing (CT) technique applied in open water could lower the cost of subsea well interventions. Developer Island Offshore (Island) has proven the system during two campaigns offshore Norway, one involving a test for shallow gas. The company is currently working to extend applications to various types of intervention, including P&A operations, following interest from various North Sea operators.
The equipment spread has so far been deployed from two of the company's monohull light well intervention vessels. There is no requirement for a rigid workover riser: instead, the coil tubing is kept in tension between the vessel and the system's subsea injector via a second injector onboard the vessel. Pressurized drilling fluid pumped into the coil tubing drives the mud motor, causing the bit to rotate. The ROV-operated subsea injector pushes the coil tubing into the well forming weight on bit, and pulls the coil tubing out once drilling has been completed.
Island Offshore started work on conceptual engineering in 2006. "We were already considering whether we could perform intervention with coil tubing from our Light Well Intervention [LWI] vessels," said Per Buset, Manager for Top Hole Drilling and P&A Activities. "Initially during 2006-09 we looked into the possibility of running the coil tubing through a rigid riser from one of our LWI vessels. We determined what modifications we would have to make to our vessels, but the price estimates for implementing the equipment were too high to take development further, unless someone could come up with large numbers of wells for intervention.
"We then decided to work on a less costly solution, a riserless coil tubing system, and by the end of 2013 we had proven that this concept was do-able and our analysis showed that the coil would survive in open water, even if the vessel were moving. However, if you are developing new technology, you also need standards in place to qualify your system before you present it to the authorities. We therefore invited DNV to join our R&D team and they followed up with the necessary risk assessments from mid-2011 into 2012. The R&D team had also defined and engineered the solution for a control system and the necessary modifications in order to marinize a coil tubing injector-head for subsea operations."
Offshore 'test' case
The next step was to find an oil company willing to trial the technique in a live offshore well. As is so often the case, none wanted to be the first, Buset said. However, Statens Vegvesen (the Norwegian Public Roads Administration) agreed to apply the system for obtaining core samples in a fjord off southwest Norway for use in assessing geological conditions at the planned location for a subsea road tunnel. Late in 2014 riserless CT operations started from theIsland Performer, with a total of 450 m (1,476 ft) of well drilled and 150 m (492 ft) of core samples taken from three offshore locations. "We took a price risk on this project," Buset said, "because if the subsea injector failed, no other unit was available as a back-up." But the four-week operation was successful, confirming the system's efficiency and its suitability for offshore oil and gas wells, with the rough sea conditions out in the fjord similar to those encountered in the North Sea.
"During the program in the fjord we invited various oil industry clients onboard the vessel to witness operations first-hand," Buset explained. "One was Centrica: they had a potential challenge with shallow gas at their Oda [ex-Butch] development in the southern Norwegian North Sea. They had decided to drill three development wells using a subsea template, with a jackup for the two producers, one water injector and subsea completions. But they would have to install the template one summer and come back at a later date with the drilling rig. If they then discovered shallow gas, as was possible in this area, it would have been a major setback to the program.
"Centrica evaluated using a semisubmersible to drill a pilot hole, but with a water depth of 66 m [216 ft], this would have been challenging. Therefore, they looked for alternative solutions like using Island Offshore's coil tubing system. Rig rates at that point were also higher, and even at today's rates such an operation would have been expensive. Centrica is a company that is prepared to try new things, and their team agreed to our lower-capex, less manpower-intensive proposal using one of our intervention vessels."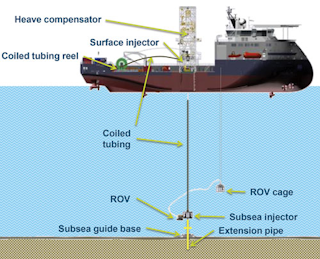 Equipment spread for the Oda pilot well. (All images courtesy Island Offshore)
Prior to spudding the pilot hole in summer 2015, Island Offshore undertook intensive training of the drillfloor crew of the chosen vesselIsland Constructor. "We also devised scenarios with Baker Hughes, which had supplied the relatively standard coil tubing spread, but more importantly, we trained the crew on how to react if shallow gas appeared. We performed full-scale tests of the equipment at the quayside in Tananger, outside Stavanger, including the emergency shutdown system and a full pressure test of the various systems. And we had representatives of Norway's Petroleum Safety Authority onboard the vessel during the mobilization to check that everything was in compliance with legislation."
Aside from the CT spread, the main equipment comprised the customized subsea coil tubing injector, incorporating slight modifications to the injector-head, and a subsea guidebase system that Island Offshore had developed for landing the equipment on the seafloor.
"During this campaign we implemented specialized drilling procedures which allowed the unconsolidated sand and shale formations encountered to be drilled safely and without any major issues," Buset said, with offshore operations completed within four days, and no evidence of shallow gas. "The forecast had anticipated seven days on location, so Centrica ended up saving big money on reduced days of operation. They calculated that the overall saving, compared to bringing in a drilling rig for the task, was in the order of near 50%."
The trajectory of the riserless CT deployment in open water means that the LWI vessel can allow more horizontal offset from the well location during operations than a drilling rig. "Another important aspect is that a rig will need far more time than a vessel to move away should a well-control situation occur," Buset explained. "In addition, the coil tubing's flexibility makes the vessel able to keep pumping mud down the well to hold back or stop a potential shallow gas influx, while moving the vessel off to a secure area if there is too much gas in the water. Should one come across gas and the well needs to be cemented back, it will prove costly to move the rig to a new location for a possible new pilot hole, in terms of anchorhandling and other ancillary costs.
"Crew safety is another consideration. During coil tubing operations on drilling rigs there is also a risk of injuries to personnel while working on compensated equipment inside the derrick in a riding belt. Personnel on our vessels using the riserless CT method, however, are not working on compensated equipment, using a riding belt, or working under a suspended load. The risk to crew members associated with running and pulling a rigid workover riser is not an issue, and for the same reason time spent normally running and pulling the riser is eliminated."
Lessons learned
Following the initial campaign for the road tunnel, Island Offshore drew up a list of potential improvements and learnings arising from this operation. "Before we went out to do the Centrica job we had identified and closed almost 100 points that we addressed," Buset said, "and after the Oda pilot hole we highlighted 25-30 more areas for improvement, although nothing major, as all aspects of the equipment had behaved as expected.
"We have since held discussions with other operators about using the technique to investigate shallow gas in the North Sea, the most susceptible areas being the Utsira High region and fields such as Gyda, Ula, and Frigg. Operators using rigs in this region to drill pilot holes may find shallow gas at subsurface depths of around 400 m [1,312 ft]: this means the drilling rig will have to set the 20-in. casing higher than the ideal setting in this area."
Aside from shallow gas, the company has also discussed adaptation of the riserless CT method with operators in the UK and Norwegian North Sea for intervention in subsea wells to address issues such as removal of scale, sand or wax, nitrogen lifts, and milling of nipples.
Subsea intervention is currently performed typically from light well intervention vessels, with wireline through a subsea lubricator. "Obviously wireline has its limitations compared to coil tubing," Buset said. "With coil tubing it is possible to apply much more hydraulic power downhole by pumping, and the capability to circulate and clean the well is in general miles ahead of what is achievable with wireline."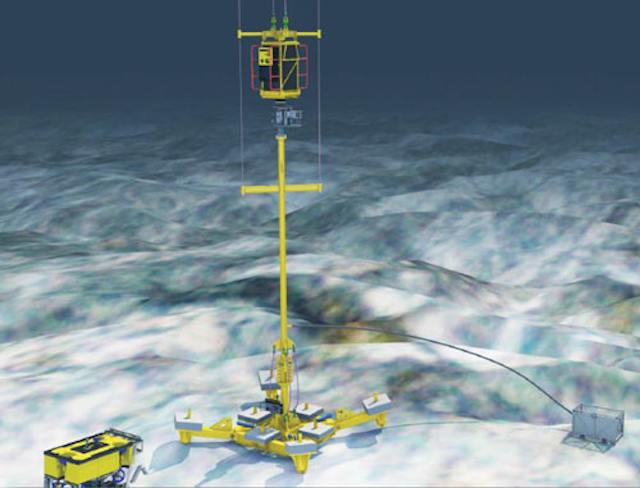 Island Offshore completed Oda's pilot well three days ahead of schedule.
Although Baker Hughes supplied the coil tubing spread for both initial jobs, Island Offshore has since engaged Halliburton to provide and further develop this equipment as the riserless CT system progresses. "For the subsea injector we went to Hydra Rig in Fort Worth, which is owned by NOV," Buset said. "They produce coil tubing power packs and injector heads: following a few days discussing with them what we were looking for, we ordered a standard CT injector head, but with a few modifications to be ready to go subsea.
"When Hydra Rig builds injector heads, they are encased within a hollow, steel pipe framework. We asked them to drill holes in the steel pipes so that seawater can go in and out of the cavities, with no risk of air becoming compressed, which might lead to collapse of the steel structures subsea. We ourselves designed the guide base including a 16-m (52-ft) long lubricator-pipe, providing a 'false hole' below the subsea injector for the initial bottom hole assembly. Island Offshore also co-operated for a long time with a software company in developing the control system for the subsea injector, and in design and manufacturing of the ROV interfaces.
"Currently the final process is under way for engineering of the stripper element that will be incorporated between the subsea injector and subsea lubricator in order to hold back pressure from the well. It will take a few more months to complete this development and it will then need to be qualified for offshore use. Most likely it will be ready for a subsea intervention application in 2018." The riserless CT equipment spread can be deployed from any of the company's LWI vessels, Buset added. It takes four to five days to rig up a complete CT package with all associated equipment.
Even though manning and mobilization costs are lower for smaller size well intervention vessels, compared with a drilling rig, deploying this system for one single pilot hole or well intervention job would still be relatively costly. It would be more economic, he claimed, to apply it for a multiple well intervention campaign in the same region, possibly co-funded by several operators.
Throughout the North Sea area, the large number of fields approaching decommissioning will increase demand for P&A services, and this is another potential area of interest for the CT riserless system. "If we can go into live subsea production wells with CT, we could use the technique, for instance, to set deep cement plugs," Buset said. "And in future, with new and improved downhole coil tubing tools entering the market, we will be able to do much more P&A work with coil tubing. The goal is to perform a full P&A on subsea-completed wells from LWI vessel in the future. With close to 8,000 subsea-completed wells worldwide. We foresee a huge potential for this type of service in years to come."