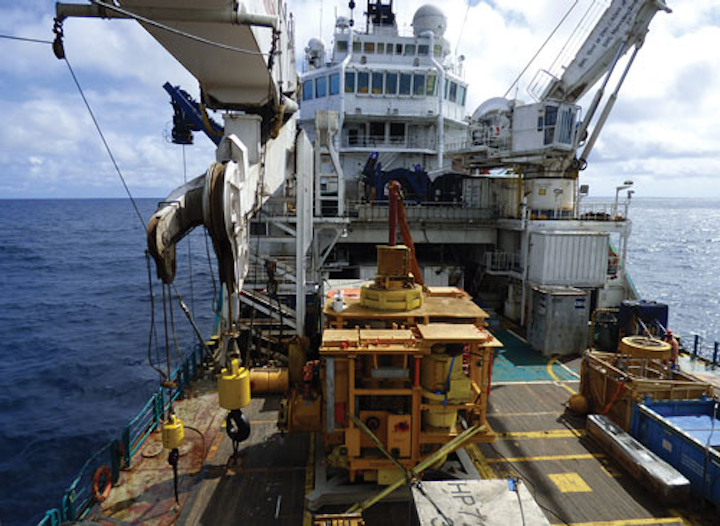 Bourbon is adapting one of its multipurpose platform supply vessels (MPSVs) for a pipelay program due to start in May offshore Gabon. This is a first for the company's subsea division which has previously laid subsea cables, but more typically undertakes tasks such as subsea tree and jumper installation and retrieval, intervention and stimulation.
Under the EPCI program awarded by Total, the company will mobilize one of its Bourbon Evolution 800 MPSVs to install a 25-km (15.5-mi), 6-in. rigid water injection pipeline between two platforms at the shallow-water Hylia field offshore Gabon. Bourbon in turn has subcontracted Cortez Subsea to provide the pipelay equipment, which involves use of NOV's patented weld-free Zap-Lok technology, and Wood Group for the pipeline design and pipelay engineering.
Offshore pipeline sections are normally welded together onboard large specialist pipelay vessels. With Zap-Lok, a process commonly applied to onshore pipelines in the US, the pipes are connected via a hydraulically-operated procedure that is said to be faster and less costly to implement as it dispenses with the need for specialist welders. The system relies on a mechanical interference connection between a cold-expanded 'bell-end' and an opposing, larger pin-end. The strength of the process is said to derive from the metal-to-metal friction generated as the two ends are hydraulically pressed together and highly compressive forces are transferred from the bell-end to the pin-end, holding it permanently in place
According to NOV, by eliminating the welding requirements of exposed bare steel and high heat, the resultant connections also allow for a continuous external coating layer free from a heat-affected weld zone. And without the heat of welding, internal coatings can be applied with no risk of damage to the connection area. Each length of pipe is constructed to deliver a fully continuous coating layer by creating an overlapping, dual-layered coating section.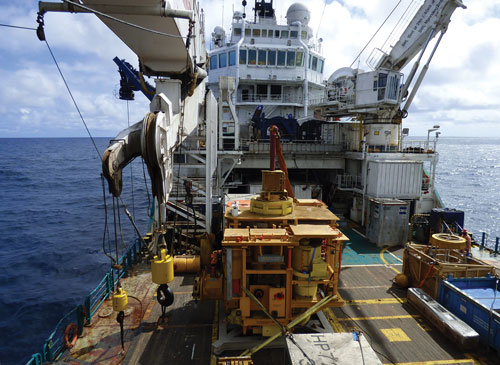 Bourbon BE802. ">
View from the deck of theBourbon BE802.
"Cortez teamed up with NOV to propose Zap-Lok and the pipelay spread," said Patrick Belenfant, Bourbon's Senior VP, Subsea Services, "and they devised the resultant set-up." Bourbon convinced Total that the process could be adapted to work on one of its vessels with only three connecting stations onboard as opposed to the much larger, conventional welded and field jointing spread. Total was looking to test its first offshore application on a small-diameter water injection pipeline, he added. Installation will be performed via the S-lay method, with a 20-m (65.6-ft) stinger fitted to the 100-m (328-ft) long vessel's stern which was reinforced when it was originally constructed in anticipation of such tasks. The vessel, equipped with the purpose-built spread, including pipe racks, ramps and tensioners, should take five to seven days to mobilize to the offshore location and will transit with the stinger up.
Another Bourbon PSV, theBourbon Jade, will install the crossings and the associated 20-25 m (65.6-82-ft) pipeline spool and the 2.7-m (8.9-ft) vertical riser – Bourbon/Cortez have subcontracted the welding qualification for this task and the pipeline flanges. The same vessel will support ROV survey and air diving operations. Following completion of the installations, Bourbon will also undertake pre-commissioning of the pipeline, including pigging and pressure tests, by mid-June.
"We are interested in replicating this arrangement for other pipelay jobs," Belenfant said. "One advantage of the 800 series is the deck space, which allows the vessels to accommodate a full pipeline length of up to 27 km [16.8 mi], rather than having to return to shore for re-loading. We could also lay flexible pipes as the vessels can support 2,000-metric ton [2,204-ton] reels, but this would have to be for shallow, not deepwater jobs – the vessels are not designed to accommodate a 350-metric ton [86-ton] J-lay tower."
The Bourbon Evolution 800 series feature 1,200 sq m (12,916 sq ft) of deck space and two active heave compensation cranes with respective lifting capacities of 150 and 40 metric tons (165 and 44 tons) – the former suited to subsea deployments in water depths down to 3,000 m (9,842 ft) – and one or two ROVs.
Earlier this year theBourbon Evolution 802undertook installation of four wellheads for Total's deepwater Egina project offshore Nigeria. Last summer, the same vessel performed an acid treatment operation on another Total well for stimulation purposes, with a pump, tanks and chemicals supplied by Schlumberger and an injection pipe provided by Bourbon – OneSubsea was responsible for the wellhead interface. Using the vessel's crane, the running tool was lowered onto the wellhead and the pipe subsequently attached to the running tool via the Bourbon-supplied connection system. Following testing of the valves and wellheads to check for leaks, the chemicals – which had been prepared onboard the vessel – were injected. The pumping operation took eight hours to complete: the chemicals were then retrieved and the equipment brought back to surface piece by piece, after which production was able to resume.