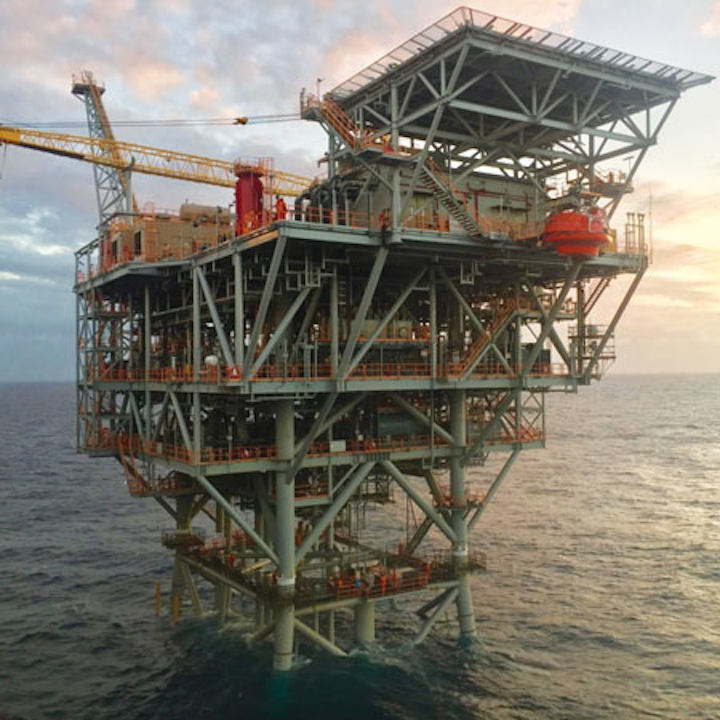 ExxonMobil to fasttrack Liza offshore Guyana
Jessica Tippee
Assistant Editor
As the industry recovers from the downturn, operators are advancing exploration, development, and production projects across Latin America, especially frontier areas.
Development of the giant deepwater Liza field offshore Guyana got under way late last year. In November, ExxonMobil informed the Guyanese government of its intent to fasttrack the Liza discovery on the 6.6-million acre (26,800-sq km) Stabroek block. The company and project partners Nexen Energy and Hess Corp. officially gave Minister of Natural Resources Raphael Trotman notice of the discovery's commercial quantities. Under the country's Petroleum Act, the ministry must be notified by letter, and Trotman noted that it was the first time in Guyana's 50-year history that the Section 31 of the Petroleum Act has been "activated."
"This is a profound and watershed moment in the development of our country," he said.
In early December, ExxonMobil submitted to the Guyana Ministry of Natural Resources an application for a production license and its initial development plan for the Liza field that includes development drilling, operation of the FPSO, and subsea, umbilical, riser, and flowline systems. Later that month ExxonMobil subsidiary Esso Exploration and Production Guyana Ltd. (EEPGL) awarded SBM Offshore a front-end engineering and design contract for the FPSO. In addition, subject to a final investment decision in 2017, SBM will receive the contract to construct, install, and operate the vessel. ExxonMobil aims to start production from Phase 1 in 2020, less than five years after the initial discovery well.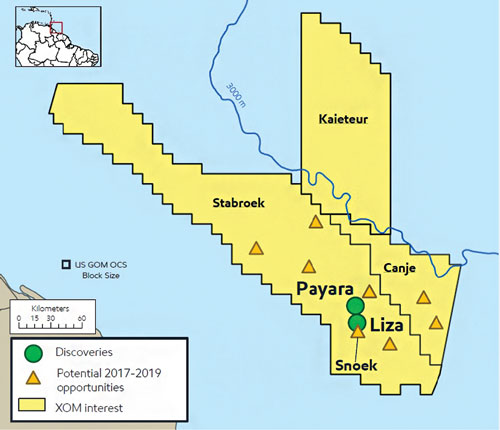 Discoveries and exploration prospects offshore Guyana. (Courtesy ExxonMobil)
Discovered in May 2015 about 120 mi (193 km) offshore, the Liza field has a potential recoverable resource estimate in excess of 1 Bboe. EEPGL is the operator and holds 45% interest in the Stabroek block. Hess Guyana Exploration Ltd. holds 30% interest, and CNOOC Nexen Petroleum Guyana Ltd. holds 25% interest.
At the beginning of the year, ExxonMobil discovered another deepwater oil field in the Stabroek block, according to partner Hess. The drillshipStena Carron drilled the Payara-1 well roughly 10 mi (16 km) northwest of the Liza discovery, encountering more than 95 ft (29 m) of good-quality, oil-bearing sandstone reservoirs. Drilling started on Nov. 12, 2016, with a TD of 18,080 ft (5,512 m) in 6,660 ft (2,030 m) of water, followed by two side tracks. The partners plan a production test to evaluate the find and further appraisal drilling later this year.
Hess added that the Liza-3 appraisal well, completed in November, identified another good-quality, deeper reservoir directly below the Liza field that is estimated to contain 100-150 MMboe. This resource will likely be part of the full Liza field development.
Elsewhere off Guyana, Eco Atlantic Oil & Gas and operator Tullow Oil have completed a detailed review of regional 2D seismic data over the shallow-water 695-sq mi (1,800-sq km) Orinduik block. This has established significant leads in the Block Canyon Play fairways. The partners now plan a more extensive 3D seismic survey than originally anticipated, likely to be acquired during June-July. This should improve understanding of the potential drilling targets.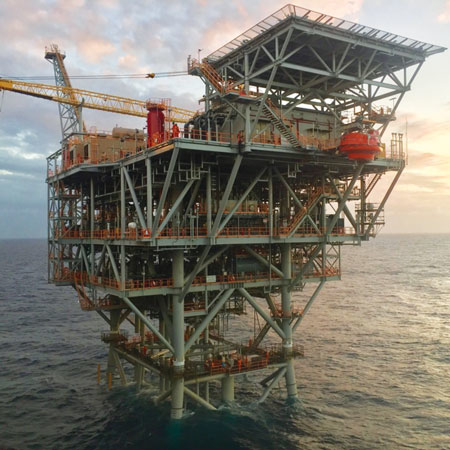 The Juniper platform is installed in 360 ft (110 m) of water, 50 mi (80 km) offshore southeast Trinidad. (Courtesy BP)
In addition, Tullow Oil is assessing potential in frontier basins across Latin America. Off Suriname, the company is in a license that contains the potentially high-impact Araku prospect, which the partners are looking to drill during the second half of 2017. Araku is a large structural trap with a resource potential of more than 500 MMbbl, which has been de-risked by a 3D seismic survey shot in 2015 that identified geophysical characteristics consistent with potential oil or gas effects in the target reservoirs. A 965-sq mi (2,500-sq km) 3D seismic survey is under way over block 15 in the Pelotas basin offshore Uruguay. Offshore Jamaica, following the completion of a drop core and seep study in the Walton Morant blocks that identified a live oil seep, the company will acquire a further 422 mi (680 km) of 2D seismic data before determining whether to follow up with a 3D survey.
Offshore Colombia, Anadarko Petroleum Corp. discovered gas with the Purple Angel-1 exploration well in the Caribbean deepwater, located less than 3 mi (5 km) from 2015's Kronos-1 discovery. According to partner Ecopetrol S.A., the Kronos field is now estimated to have a gas column of at least 1,706 ft (520 m). Anadarko also operates offshore blocks COL1, COL2, COL6, and COL7 where it has identified numerous prospects from the 11,583-sq mi (30,000-sq km) Esmeralda 3D seismic survey. The company is preparing to evaluate drilling locations for possible wells during 2018.
Off the Falkland Islands, operator Premier Oil continues to work with its four main contractors and prospective well services and logistics providers to optimize facilities design for the proposed Sea Lion oil field development in the offshore North Falkland basin. Recent achievements include optimization of the single drill center subsea layout to lower installation costs. As a result of this work, the company has downgraded its pre-first oil capex estimate from $1.8 billion to $1.5 billion. Field support services costs are also decreasing, including supply boats, helicopters, and shuttle tankers. As a result, field operating costs for Sea Lion are now estimated at $15/bbl, down from more than $20/bbl previously, while the total project breakeven cost has dipped below $45/bbl (against an earlier estimate of $55/bbl).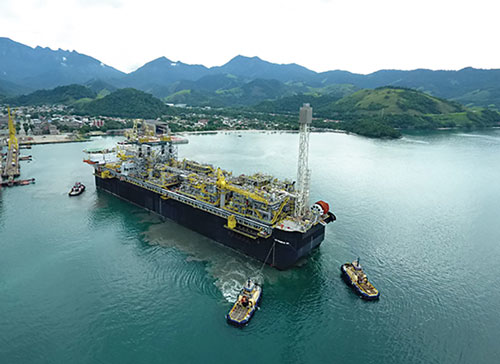 P-66 will be deployed in the Lula Sul field in the deepwater Santos basin. (Courtesy Petrobras)">
The FPSOP-66 will be deployed in the Lula Sul field in the deepwater Santos basin. (Courtesy Petrobras)
Premier has put together bid packages for the drilling and subsea production systems and various logistics items, which it plans to issue to the market when appropriate in order to enter into binding agreements. Its overall strategy remains a phased development of its North Falklands basin discoveries, starting with Sea Lion Phase 1 which will recover 220 MMbbl from license PL032. The subsequent Phase 2 development will recover a further 300 MMbbl from the remaining reserves in the license and satellite accumulations in the north of the adjacent PL004. A further 250 MMbbl could be attained from low-risk, near-field exploration prospects - any discoveries might be included in either of the first two phases. Phase 3 will entail development of the Isobel/Elaine fan complex in the south of PL004, subject to further appraisal drilling. Premier and partner Rockhopper Exploration have submitted an environmental impact statement and revised draft field development plan to the Falkland Islands government, and discussions are set to continue on a range of operational, fiscal, and regulatory matters.
BP expects to produce first gas later this year from its $2-billion Juniper project, 50 mi (80 km) offshore Trinidad & Tobago. Heerema Marine Contractors' deepwater construction vesselThialf installed the platform, built by TOFCO in Trinidad and Gulf Marine Fabricators in Texas. It will produce 590 MMcf/d from the Corallita and Lantana fields, exported through a 6.2-mi (10-km) flowline to the Mahogany B hub.
Offshore Brazil, Spectrum recently completed the 10,998-mi (17,700-km) Santos Campos Phase 2 2D seismic survey. The new acquisition program is an outboard extension of the company's 2012 Santos Campos Phase 1 survey, and ties other programs in the Santos, Campos, and Espirito Santo basins. The survey was acquired with a 39,369-ft (12,000-m) cable to record data necessary to understand basin architecture as well as to image prospective zones in the presalt section. Data processing is under way in Spectrum's Houston processing center. Pre-stack time migration, pre-stack depth migration (Kirchhoff and RTM) and broadband products are expected to be available in 2Q 2017. The completion of this campaign provides new long-offset data over prospective presalt basins in time for an anticipated round in 2017. The new data extends coverage over an under-explored area of the presalt exploration province.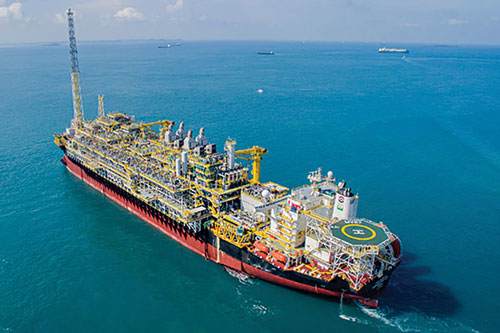 Cidade de Caraguatatuba MV27 is in operation at the Lapa field in the presalt Santos basin. (Courtesy MODEC)">
FPSOCidade de Caraguatatuba MV27 is in operation at the Lapa field in the presalt Santos basin. (Courtesy MODEC)
Earlier this year, Keppel FELS Brasil's BrasFELS shipyard delivered the FPSOP-66 to the Petrobras-led Tupi BV consortium. The vessel will be deployed in the Lula Sul field in the deepwater Santos basin. The FPSO has a production capacity of 150,000 b/d of oil and 6 MMcm/d of gas, and an oil storage capacity of 1.6 MMbbl. BrasFELS's work scope included fabrication, integration, testing, and commissioning of topsides modules.
The shipyard has two other ongoing FPSO projects:P-69, a lookalike to the P-66, and Cidade de Campos dos Goytacazes MV29. When completed, the FPSO Cidade de Campos dos Goytacazes MV29 will have the capacity to process 150,000 b/d of oil and 5 MMcm/d of gas. The unit's storage capacity is 1.6 MMbbl of oil. Slated to depart the shipyard in 3Q 2017, the FPSO will be deployed at the Tartaruga Verde and Tartaruga Mestiça fields in the Campos basin.
Not only did Petrobras' oil production in Brazil set a record by averaging 2.14 MMb/d in 2016, but also the company achieved its production targets for the second successive year. Plus, its operated production in the presalt layer increased 33% to an average of 1.01 MMb/d. For 2016, the company reported production growth from the Lula field (Iracema Norte and Iracema Sul areas, via the FPSOsCidade de Itaguaí, Cidade de Mangaratiba,Cidade de Maricá, and Cidade de Saquarema), from the Sapinhoá field (FPSO Cidade de Ilhabela), and from the Lapa field (FPSO Cidade de Caraguatatuba), all in the presalt Santos basin. Plus, there was strong growth at the Parque das Baleias area (P-58) in the Espírito Santo sector of the Campos basin.
After a two-year hiatus, Petrobras is expected to resume ordering FPSOs, according to analyst Energy Maritime Associates. One for the Libra pilot project and the other for Sepia.