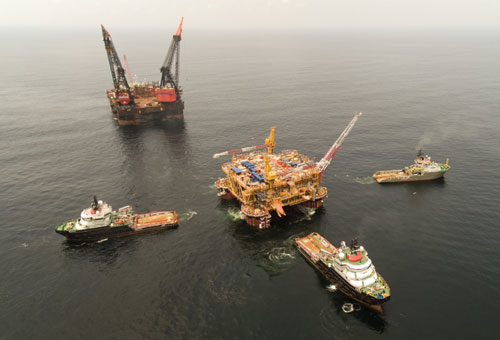 Sarah Parker Musarra
Editor
Even before the oil price crisis, the stability of Africa's offshore oil and gas industry had started to show some seams. As the cost of offshore projects began spiraling globally, the scale and complexity of the already expensive projects off the continent's coastlines had become increasingly untenable.
"Bonga South West was considered too expensive with oil over $100," Douglas-Westwood (DW) Analyst Ben Wilby toldOffshore, highlighting the severity of the issue. Operator Shell postponed making a final investment decision (FID) on the project last February, after rumors had been swirling for the previous years that the project had been shelved entirely.
Africa was carried somewhat through the earlier years of the oil price crisis by projects that were already under development. However, 2016 saw E&P development offshore Africa grind to a halt when oil prices had dropped to levels unseen in decades. Beyond the fiscal, policy issues further eroded investor confidence. Nigeria's Petroleum Industry Governance and Institutional Framework Bill (formerly the Petroleum Industry Bill), establishing legal and regulatory framework for the industry, has been frozen in front of the National Assembly since 2000. Nigeria Extractive Industries Transparency Initiative said in September 2016 that the country's oil and gas industry had "experienced huge losses to the tune of about $200 billion due to failure to pass an enabling law for the petroleum industry. Some of these losses are projected investments due to regulatory uncertainty which experts have put at $120 billion ($15 billion yearly)."
If some projects offshore Africa were incapable of producing at triple-digit-oil prices, they were not going to be profitable when oil fell below $30/bbl early last year. Wilby, who tracks floating production systems and other indicators, said that no such systems were ordered for African countries last year. "Things seemed fairly bleak for a region that had both well-established and promising plays," he said.
However, a year has made quite a difference, and there are indicators present that activity offshore Africa is picking up once again.
"This time last year, there was no real guarantee that $50 oil would be seen for a number of years; OPEC was not cutting production; and US output was not as affected as people had thought," Wilby said. "Things have changed now and it is this confidence that will help to push projects forward."
Operators in Africa and elsewhere have also worked to lower development costs. To this point, Shell has streamlined and revised Bonga South West with a smaller FPSO - Wilby places the capacity at 150,000 b/d, rather than 225,000. "This has helped to reduce the costs to a level Shell are happy with, while the downturn in orders has made everything from subsea components to drilling a lot cheaper," he explained. The firm now expects an FID in 2018.
A promising start
Not yet halfway into 2017, several projects have come onstream offshore Africa. Prolific explorer Eni produced first oil from the deepwater Cabaça South East field in block 15/06 offshore Angola five months ahead of schedule and three years from the development plan.
The East Hub development project includes nine subsea wells, five producers and four water injectors, in waters depth ranging from 450 to 550 m (1,476 to 1,804 ft). It is about 350 km (218 mi) northwest of Luanda and 130 km (81 mi) west of Soyo. It produces through theArmada Olombendo FPSO, which can generate up to 80,000 b/d of oil and compress up to 3.4 MMcm/d of gas. The new flow will add to production from the existing West Hub project, which includes the Sangos, Cinguvu, Mpungi, Mpungi North, Ochigufu, and Vandumbu fields connected to the N'Goma FPSO. In total, block 15/06 will reach a peak of 150,000 b/d of oil this year.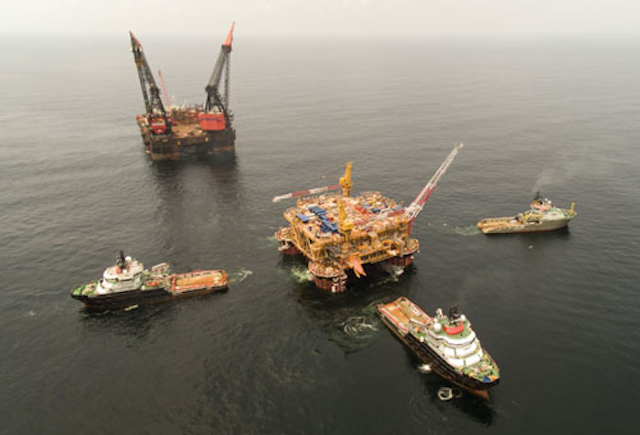 Total says that Moho Nord's production facilities are designed to minimize their environmental footprint. There will be no routine flaring on the all-electric design, and all produced water will be reinjected into the reservoir. Heerema installed the TLP and its moorings. (Image courtesy Heerema)
Of the other major projects already fired up in African waters, two were announced about a week apart from each other in March. Chevron Corp. subsidiary Cabinda Gulf Oil Co. Ltd. has started oil and gas production from the Mafumeira Sul project offshore Angola. Located 24 km (15 mi) offshore Cabinda province in 60 m (200 ft) of water, Mafumeira Sul is the second stage of development of the Mafumeira field in block 0. It includes a central processing facility, two wellhead platforms, about 121 km (75 mi) of subsea pipelines, 34 producing wells, and 16 water-injection wells. The production facility has a design capacity of 150,000 b/d of liquids and 350 MMcf/d of natural gas. Early production from the project began in October 2016 through a temporary production system. Ramp-up to full production is expected to continue through 2018.
Shortly thereafter, Total started production from the Moho Nord deepwater project, 75 km (46.6 mi) offshore Pointe-Noire. Arnaud Breuillac, president, Exploration & Production at Total, claimed it to be the biggest oil development to date in the Republic of the Congo. The development involves drilling of 34 wells tied back to a new tension leg platform, the first for Total offshore Africa, and toLikouf, a new floating production unit. Oil is processed on Likoufthen exported by pipeline to the Djeno onshore terminal, also operated by Total.
No shortage of activity
DW's most recent World Deepwater Market Forecast listed several more reasons for a brighter outlook offshore Africa. It sees that global deepwater expenditure is expected to total $120 billion over the 2017-2021 period, with traditional deepwater countries in Africa and the Americas expected to drive near-term capex. Furthermore, several African offshore developments are forecast to support expenditure during the latter years of the forecast period, including Senegal's SNE, as well as increased activities offshore East Africa, among other areas.
That assertion is reflected so far in the exploratory activity seen off Africa in recent months.
Operated by Cairn Energy, SNE's resources have been upgraded several times, and March's results from the VR-1, combined with the outcome from the SNE-5 appraisal well, could lead to a revision of the field's contingent resource estimate, said partner FAR Ltd. Wilby said the project will also be an FPS unit with trees tied back to it. FID is expected in 2019, with production to follow between 2021 and 2023.
Kosmos Energy has begun the second phase of its multi-well exploration drilling program offshore Mauritania and Senegal. TheAtwood Achiever drillship was drilling as of the time of this writing in the Cayar Offshore Profond block, targeting the Yakaar prospect (formerly Teranga West). Yakaar is located about 40 km (25 mi) west of the Teranga discovery.
Ophir Energy's high-profile block R Fortuna LNG project, said to be the first FLNG development offshore Equatorial Guinea, is on track for an FID during 1H, the company confirmed in March. The company also said that the southwest portion of offshore block R contains a potential extension of an oil play in the neighboring block over which the operator acquired 3D seismic survey last year that extended into block R.
Although all eyes are on the splashy FLNG development, Ophir's last update detailed several programs around Africa. Seadrill'sWest Saturn drillship will start drilling the Ayame-1X well on block CI-5113 offshore Côte d'Ivoire during 2Q.
The data has been processed and geoscience teams for both blocks are assessing prospectivity ahead of a decision on whether to drill a well. The well, likely to cost $30 million, will test an extension of a proven petroleum system in the adjacent block, the main risk being trap effectiveness.
Off Gabon, Ophir extended its Nkouere and Nkawa licenses and is using the Olumi Rouge 3D seismic data to mature a new outboard play, which it believes has multi-billion-barrel potential. Here too it is seeking to bring in a partner for a second-phase of exploration.
Another development of high interest is the Offshore Cape Three Points (OCTP) project, offshore Ghana. Wilby said the project "was one of the few FPS developments to move forward in the downturn and is due to start next year." Eni held a naming ceremony for the FPSOJohn Agyekum Kufuor, which will operate in the Sankofa-Gye Nyame field in the Tano basin for OCTP.
Eni also recently secured 90% operated stakes in two new exploration blocks in the eastern part of the Tano basin. The pair covers a total area of about 2,850 sq km (1,100 sq mi). It also recently offloaded a 25% indirect interest in the natural gas-rich Area 4 block, offshore Mozambique to ExxonMobil in a March sales and purchase agreement worth about $2.8 billion.
However, in further signs of possible trouble offshore Nigeria, Shell and Eni recently saw deepwater prospect OPL 245 seized by the government over corruption charges. The decision was later reversed following an appeal, and the two partners retained control of the field, which is home to the Etan and Zabazaba discoveries.
Off Cameroon, Bowleven is holding development discussions concerning the Etinde gas field, at the time of this writing. Operator NewAge had staged a technical workshop to review options for Etinde, with a view to gain agreement from all stakeholders on the preferred development solution(s). The choices include floating LNG, gas-to-power, and others. Participants at the meeting agreed that a commercially viable FLNG scheme with domestic gas offtakes as they become available could represent a credible forward development plan. Bowleven says there are sufficient resources to support one initial gas offtake solution - more if planned appraisal drilling targeting up to 2 tcf of gas and associated liquids proves successful.