Ichthys LNG project nearing first production
Jessica Tippee
Assistant Editor
Several offshore projects that were sanctioned before the market downturn have reached or are nearing first production throughout Asia and Australia.
The INPEX-operated Ichthys LNG project off Western Australia, which is essentially three mega projects in one, is scheduled to start production by the end of September.
Samsung Heavy Industries (SHI) expects to deliver the project's central processing facility (CPF) soon. At the shipyard in Geoje, South Korea, Australian Minister for Foreign Affairs the Hon. Julie Bishop MP recently christened the CPFIchthys Explorer. The 130-m (427-ft) by 120-m (394-ft) Ichthys Explorer is said to be the world's largest semisubmersible platform. The CPF will receive well fluids from a subsea gas gathering system, located at a water depth of about 250 m (820 ft), within the Ichthys gas/condensate field. The Ichthys Explorerwill be linked to the onshore production facilities in the Northern Territory via the longest subsea pipeline in the Southern Hemisphere, 42 in. in diameter and 890 km (553 mi) in length.
At the Daewoo Shipbuilding & Marine Engineering shipyard in Okpo, South Korea, former Chief Minister of the Northern Territory of Australia the Hon. Clare Martin officially named the project's FPSO facilityIchthys Venturer. Most liquids will be transferred from the CPF to the 336-m (1,102-ft) long Ichthys Venturer for offshore processing and condensate offloading.
Once all commissioning activities in the South Korean shipyards are finished, the offshore facilities will be towed 5,600 km (3,479 mi) to the field and moored for their 40-year operational life by 40,000 metric tons of chain secured to more than 25,000 metric tons of foundation piles.
Subsea infrastructure and equipment installation was completed in early January. Spread across 400 sq km (154 sq mi) in the Browse basin about 220 km (137 mi) offshore, the subsea gathering system features a 110-m (361-ft) high riser support structure, five manifolds, 139 km (86.4 mi) of flowlines, 49 km (30 mi) of umbilicals and flying leads, 2,640 metric tons of production and MEG spools, five subsea distribution units, and a subsea distribution hub.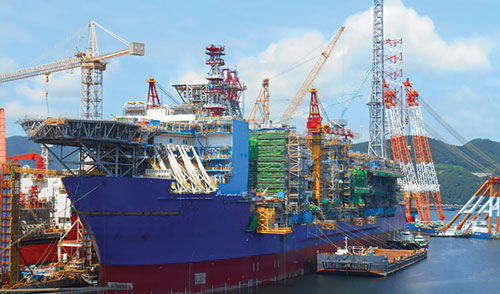 The Ichthys LNG project's FPSO under construction at the Daewoo Shipbuilding & Marine Engineering shipyard in Okpo, South Korea. (Courtesy INPEX Australia)
SHI says construction of the 488-m (1,600-ft) long and 74-m (240-ft) widePrelude FLNG vessel is 95% complete and is expected to be delivered in 2Q. The FLNG facility will be moored in about 250 m (850 ft) of water in the Browse basin about 200 km (124 mi) off northwest Australia. According to operator Shell, once operational, the Prelude FLNG facility will produce at least 5.3 mtpa of liquids: 3.6 mtpa of LNG, 1.3 mtpa of condensate (equivalent to 35,000 b/d) and 0.4 mtpa of liquefied petroleum gas. It is expected to remain permanently moored at the location for 20-25 years before needing to dock for inspection and overhaul.
At the Chevron-operated Wheatstone LNG project off Western Australia, partner Woodside Energy Ltd. reports that construction of LNG Train 1 is nearing completion, with all modules on-site and final hook-up and commissioning under way. The LNG storage tanks and export loading jetty are complete, while the storage and loading system are ready for commissioning. Woodside expects first LNG from Train 1 in mid-2017 and from Train 2 six to eight months later. The project comprises the Wheatstone and Iago fields, an offshore platform, a pipeline to shore and the onshore plant located near Onslow.
As for Woodside's other ongoing Australian projects, at the Greater Western Flank 1 development on the North West Shelf, the final GWF-1 wells on the Tidepole structure delivered first gas late last year. The Persephone project remains on budget and on schedule for start-up in 3Q, with subsea installation under way. For Greater Western Flank 2, the offshore campaign has started with the installation of mooring piles at two drill center locations, and reservoir drilling in progress. Subsea equipment manufacturing has started for the Greater Enfield tieback, due to deliver first oil in mid-2019. The company and its partners in the Browse project are evaluating alternative development options and are looking to select a concept later this year.
Farther north, the newbuildJangkrik floating production unit (FPU) was recently christened at the Saipem Karimun Yard in Tanjung Balai Karimun, Indonesia. According to operator Eni, the vessel will serve the Jangkrik Complex project in the offshore Muara Bakau concession in the Kutei basin in the Makassar Strait. It will soon sail to its final destination: once in position, mooring and hookup operations will get under way. The project takes in the Jangkrik and Jangkrik Northeast fields in 400 m (1,312 ft) of water, 100 km (62 mi) east of Balikpapan.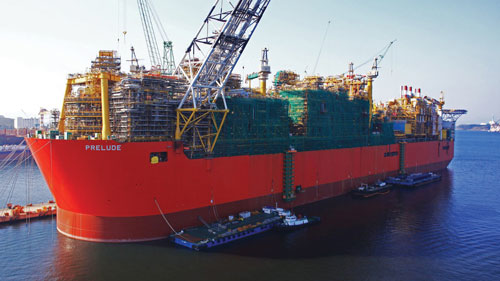 Prelude FLNG is said to be the biggest floating production facility in the world. (Courtesy Shell)">
ThePrelude FLNG is said to be the biggest floating production facility in the world. (Courtesy Shell)
Eni is targeting first gas in June, within three and half years of project sanction. The FPU's location will allow fasttrack development of nearby discoveries in this gas-rich region.
The FPU has a gas processing and export capacity of 450 MMcf/d, and will be connected to 10 deepwater subsea production wells. Following processing, the gas will be exported through a new 79-km (49-mi) pipeline to (also new) onshore reception facilities, then on through the East Kalimantan Transportation System to the Bontang gas liquefaction plant. The gas volumes will supply the local domestic market, the Indonesian LNG market, and LNG exports. Eni operates the Muara Bakau PSC, in partnership with Engie E&P and PT. Saka Energi Muara Bakau.
Offshore Malaysia, operator Hess Corp. and partner Petronas Carigali expect first gas in 3Q from the North Malay Basin full field development. Installation of four wellhead platform topsides and jackets, intra-field and export pipelines and associated subsea isolation valve skids, the floating storage and offloading unit (FSO) mooring systems and drilling of 13 shallow production wells were all completed by 4Q 2016. The completion and installation of the FSO and the central processing platform topsides and drilling of the remaining Phase 1 wells are in progress, according to Hess.
Late last year Petronas' floating liquefied natural gas vesselPFLNG SATU produced its first LNG from the Kanowit gas field offshore Sarawak. This followed the introduction of gas from the KAKG-A central processing platform on Nov. 14, 2016. The vessel, the world's first FLNG vessel in operation, can produce 1.2 MM metric tons/yr (1.32 MM tons/yr) of LNG, and is designed for future redeployment on other shallow-water fields offshore Malaysia.
Also last December, Shell started oil production from the Malikai TLP, stationed in 500 m (1,640 ft) of water, 100 km (62 mi) offshore Sabah. This is the company's second Malaysian deepwater development following Gumusut-Kakap in 2014. The platform is designed to handle up to 60,000 b/d of oil. Production is sent 50 km (31 mi) away to the Kebabangan oil hub for processing before evacuation to the onshore Sabah Oil & Gas Terminal.
Malikai is the first deepwater TLP in Malaysia and the first Shell TLP outside of the Gulf of Mexico. The TLP was designed and built in Malaysia. It is also the company's first TLP coupled with a tender assisted drilling rig. According to Shell, the project features a cost-effective platform design and a unique, industry-first set of risers, or pipes that connect the platform to the wells for oil production, which required fewer drilling materials and lower costs.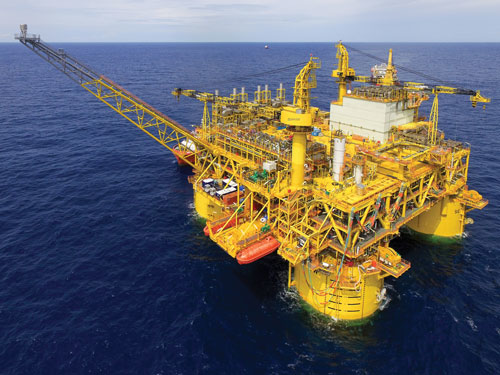 Malikai is the first deepwater TLP in Malaysia. (Courtesy Shell)
Vietnam's government has approved Hoang Long Joint Operating Co.'s updated full field development plan for the Te Giac Trang field in the Cuu Long basin. According to partner SOCO International, this was formally submitted to the relevant authorities in 4Q 2016. The approval covers up to 18 additional wells, with locations to be firmed up at a later date, and installation of additional processing equipment on the H1 wellhead platform. This will be designed to handle 90,000 b/d of liquids with a water handling capacity of up to 65,000 b/d.
Vietsovpetro has produced first gas and condensate from the TU-6 well of the BK-TNG platform at the Thien Ung field. Production heads the Bach Ho field pipeline system to mainland Vietnam. Thien Ung is in license 04-3 in the Nam Con Son basin, southeast of the Bach Ho field, in a water depth of 120 m (393 ft) and 270 km (168 mi) offshore. Vietsovpetro manages operations on behalf of the license partners PetroVietnam and Russia's AO Zarubezhneft Oil and Gas Co.
Off eastern India, Reliance Industries has contracted TechnipFMC subsidiary Genesis to perform a front-end engineering and design study for the deepwater MJ gas/condensate field in block KG-DWN-98/3 in the Bay of Bengal. Reliance plans seven wells from two subsea drill centers tied back to an FPSO. Genesis will manage the work from its head office in London.
Off western India, Oil & Natural Gas Corp. (ONGC) has awarded L&T Hydrocarbon Engineering Ltd. a $245-million EPCIC contract for the Neelam re-development and B173AC project.
The scope includes one new process platform having gas processing and compression facilities, three new wellhead platforms, 32-km (20-mi) pipeline, clamp-on on three existing platforms, and modification work on eight existing platforms. The project is expected to be completed by April 2019. The Neelam field is in the Heera-Panna block in Mumbai Offshore, about 45 km (28 mi) southwest of Mumbai. ONGC is targeting cumulative production through 2034-35 at 2.76 million metric tons of crude oil and 4.786 bcm of gas.
Offshore China, so far this year CNOOC has brought onstream new production from the Penglai 19-9 oilfield comprehensive adjustment project and the Enping 23-1 oilfields. Later this year it expects Phase two of the Weizhou 12-2 oilfield project to start production. Last year the company achieved 14 commercial discoveries and successfully appraised 25 oil and gas structures.