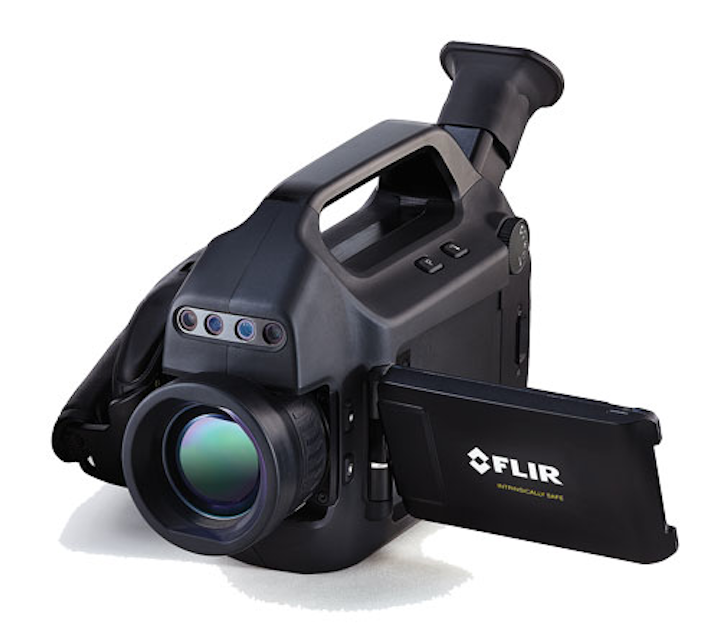 FLIR Systems Inc. has introduced an optical gas imaging (OGI) camera for the oil and gas industry that is designed for use in potentially explosive areas. The FLIR GFx320 detects and visualizes invisible hydrocarbon gas emissions, such as methane, and common volatile organic compounds found at oil and natural gas facilities. It carries certifications to global standards and is recognized as Intrinsically Safe, explosion-protected equipment by the International Electrotechnical Commission.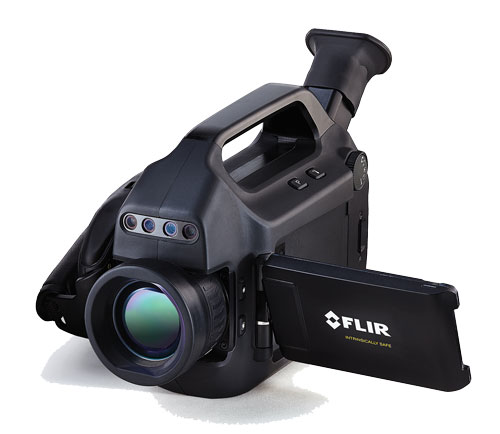 The FLIR GFx320 is the company's first camera to receive the Intrinsically Safe designation. (Courtesy FLIR Systems Inc.)
As a certified Intrinsically Safe OGI camera, the FLIR GFx320 represents groundbreaking technology for surveying critical and potentially dangerous work zones. Instead of scanning for fugitive and non-fugitive gas emissions from outside hazardous areas, with the new camera workers can assess potential risks from afar and, once the area is deemed safe, enter with the camera to continue scanning. The GFx320 allows surveyors to improve their safety and work with more confidence on the job site. Like the company's existing GF320 model, the new camera is calibrated to measure temperature, allowing users to achieve optimal thermal contrast between the gas compound and the background scene. The camera is also verified to meet sensitivity standards defined in the US Environmental Protection Agency's OOOOa methane rule, and tags each recording with GPS data to meet additional regulatory requirements for reporting.
Andy Teich, president and CEO at FLIR, said: "With the recent tightening of methane regulations both in the United States and globally, oil and gas producers need a fast and safe way to find and image gas emissions. With the ability to keep workers safe and identify greenhouse gases such as methane, the GFx320 represents another critical example of FLIR's technology helping to protect lives and preserve the environment."