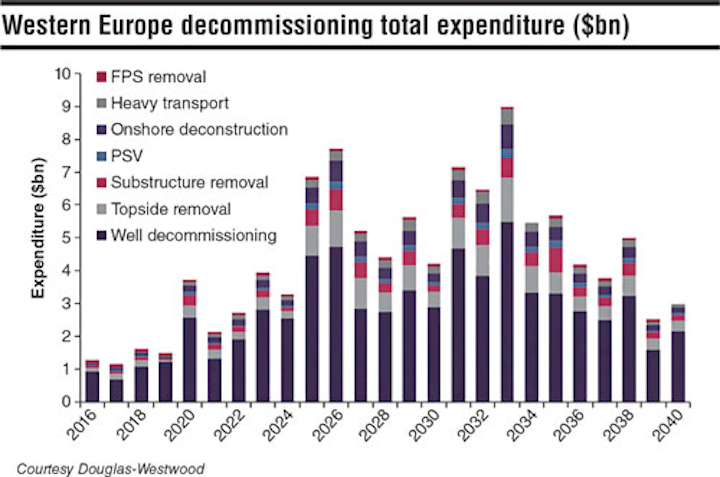 Between 2017 and 2040, $105 billion will be spent on decommissioning in Western Europe, according to Douglas-Westwood's latest market forecast.
The Western Europe Decommissioning Market Forecast 2017-2040 projects that well decommissioning will account for the majority of expenditure, representing 65% of the total market. Expenditure for well decommissioning will be particularly high in more established producing nations with large numbers of subsea wells, notably Norway and the UK.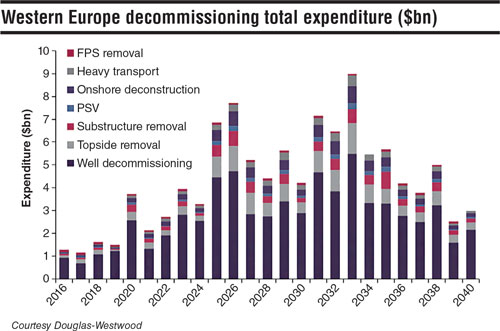 Substructure and topsides removal will represent a combined 20% of expenditure between 2017 and 2040, with the majority of platforms being removed using reverse installation methods. Single-lift vessels are becoming established technology and, DW claims, have the potential to significantly impact the cost and time for decommissioning operations.
With the largest population of aging platforms, the analyst expects the UK to account for the largest proportion of decommissioning activity in Western Europe over 2017-2040, representing 54% of total expenditure, and 45% of platform removals.
Offshore oilfield service prices reduced by 27% from the peak in 2014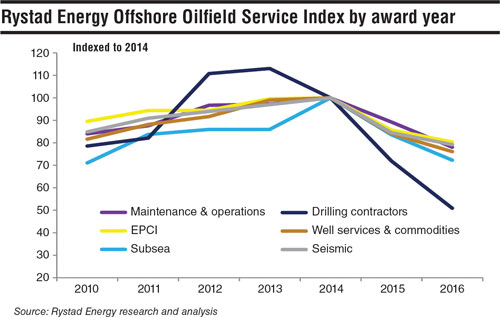 The Rystad Energy Offshore Oilfield Service Index shows how oilfield service prices have developed from 2010 to 2016. New sanctioned offshore volumes in 2017 are expected to be the highest since 2013. One of the key reasons for offshore projects starting to become competitive again is the strong deflation of unit prices observed over recent years. In 2016, unit prices for offshore developments declined by 27% from the peak in 2014. When comparing contracts awarded for offshore and onshore services, one can see that deflation is higher for offshore than onshore.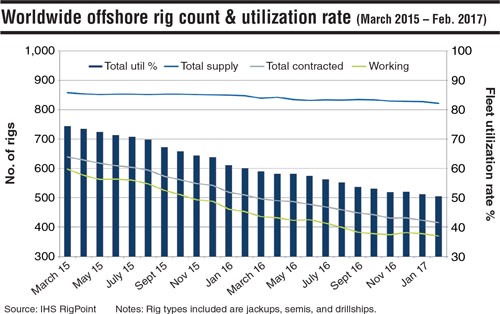 Looking at the different service segments, the main contributor to driving offshore costs down are the costs associated with drilling contractors. This relates to the massive pressure on day rates for offshore drilling rigs. In 2014, the average day rates were $430,000 and $140,000 for floaters and jackups, respectively. In 2016, the average rates were reduced to $210,000 and $80,000, which means that compared to the peak in 2014, average drilling rates have decreased by approximately 50%. For other offshore service segments, such as maintenance, EPCI, subsea, seismic and well services, the costs have decreased by 20-30% since 2014, with subsea costs being in the higher end of the range.