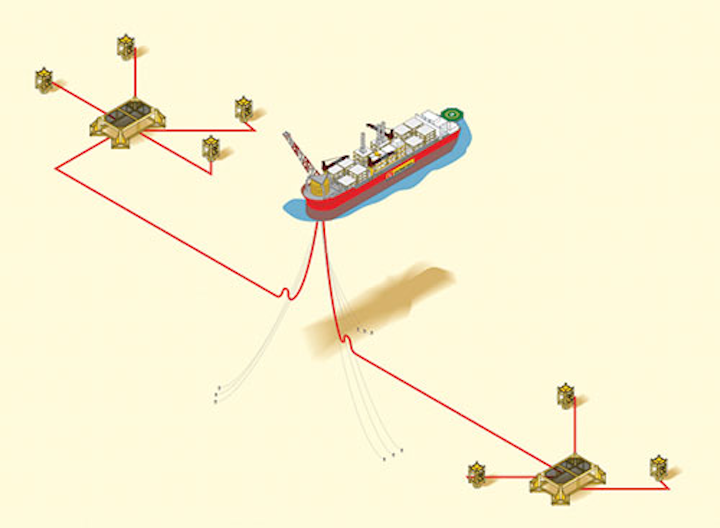 | | | |
| --- | --- | --- |
| | | Jeremy Beckman London |
Kvaerner has completed mating of the topsides to the gravity based structure for the Hebron platform in St John's, Newfoundland. Operator ExxonMobil expects to start production from the Hebron oilfield offshore Newfoundland later this year.
Husky Energy expects to participate in two exploratory wells in the province's frontier Flemish Pass basin this summer, and may also sanction the offshore West White Rose extension project later this year.
•••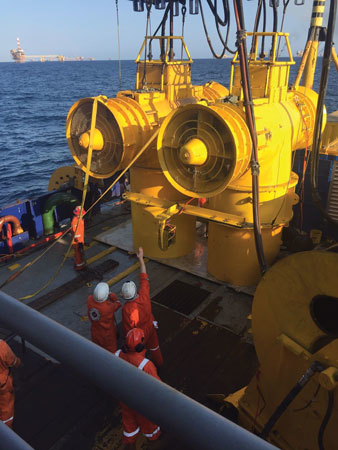 The M/CFE tool in action for SapuraKencana Mexicana. (Image courtesy James Fisher Subsea Excavation)
SapuraKencana Mexicana has deployed a mass/control flow excavation (M/CFE) tool for trenching a 14-km (8.7-mi) section of a 36-in. pipeline offshore Mexico. James Fisher Subsea Excavation combined two of its T800 M/CFE systems into one unit so that the concrete-coated pipe, transporting sour gas from five PEMEX-operated fields, could be buried to a depth of 1 m (3.3 ft). The equipment spread was mobilized onboard the supply vesselOcean Carrier.
South America
Tullow Oil plans to acquire an extensive 3D seismic survey in mid-year over the Orinduik block offshore Guyana, after a review of regional 2D data identified promising leads across the Block Canyon play fairways. The new survey should help firm up potential drilling targets, according to partner Eco Oil & Gas.
•••
Petrobras and Total have signed contracts confirming their new strategic alliance, defined late last year. Total will pay Petrobras $2.225 billion, gaining a 22.5% interest in the Iara concession area in block BM-S-11 of the presalt Santos basin, and operatorship of the Lapa concession area in block BM-S-9 in the same basin. Lapa, which started production last December, is said to have characteristics that differ from those encountered in other presalt fields. The two companies will also pool their technical expertise to raise production from other Brazilian fields, and will explore jointly elsewhere in the Santos basin and the Equatorial Margin.
West Africa
Chariot Oil & Gas has secured operatorship of the newly designated Kenitra exploration permit offshore Morocco, in partnership with state-owned ONHYM. The 1,400-sq km (540-sq mi) concession is in water depths of 200-1,500 m (656-4,921 ft). Analysis to date indicates prospectivity in shallow-water clastics in the lower Cretaceous, and potential for 464 MMbbl of resources in the Kenitra-A lead in a deepwater turbidite equivalent of these clastics.
•••
Senegal's government has approved BP's entry into the Cayar Offshore Profond and Saint Louis Offshore Profond blocks offshore Senegal. According to partner Kosmos Energy, this will allow the next-stage work program to proceed, involving further exploration of the area and development of the giant Tortue gas field, with a view to starting production by 2021.
•••
The closing dated for Equatorial Guinea's EG Ronda licensing round has been extended to April 28. The government took this decision after seeing a renewed interest for exploration since the turn of the year. Winners will be announced in June and production-sharing contracts should be ratified by year-end.
Golar LNG expects Ophir Energy and its partners to take a final investment decision by mid-year on development of gas from the Fortuna field in block R off Equatorial Guinea. Last November Ophir signed an agreement to establish a joint venture with the OneLNG consortium (Golar and Schlumberger) to produce 2.2 to 2.5 MMt/yr of LNG over 15-20 years via the FLNG vesselGandria. Recently the vessel headed to Keppel Shipyard in Singapore for initial work on a conversion that is likely to cost around $1.5 billion.
•••
Following completion and commissioning of a 6-km (3.7-mi) long pipeline, continuous oil production is now possible from the marginal Otakikpo field in Nigeria's OML 11 license. According to partner LEKOIL, output from the Otakikpo wells should ramp up to 10,000 b/d by mid-year.
•••
Total has transferred operating interests in six mature fields offshore Gabon to Perenco under a $350-million transaction: the total production divested is around 13,000 b/d. One of the fields is Hylia, where the company had earlier contracted BOURBON to perform installation of 25 km (15.5 mi) of 6-in. rigid pipeline as part of a water injection program. BOURBON expected to start operations this spring from one of its Bourbon Evolution 800 series multi-purpose platform supply vessels.
Black Sea/Caspian Sea
The South Stream Transport consortium has confirmed that Allseas will lay the second 900-km (559-mi) long string of the TurkStream pipeline taking gas from Russian fields across the Black Sea to Turkey. As with the first string, Allseas will deploy its newest construction vesselPioneeringSpirit for the campaign. Work on the first string is due to start later this year: both parallel lines will have throughput capacity of 15.75 bcm/yr.
•••
KBR will perform conceptual studies and front-end engineering services for various fields in the Kazakh sector of the Caspian Sea, under a two-year call-off contract awarded by North Caspian Operating Co. Fields covered include Kashagan, Aktote, Kairan, and Kalamkas. One of KBR's briefs is to maximize local Kazakh contact for future development projects.
Middle East
Wood Group has started detailed engineering for the Noble Energy-operated Leviathan platform, to be stationed in 86 m (282 ft) of water 9.6 km (6 mi) offshore Israel.
The 30,000-ton structure will have initial gas production capacity of 1.2 bcf/d: this will be delivered via two 117-km (73-mi) flowlines connected to four subsea wells, to be drilled next year at the deepwater Leviathan field location.
Noble estimates capex costs for the first-phase development - due to come onstream by end-2019 - at $3.75 billion, including pre-investment to allow for subsequent expansion of the platform's processing capacity to 2.1 bcf/d.
•••
CGG has acquired and processed the first airborne gravity gradiometry over the Kingdom of Bahrain for state oil company Bapco. The 18,000-km (11,184-mi) data-set covers roughly 7,700 sq km (2,973 sq mi) of open offshore exploration acreage, which Bapco and interested bidders can make use of for the Kingdom's future licensing rounds. CGG and Bapco also plan to combine the new data with existing seismic, well and geological information to help identify areas of prospectivity.
•••
Iraq is reportedly considering starting offshore exploration for oil and gas in its southern territorial waters with the aim of boosting the nation's reserves.
•••
Iran's first FPSO, built in Singapore at a cost of $300 million, sailed recently to the South Pars field in the Persian Gulf. The facility, which could start operating by May, is designed to start production from the field's 7-Bbbl oil layer, located 130 km (81 mi) offshore. Early-phase production should be in the range of 20,000-35,000 b/d.
East Africa
Fugro has been performing a seabed survey for Shell offshore Kenya designed to detect natural leakage of hydrocarbons. Results will be integrated with a recent offshore seismic survey in the area to address potential future drilling locations.
The survey vesselFugroDiscovery has employed a high-resolution multi-beam echo-sounder for the campaign and a drop corer for seabed sampling.
Indian Sub-Continent
A consortium comprising Qatar Petroleum, ExxonMobil, Mitsubishi, Total, and Hoegh is looking to install a floating storage and regasification unit (FSRU) off the coast of Pakistan to handle imported LNG. Supplies would head to Pakistan via a subsea pipeline.
The FSRU, which has already been committed, will have a minimum regasification capacity of 750 MMcf/d.
•••
Sri Lanka has reportedly started a tender process for development of a block in the Mannar basin off the country's northwest coast. Cairn India discovered gas in the area in 2011, but relinquished the acreage four years later.
The 2,924-sq km (1,129-sq mi) block includes the Barracuda and Dorado gas-condensate accumulations, the latter in a water depth of 1,354 m (4,442 ft). The Sri Lankan government is thought to be preparing to open other offshore blocks under a bid round later this year.
•••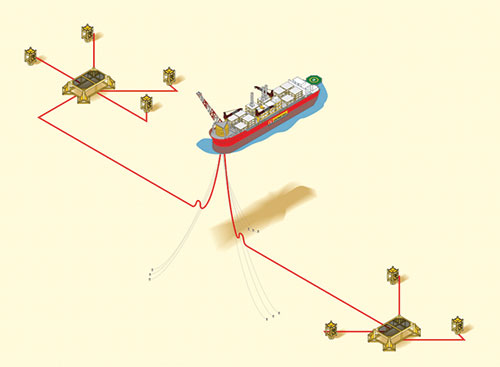 Reliance's MJ field development in the Bay of Bengal. (Schematic courtesy Genesis)
TechnipFMC subsidiary Genesis has started a FEED study offshore eastern India for Reliance Industries. This concerns the MJ gas/condensate field development in block KG-DWN-98/3 in the Bay of Bengal: Reliance plans to install two subsea drill centers connected to seven wells.
Asia/Pacific
Russia's Federal Subsoil Resources Management Agency Rosnedra has awarded Gazpromneft Sakhalin a 22-year license over the Ayashky block in the Sea of Okhotsk off eastern Russia. Ayashky, which contains estimated recoverable reserves of more than 100 MM metric tons (110 MMtoe), is part of the Sakhalin-3 project and is close to offshore fields developed under Sakhalin-1 and Sakhalin-2. Japan Drilling Co.'s semisubmersibleHakuryu5 will undergo modifications in order to drill an appraisal well on the block this summer.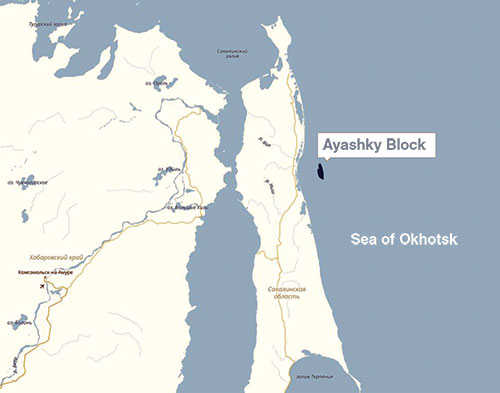 Ayashky block offshore Sakhalin Island. (Map courtesy Gazprom Neft)
ExxonMobil, a partner in Sakhalin-1, expects production to start later this year from the Odoptu Stage 2 development project.
•••
Frogtech Geoscience's new basement-focused study of hydrocarbon potential in the Gulf of Thailand and the South China Sea provides insights into the region's tectonic evaluation. Redefinition of the Paleotethys suture suggests it formed a significant rheological and thermal boundary that influenced evolution of hydrocarbon-rich basin systems. One of Frogtech's aims was to address the challenge of seismic imaging of deep basin geometries in the South China Sea in particular, where thick sediments and extensive carbonates hamper resolution of structures at depth.
Australasia
Chevron has paid $2.3 million to secure exploration rights for the next six years to the new WA-526 permit offshore Western Australia. The acreage is in a gas-rich part of the Northern Carnarvon basin, close to the company's Gorgon and the Pluto LNG projects.
•••
Cooper Energy plans to drill two horizontal wells to develop the Sole gas field in the VIC/RL3 permit in the eastern Gippsland basin, 40 km (25 mi) offshore Victoria in southeast Australia. The company has commissioned Subsea 7 to install subsea facilities taking production to the onshore Orbost gas plant: these include 64 km (40 mi) of pipeline and a similar length umbilical, plus associated spool and manifold. Pending a final investment decision, offshore installations should follow next year. After Sole starts production, Cooper may look to tie in the nearby Manta gas/condensate accumulation.
•••
AWE, New Zealand Oil and Gas, and PanPacific Petroleum have agreed to sell their combined interests in the producing Tui Area oil fields in the Taranaki basin offshore New Zealand to Kuala Lumpur-based Tamarind Management. The partners had started preparations to wind down operations, but Tamarind aims to bring fresh ideas to prolong production.