Report suggests rising investor confidence
Industry-wide efforts to improve efficiency and productivity of UK offshore operations have paid off, according to Oil & Gas UK's Business Outlook Report 2017.
Apr 12th, 2017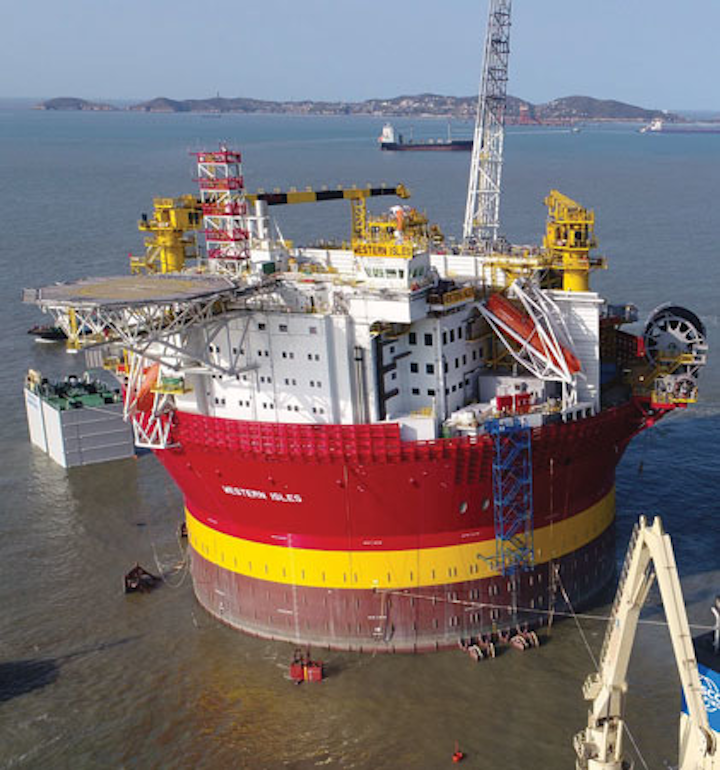 | | | |
| --- | --- | --- |
| | | Jeremy Beckman London |
Industry-wide efforts to improve efficiency and productivity of UK offshore operations have paid off, according to Oil & Gas UK'sBusiness Outlook Report 2017. Confidence is slowly returning among investors, the report adds, with signs that the bottom of the cycle has been reached in the North Sea. However, UK offshore exploration remains depressed, the authors add, and the basin needs capital to stimulate fresh activity if remaining resources of up to 20 Bboe are to be extracted.
Last year, new offshore project start-ups raised UK production to an average level of 1.73 MMboe/d, and the rising trend should continue, peaking at 1.8-1.9 MMboe/d by 2018. Since 2013, the association points out, 34 new UK offshore fields have entered production, while productivity has improved from existing developments. This year 13-18 new fields could enter production, and by 2018, recent start-ups could contribute up to 600,000 boe/d, around one-third of total output from the UK continental shelf.
At the same time, the sector's average operating costs have halved over the past two years to $15.30/bbl, and development costs for newly approved projects have come down by more than 50% since 2013. That downward trend should continue in 2017, although it will also be a reflection of investment constraints. This year the report anticipates total UK offshore spending will be 3% lower, at around £17 billion ($20.67 billion).
UK considers further late-life tax breaks
Britain's government was due to publish a discussion document last month on tax issues related to late-life offshore assets, with a panel of specialists to address the issues this summer.
Another new initiative is a Statutory Instrument that will extend the definition of investment expenditure to certain types of operating and leasing expenditure. The aim is to encourage increased investment on the UK continental shelf and to broaden the scope of the government's previous Investment and Cluster Area allowances to include spending on additional activities.
Oil & Gas UK's Chief Executive Deirdre Michie welcomed the move as a response to the association's call to resolve the tax issues impeding asset transfers, adding that "the current tax treatment of decommissioning makes it harder for existing owners to sell mature assets and leads to lengthy, complicated deals which slow down activity in the basin."
Derek Leith, a partner at Ernst and Young, also voiced approval for the measures: "It is often said that the right assets need to be in the right hands to maximize economic recovery late in the life of the North Sea. Any hindrance to new investors being able to obtain effective tax relief for decommissioning costs may create a barrier to entry for those who want to invest in the future of the basin. Changes that remove such barriers can only be positive for the industry and the associated supply chain."
Douglas-Westwood's latest Western Europe Decommissioning Market Forecast anticipates total spending of £47 billion ($57 billion) across the UKCS during 2017-40, covering more than 300 platform removal operations and P&A of thousands of wells. The UK's Oil and Gas Authority hopes to cut the cost of future P&A campaigns by promoting greater collaboration. To this end, it is seeking operators willing to participate in a collective P&A optimization program that would encourage the adoption of improved execution and contracting models, helping to reduce costs. The first potential campaign would likely be executed during 2018-19.
Gjøa among elite Norway fields
ENGIE E&P Norge says efficiency measures helped the Gjøa field in the North Sea deliver increased oil and gas production last year. The total of 43.8 MMboe made it the fifth highest producer on the Norwegian shelf, according to figures by the Norwegian Petroleum Directorate. This was down to a combination of reservoir management which raised well deliverability; higher available capacity in the production facilities; and improved process and export regularity.
This summer the company and its partners plan to commission 4D seismic to further their understanding of remaining resources, and they are also considering exploration drilling on the P1/North segment and Hamlet structures on the field's outskirts. Recently the partners agreed to host production from Wintershall's Skarfjell discovery via a subsea tieback to Gjøa's semisubmersible platform, and tie-ins of other future finds could prolong the facility's life as a hub for the area.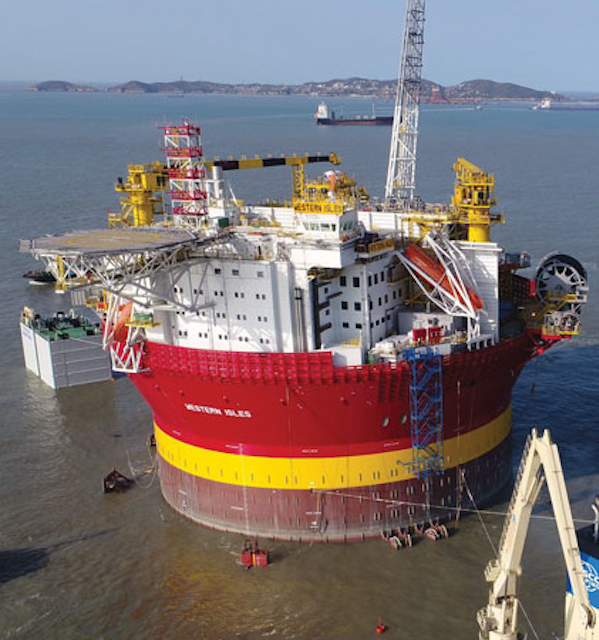 The cylindrical FPSO for the Western Isles project at COSCO's yard in China. (Photo courtesy Sevan Marine)
VNG has progressed its Pil/Bue project in the Norwegian Sea to the front-end engineering and design phase, awarding study contracts to Subsea 7 and TechnipFMC for the SURF content and to Aker Solutions and TechnipFMC for the subsea production system. Based on a subsequent design competition, VNG plans to award EPCI contracts this fall. The preferred development concept is a tieback of the two fields to Statoil's revamped Njord platform.
Sevan Marine has completed an early-phase study for a cylindrical FPSO to support OMV's Wisting development in the Barents Sea. Meantime the contractor is continuing to provide engineering support for the floating platform for Dana Petroleum's Western Isles project east of the Shetlands, which remains under construction at the COSCO yard in China. Sevan expects the completed facility to be installed at the field in late 2017.
Study defines alternate Rockall 'sweet spot'
The University of Aberdeen is attempting to clarify the geology of the Rockall area of the North Atlantic offshore northwest Scotland, where 12 wells have been drilled to date with only one discovery. Geologists from the university studied new seismic data provided by PGS and Britain's Oil and Gas Authority over the Rockall basin. Combining this with previous studies over the nearby Faroe-Shetland basin, the team believes exploration may have been impacted by misconceptions over the subsurface.
According to the university's Dr. Nick Schofield, the wells targeted what appeared to be four-way closures where oil might be trapped. However, these anomalies may actually have been caused by volcanic intrusions, with any oil and gas probably migrating to Rockall's outer fringes. The new findings suggest the eastern edge of the basin against the Outer Hebrides Shelf may be more prospective.