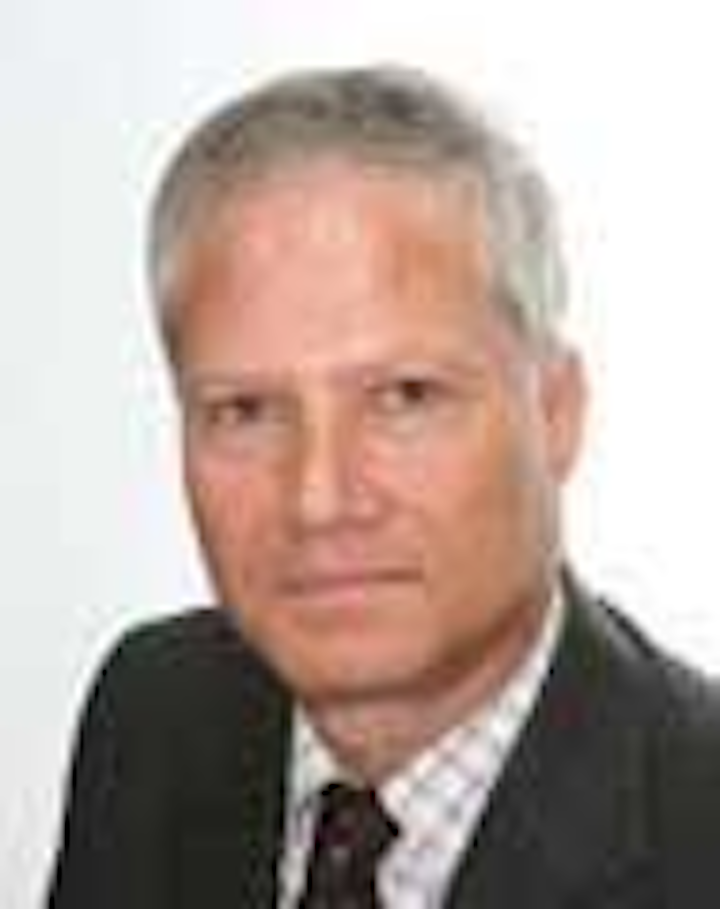 GLOBAL E&P
| | | |
| --- | --- | --- |
| | | Jeremy Beckman London |
North America/Caribbean
Husky Energy has contracted the consortium of SNL-Lavalin, Dragados Canada, and Pennecon to build a concrete gravity structure for the wellhead platform for the West White Rose field, 350 km (217 mi) offshore Newfoundland. A purpose-built dock in Argentia, southwest Newfoundland, will assemble the 145-m (476-ft) tall structure, which will feature 76,000 cu m (2.69 MMcf) of concrete and which is due to be completed in 2021. Husky has also contracted the heavy-transport vesselDockwise Vanguard to deliver the barge containing the topsides from the fabrication yard in Texas, while TechnipFMC will supply and install the subsea facilities linking the platform to the existing SeaRose FPSO.
•••
BP has produced first gas from Juniper, the company's first subsea development offshore Trinidad. The Juniper platform, built at the La Brea yard, is 80 km (49.7 mi) offshore the island's southeast coast, in 110 m (361 ft) of water. Incoming gas from the Corallita and Lantana fields is subsequently exported through a new 10-km (6.2-mi) flowline to the Mahogany B hub. The project should raise BP Trinidad and Tobago's production capacity by 590 MMcf/d.
Brazil
Shell and Petrobras have signed a memorandum of understanding concerning collaborative work on presalt fields offshore Brazil. Under the five-year agreement, Petrobras will share its experience and initiatives on various pre- and post-salt projects, while Shell will bring global deepwater experience, including application of novel technologies. The two parties are already partners in five field developments in the Santos basin.
•••
Petrobras has made its first commercial presalt oil find in the Marlim Sul area of the Campos basin. The well on the Poraquê Alto prospect, drilled 115 km (71.5 mi) offshore Rio de Janeiro state in 1,107 m (3,632 ft) of water, encountered various carbonate reservoirs said to be thick with oil presence. Infrastructure in the area should facilitate development.
•••
Brazil's Environment Agency Ibama has vetoed Total's second application to start deepwater drilling in the Foz do Amazonas basin offshore northern Brazil. Ibama reportedly cited inadequate information on the environmental impact of the project, with potential risks to other countries in the area in the event of an oil spill.
West Africa
The ultra-deepwater drillshipSaipem 12000 will spud Eni's first exploratory well offshore Morocco next spring on the Rabat Deep offshore permit. According to partner Chariot Oil & Gas, the rig will drill the large JP-1 prospect targeting Jurassic carbonate reservoirs that could hold 768 MMbbl of resources.
•••
BP has commissioned KBR to conduct pre-front-end engineering and design (FEED) and other services for the Tortue gas field development offshore Mauritania and Senegal. This covers design of the subsea, pre-treatment facility, the associated inshore hub/terminal, and floating liquid natural gas (FLNG) interfaces. BP and partner Kosmos Energy expect to take a final investment decision (FID) next year, with a view to producing first gas in 2021.
•••
Detailed planning has started for a phased development of the 563-MMbbl deepwater SNE oilfield offshore Senegal. The base concept, according to current operator Cairn Energy, involves a standalone FPSO connected in the first phase to 25 wells and targeting 240 MMbbl, mainly in the S500 lower reservoirs, with 40 more wells added during subsequent phases. The production capacity of the floater could be up to 125,000 b/d. FEED should get under way next year followed by an FID for the project later in 2018, at which point Woodside Energy is due to take over as operator. Cairn anticipates start-up some time during 2021-23.
•••
Ophir, OneLNG, GEPetrol, and the Ministry of Mines and Hydrocarbons have selected Gunvor Group as the preferred offtake buyer for the Fortuna FLNG project offshore Equatorial Guinea. Gunvor has pledged to take the full 2.2 MMt/yr (2.42 MMt/yr) contract capacity of theGandria FLNG vessel for 10 years. Assuming the partners can complete project funding, they should be in position to take an FID before year-end.
•••
Spectrum and Gabon's Generale des Hydrocarbures (DGH) are analyzing results from the recently completed first phase of the multi-client 11,400-sq km (4,401-sq mi) 3D Gabon South survey. This covered the offshore Gryphon blocks, in water depths of 28-850 m (92-2,789 ft). Spectrum aims to provide better-quality imaging of this little explored area, said to be on trend with new discoveries off neighboring Congo, thereby speeding up preparations for future licensing rounds.
•••
Eni has contracted Saipem to supply and install further umbilicals, risers and flowlines for the deepwater West Hub development, 130 km (81 mi) west of Soyo in block 15/06 offshore Angola.
•••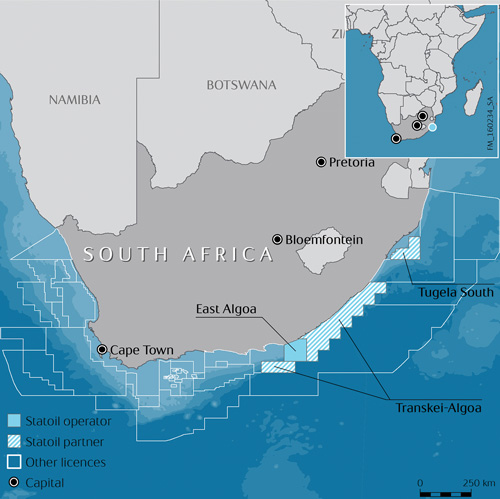 Statoil's exploration acreage offshore South Africa. (Courtesy Statoil)
Statoil has farmed into two frontier exploration blocks offshore South Africa. The company has taken a 35% stake in the Transkei Algoa Exploration Right 12/3/252 from operator ExxonMobil, and assumed operatorship with a 90% interest in the East Algoa Exploration Right 12/3/257 from OK Energy. Water depths at Transkei Algoa extend out to 3,000 m (9,842 ft), while the combined acreage of the two blocks is 54,300 sq km (20,965 sq mi).
Black Sea
GSP Offshore's jackupGSP Uranus has started drilling for OMV in the Romanian sector of the Black Sea, under a five-year frame agreement. Later this year the rig will break off from the program to drill in the same sector for Bucharest-based Black Sea Oil and Gas.
South Stream Transport has commissioned Petrofac to develop a reception terminal near Kiyiköy in Turkey for the TurkStream pipeline system. Allseas vessels have been working on the deepwater and shallow-water sections this summer. The system will transport supplies of gas from Russian onshore fields gas through the Black Sea to Turkey. The terminal, due to start operations in late-2019, will receive 31.5 bcm/yr.
Middle East
Greece's government has approved Energean Oil & Gas' proposals to develop the 11-MMboe recoverable Kataloko field offshore western Greece via extended reach wells from an onshore drilling site. State-owned Public Petroleum Corp. discovered the field in the early 1980s. Energean aims to start drilling in 2019 followed by first oil a year later.
•••
Israel's Energy Minister has agreed to extend the validity of the offshore Alon license by 32 months. In return, operator Noble Energy and partner Delek Group must commit to an environmental survey over the area and exploratory drilling within a reasonable timeframe.
•••
Petrobel has contracted Baker Hughes, a GE company for a subsea production system for the deepwater Zohr gas field offshore Egypt. This will include the first delivery (10) of BHGE's e-EHXT trees, designed in collaboration with Eni, a partner in Petrobel, as part of a standardization program based on experience from previous Eni deepwater field developments elsewhere in Africa.
•••
KBR has won contracts from Occidental and OMV, on behalf of ADNOC, for two new gas projects offshore Abu Dhabi. One calls for management of the FEED for the Dalma field development, part of ADNOC's gas master plan to increase its production. KBR will also provide FEED and detailed design of the Hail and Ghasha Islands project, designed to produce around 1 bcf/d of sour gas. The program will include construction of at least 11 offshore artificial islands.
•••
Saudi Aramco has re-activated the mothballed Zuluf Gas-Oil Separation Plant (GOSP-3). The offshore Zuluf field was discovered in 1965, but Aramco decided to take the GOSP-3 facilities offline in 1996 due to low demand for Arabian medium crude oil at the time. A 48-strong rehabilitation team worked round-the-clock for months on the offshore platforms for the plant, which separates gas from produced oil, pumping it to process centers onshore Saudi Arabia for further processing.
Caspian Sea
Azerbaijan's government has authorized an amended and re-stated version of the development and production-sharing agreement (PSA) for the ACG fields in the Caspian Sea. Assuming ratification by the country's parliament, BP will remain operator in partnership with seven other IOCs, but with state-owned SOCAR more than doubling its share in the PSA to 25%. The new agreement runs for 32 years and could entail a further $40 billion of capex investments, including an additional production platform in the near term.
•••
Lukoil has handed Bumi Armada Caspian LLC further EPCI work for the V.Filanovsky field development in the Russian sector. Two of the contractor's subsea construction vessels will install 20 km (12 mi) of pipelines and perform post-trenching and backfill works. The $134-million program should be completed during the second half of 2018.
Asia/Pacific
Singapore-based KrisEnergy has signed fiscal and technical agreements with Cambodia's government for Apsara, the country's first offshore oilfield development, in block A in the Gulf of Thailand. Initial plans calls for installation of a 24-slot unmanned wellhead platform in relatively shallow water, exporting to a moored production barge with processing capacity of up to 30,000 b/d of fluids, and gas/oil/water separation facilities. Produced oil will head through a 1.5-km (0.9-mi) pipeline to a permanently moored offshore storage vessel. Up to nine more platforms could be added under two later phases.
•••
WesternGeco'sWG Vespucci has conducted a 'hybrid' 3D seismic survey for Roc Oil offshore Sarawak. The vessel acquired around the data using a triple source array with simultaneous recording by ocean-bottom nodes and towed streamers – normally, multiple vessels and crews would have been needed for such a campaign, at much higher cost.
•••
SK has signed a production-sharing contract with CNOOC for block 17/08 in the Pearl River Mouth basin area of the South China Sea. The South Korean company will operate the 466-sq km (180-sq mi) block, in water depths of 100-130 m (329-426 ft), during the exploration phase, with CNOOC taking a majority interest if development should follow of any discoveries.
Australia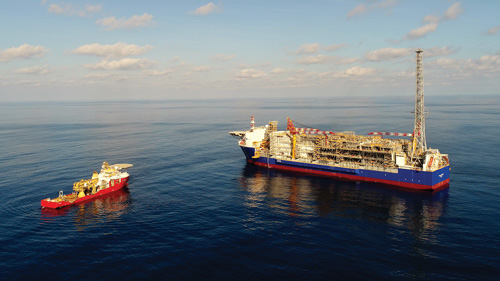 The FPSO
Ichthys Venturer
moored offshore northwest Australia. (Courtesy INPEX)
Aqualis Offshore has supervised mooring of the FPSOIchthys Venturer for INPEX's Ichthys gas project in 250 m (820 ft) of water in the Browse basin, 220 km (137 mi) off the north coast of Western Australia. The 336-m (1,102-ft) long, 59-m (193-ft) wide weathervaning vessel, built in South Korea, will be able to store up to 1.12 MMbbl of condensate exported from the Ichthys Explorer semisubmersible process platform, and is designed to operate in a cyclonic environment for 40 years.
•••
Woodside Energy has brought onstream the Persephone gas development as the latest phase of the North West Shelf (NWS) project, 140 km (87 mi) northwest of Karratha, Western Australia. Two subsea wells in 125 m (410 ft) of water have been tied back via a 7-km (4.3-mi) flowline to the Rankin complex.
Elsewhere in the region, Woodside expected operations to start soon at the LNG Train 1 of the Chevron-operated Wheatstone LNG project, with gas supplied from an offshore platform. The Browse Joint Venture and NWS partners are evaluating use of NWS infrastructure to process Browse basin gas resources, Woodside added.
•••
Cooper Energy has committed to the Sole gas project in the Gippsland basin offshore Victoria, after securing the required finance. The Sole field, 65 km (40.4 mi) offshore in the VIC/L32 permit, is under development via a subsea tieback to the shore-based Orbost Gas Plant. Cooper has negotiated long-term agreements for around 75% of the gas with three Australian buyers.