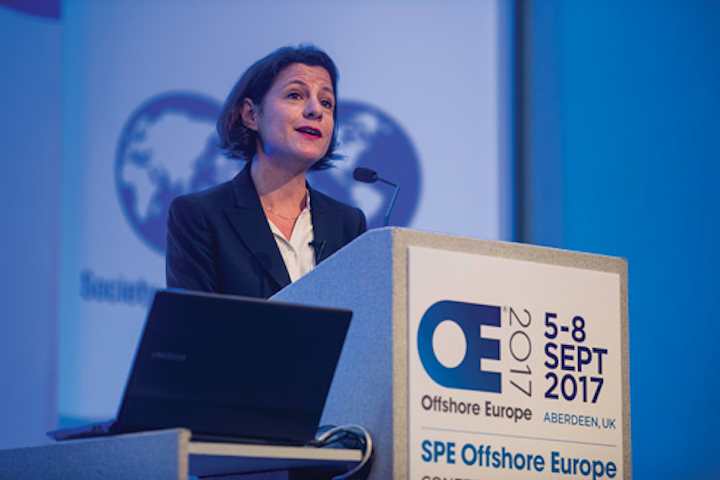 Collaboration to continue into decommissioning phase
Jeremy Beckman
Editor, Europe
Major offshore operators remain committed to the North Sea, said speakers at the SPE Offshore Europe 2017 conference and exhibition in Aberdeen. However, the focus of engineering is veering more toward removing than installing new production facilities.
"After three years of cuts, I can see a future for the industry in the North Sea," said Schlumberger Drilling President Catherine MacGregor, opening the Plenary Session. "Operating costs for the sector have halved to $15/bbl, although the other side of the coin is that investment is down 20% this year, and drilling is at its lowest level since the 1970s."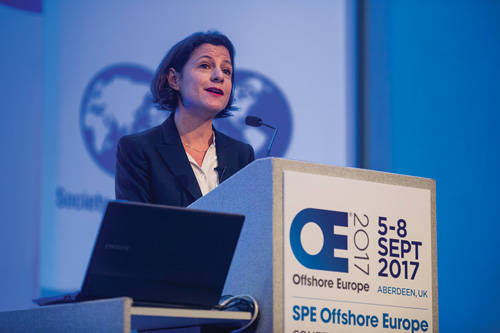 Catherine MacGregor (courtesy SPE).
Without fresh investment, UK offshore production will slide steadily during the 2020s, she predicted, "so more needs to be done. One priority should be taking collaboration to the next level. We have talked for years about better engagement, more aligned business models…and the strategic re-think about the way we work needs to continue."
The sector must also continue to push the boundaries of technology, she urged, "while at the same time addressing resource affordability. Let's face it: reservoirs won't become less complex, or environments more benign. So don't let's give up on new technology, particularly in the North Sea, where accessing new reserves will require 30-km [18.6-mi] step-outs."
Thirdly, the industry needs to "fully embrace the digital transformation" she said, "as the oil and gas sector is a little behind others in that regard. Going 'digital' can transform almost every aspect of what we do, as well as attracting the young people we need to the industry. 'Digital' in well construction means that every well we drill is the best well to optimize the facilities from the reservoir point of view."
Andrew Jones, Exchequer Secretary to the UK Treasury, said the $4 billion of transactions in North Sea fields earlier this year by BP, Shell, and others showed growing signs of industry confidence returning to the UK. The government, he added, would try to do its part by ensuring a stable environment for investors, with measures under review for this autumn's budget to introduce transferable taxes for mature fields.
"There is a lot of life still left in the UK continental shelf," he claimed, "with the Oil & Gas Authority [OGA] estimating 20 Bboe of remaining recoverable reserves, so we need new investment to come in. At the same time, 10% of North Sea fields have been decommissioned and 100 more platforms are due to be removed and 1,500 wells plugged over the next 10 years." Decommissioning costs between now and 2050 could reach £60 billion ($80.9 billion), according to the OGA's calculations, with the UK Exchequer potentially contributing £24 billion ($32.35 billion) in tax relief, Jones said. "So the government shares the industry's goal of bringing costs down, with the OGA targeting a reduction to £39 billion [$52.6 billion]."
BP's CEO Bob Dudley agreed there had been a renewed focus on the basin, with Hurricane Energy opening the prospect of new resources via its basement oil discoveries west of Shetland, and Total underlining its commitment by acquiring North Sea specialist Maersk Oil. BP had played its part, he pointed out, through merging its Norwegian operations with those of Det norske Oljeselskap to form Aker BP.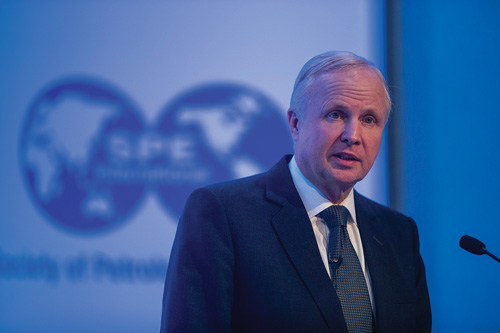 Bob Dudley. (Courtesy SPE)
In the UK, he said, BP had refocused its portfolio mainly on the west of Shetland region. Earlier this year the company brought online the Quad 204 redevelopment, with Clair Ridge (Phase 2 of the Clair oilfield development) set to start up next year. The company has also stepped up its commitment to exploration, participating in six wells on the UK shelf this year, "more than we've drilled here in decades."
The global energy supply scene is changing, he said, "and at the same time, the current geopolitical environment is more volatile than any I can recall." Given the pace of change, BP and its peers need to continually reinvent themselves, he suggested, challenging business models and building partnerships with governments and suppliers. "We need to find ways to do more for less, leveraging automation and digitization to cut costs. Average lifting costs in the North Sea are now less than $15/bbl, and we anticipate further reductions in the 2020s to $12/bbl."
In terms of new technical solutions for the UK sector, BP and Shell plan to trial a new ocean bottom seismic cable at Clair Ridge, Dudley said, adding that BP has further plans to install new types of sensors in its wells. The company has also been involved in trials of an automated offshore drilling rig.
Shell CEO Ben van Beurden admitted that his company had focused of late on downsizing in the North Sea, as evidenced by the sale of numerous offshore production centers earlier this year to Chrysaor and the removal of the first of the Brent platform topsides, the Brent field having at one point supplied 10% of the UK's offshore production. "So is Shell still committed to the UK? Yes, it is," he said, pointing out that at least 10% of the graduates the company hires are from Britain, and that the vast majority of the company's upstream supply chain is centered there.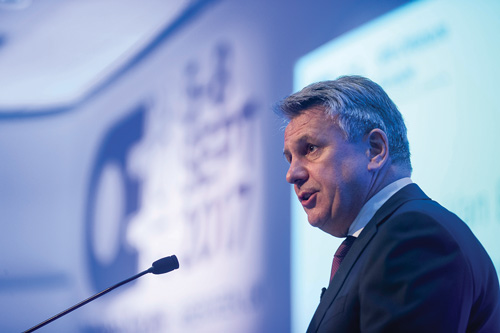 Ben van Beurden. (Courtesy SPE)
"The UK has 20 Bboe of proven remaining reserves to develop, with promising areas still to be explored," he continued. "This activity could add £290 billion [$391 billion] to the UK economy by 2035. Shell will invest hundreds of million dollars across the North Sea over the coming years. We will still be divesting, but also maximizing our portfolio in the years ahead.
"Certain offshore assets need to be in the hands of the right operators, and deals such as ours with Chrysaor are one example," van Beurden, said, at the same time stressing that Shell retained a 55% stake in the Quad 204 redevelopment of the Schiehallion project, one of the UK's major offshore projects of recent times. Shell has been one of the lower-cost operators in the basin, he added, "although it hasn't been easy. However, the focus on costs will have to continue. This basin still needs to earn its right to grow, in competition with others."
Van Beurden noted that the oil price had remained lower for longer than the industry would have liked. "Energy changes bring new challenges," he recognized. "The world needs renewables, but these only produce electricity, which represents just 20% of the world's energy needs. Demand for petrochemical products is still growing, so it looks like the transition to a low-carbon world will take generations."
Robin Watson, Group CEO of Wood Group, said the current downturn had had a profound impact on companies at all levels of the industry. "The common consensus that the oil price will stay lower for longer, or even forever, is the right basis for our future plans," he suggested.
The tail-off in offshore activity had cut the service sector's revenues by 30%, he continued, with upstream profitability down by 70% on average. "Many service companies are now cash-strapped," he said, "due to the cuts in activity and the challenging payment environment. Over the past three years there has also been a significant rise in bankruptcies; some companies have consolidated due to the fact that there is less work to be done. But this situation also erodes the confidence of investors in the service sector, which is no good for anyone. We have lost 350,000 jobs in the UK over the last three years, and many are people who will never return to this industry." As a result, he added, the offshore sector had also become a much less attractive career option to new graduates.
Watson said the industry remained successful at finding and producing hydrocarbons and at working in partnerships with others to further innovation. At the same time, there might be room for improvement or lessons to be learned from others, he suggested, pointing out that the breakeven price for US shale had come down from $81/bbl in 2014 to $54/bbl at present. This had made shale more economically viable than half the world's reservoirs, he said, adding that one of the factors had been the development of "fantastically innovative well completion designs."
Japan/Scotland subsea ties
Decommissioning is overtaking new field development as the prime business opportunity in the UK North Sea. For the first time at Offshore Europe, an entire exhibition hall became a dedicated Decommissioning Zone, supported by the UK association Decom North Sea, with daily discussions and technical presentations from operators, contractors and technology groups.
Various Japanese oil companies have equity interests in mature North Sea projects approaching the decommissioning phase. Engineering consultant Xodus, 98% owned by Japan's Chiyoda Corp., recently completed a six-month program researching international best practice on decommissioning for Japan Oil & Gas Metals National Corp. (JOGMEC). The contractor had presented the results in Chiba, near Tokyo, to operators and other companies seeking insights into their abandonment liabilities, and how best to plan for cessation of production.
Representatives from JOGMEC and Xodus were among the speakers at a seminar at Offshore Europe concerning opportunities for cooperation between the UK and Japan in offshore industries. Here the Nippon Foundation and Scottish Enterprise signed a memorandum of understanding (MoU) concerning a new joint R&D initiative, the Nippon-Scotland Joint Ocean Innovation Programme. Under the MoU, the two parties have pledged $20 million in funding to further development of innovative offshore technologies in Scotland and Japan, partly with a view to helping Japan develop its own oil and gas sector.
According to Maggie McGinlay, Director of Energy at Scottish Enterprise (SE), the MoU resulted from a trade mission to Japan this June organized by SE. Scotland's subsea engineering cluster, she said, was among the strongest in the world, and the country has an action plan to build its subsea capability further and enhance the global reach of Scotland's subsea supply chain. Among the country's R&D facilities that could be involved in this inititiative McGinlay cited the Fort William Underwater Centre, NEL's flow measurement complex, the Aberdeen Hyperbaric Centre, and the new Oil & Gas Technology Centre, which to date has attracted £180 million ($242 million) in funding. She also noted existing collaborations between the two countries, such as Kawasaki Industries' work with the Heriot Watt Ocean Systems Laboratory on AUVs.
Nippon Foundation is a non-profit organization formed over 50 years ago, which according to spokesman Masanori Yoshida has funded various activities in ocean research. "Japan has a big possibility of a mid-long-term future in offshore oil and gas, renewables," he said, "and in exploration and development of methane hydrates and minerals offshore Japan."
To help the country develop its offshore engineering capabilities, Nippon Foundation presented some policy recommendations to Japan's government in 2014, Yoshida said, and last October formed the NF Ocean Innovation Consortium with a view to building the country's offshore sector human resource capacity. Numerous engineering companies are involved in this initiative, he added, which involves staging oil and gas workshops in Tokyo for young engineers, and seconding Japanese students to courses at offshore institutes elsewhere, such as Robert Gordon University (RGU) in Aberdeen. "We also want to develop a strategy for developing oil and gas technologies in Japan via collaborations with Scottish industry and academia," Yoshida said.
Professor Paul de Leeuw of RGU identified visualization techniques, augmented reality, enhanced recovery, remote operations, data analytics and new materials as areas where Japanese expertise could enhance Scottish subsea capabilities.
Long-term forecast
DNV GL published its Energy Outlook 2017 report, covering prospects for oil and gas between now and 2050. The company predicts that global offshore oil production will gradually decline from today's figure of 26 MMb/d to less than half that amount in 2030, with only the Middle East and North Africa seeing a sustained level of offshore output. This is because these regions have the lowest development costs.
Deepwater development breakeven costs have dropped markedly over the past three years to average $55/bbl earlier this year, the report found. If oil prices remain at recent levels of around $50/bbl, more deepwater projects could go forward next year, the authors suggested, as the general view is a price range of $60-70/bbl during 2020-21 when some of these projects could start producing.
Gas production from offshore fields should, however, grow by around 20% by 2030, DNV GL claims, with the main growth coming from the MENA and Southeast Asia regions.
DNV GL also unveiled its new globally applicable recommended practice (RP), DNVGL-RP-G108, to help oil and gas operators, system integrators, and vendors manage the growing threat of cyber crime due to increased use of visualization and big data. A report by the Ponemon Institute last year found that just over two-thirds of oil and gas companies were hit by at least one significant cyber attack, and that many other incidents may be going unreported or undetected.
The new RP is based on the IEC 62443 standard, and is designed to help the oil and gas industry improve security of operational technology, which has become more vulnerable as formerly isolated, critical parts of production sites are connected to IT networks. Its recommendations are based on conclusions from a recent joint industry project (JIP) with operators Lundin Norway, Norske Shell, Statoil, Woodside and equipment suppliers ABB, Emerson, Honeywell, Kongsberg Maritime and Siemens, with contributions from Norway's Petroleum Safety Authority.
Cyber attacks in the oil and gas sector are becoming more sophisticated and are not related solely to the spread of malware, but to unauthorized personnel gaining access to infrastructure. Pål Borre Kristoffersen, the JIP project manager, said: "The industry is having to bring a lot of data from the offshore installation to the office domain, and we are looking at how to secure this. Also, there is a trend to have centralized control rooms onshore which have access to safety systems, and it is important to keep this secure." The JIP has been looking at how to integrate remote control rooms more securely, and to verify the individual users to lessen the likelihood of malware slipping through.
DNV GL believes that implementation of the new RP, with the IEC standards, should also save offshore operators money by reducing the resources needed to define security requirements and follow-up action. The standardized design guidelines from the operators should in turn cut costs for contractors and vendors.