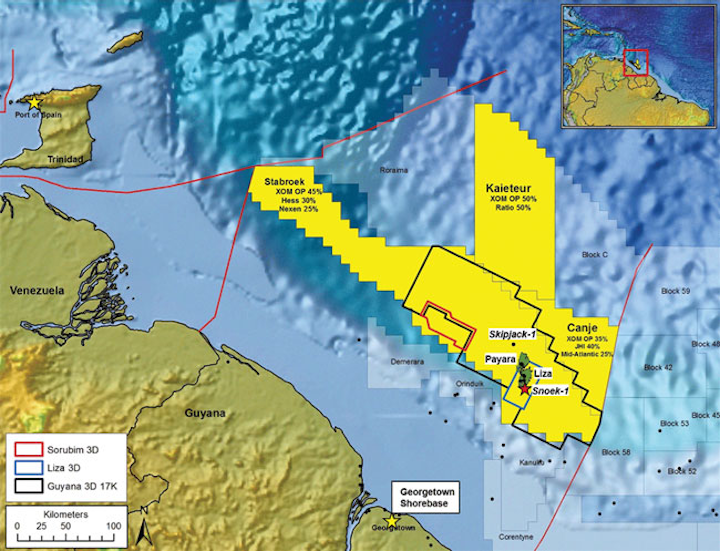 ExxonMobil sanctions Liza project
Jessica Tippee
Assistant Editor
In mid-June, Liza became the first deepwater field development sanctioned in Latin America and fifth globally this year. Exxon Mobil Corp. and Hess Corp. both made a final investment decision (FID) to proceed with the first phase of development for the Liza field offshore Guyana. The Liza Phase 1 development includes a subsea production system and an FPSO vessel with the capacity to process up to 120,000 b/d of oil from four subsea drill centers consisting of 17 wells, including eight producers, six water injectors, and three gas injectors.
Production is expected to begin by 2020 and develop about 450 MMbbl of oil. Discovered in May 2015, the fasttracked development plan was submitted in December 2016, and received regulatory approval from the government of Guyana in June 2017.
Phase 1 is expected to cost more than $4.4 billion, which includes a lease capitalization cost of about $1.2 billion for the FPSO facility and $3.2 billion for drilling and subsea infrastructure. Hess reported that its net share of development costs is forecast to be about $955 million.
Located in the 6.6-million acre (26,800-sq km) Stabroek block, the Liza field is about 190 km (118 mi) offshore in water depths of 1,500 to 1,900 m (4,921 to 6,234 ft).
ExxonMobil affiliate Esso Exploration and Production Guyana Ltd. (EEPGL) is the operator and holds 45% interest in the block, along with Hess Guyana Exploration Ltd. (30%) and CNOOC Nexen Petroleum Guyana Ltd. (25%).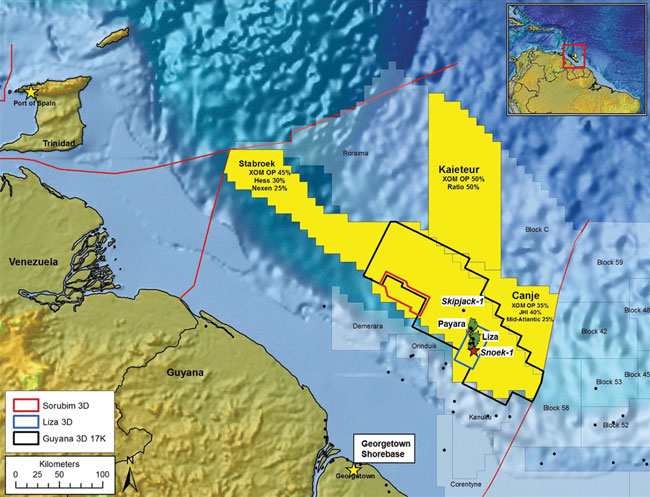 ExxonMobil operates three blocks offshore Guyana - Stabroek, Canje, and Kaieteur. (Courtesy ExxonMobil)
EEPGL awarded SBM Offshore the front-end engineering and design contract for the Liza field FPSO. Following the FID, SBM received the contract to construct, install, lease, and operate the vessel. The FPSO is designed to produce up to 120,000 b/d of oil, with associated gas treatment capacity of 170 MMcf/d and water injection capacity of 200,000 b/d. The vessel - a converted VLCC - will be spread moored in 1,525 m (5,003 ft) of water and will be able to store 1.6 MMbbl of crude oil. TechnipFMC was contracted to engineer, manufacture, and supply the subsea production system including 17 total enhanced vertical deepwater trees and associated tooling, and five subsea manifolds and associated controls and tie-in equipment. Saipem received the engineering, procurement, construction, and installation contract for the risers, flowlines, and associated structures and jumpers. The award also includes transportation and installation of umbilicals, manifolds, and associated foundations for the production, and water and gas injection systems. The company will deploy its flagship vesselsFDS2 and the Normand Maximus to execute the works which are expected to begin in 2019.
Since the beginning of the year, the partners have made further deepwater oil discoveries in the Stabroek block with the drillship Stena Carron. In January, the Payara-1 well encountered more than 29 m (95 ft) of good-quality, oil-bearing sandstone in two Upper Cretaceous reservoirs of Maastrichtian-Aptian age in 2,030 m (6,660 ft) of water. The Payara discovery is roughly 16 km (10 mi) northwest of the Liza discovery. Two months later the Snoek well encountered 25 m (82 ft) of high-quality, oil-bearing sandstones of Maastrichtian-Aptian age in 1,563 m (5,128 ft) of water. The Snoek discovery is about 9 km (5 mi) southeast of the Liza-1 discovery. In June, Exxon reported that the Liza-4 well encountered more than 60 m (197 ft) of high-quality, oil-bearing sandstone reservoirs, which will underpin a potential Liza Phase 2 development. Gross recoverable resources for the Stabroek block are now estimated at 2-2.5 Bboe.
The Payara-2 well should have spudded last month and will test a deeper prospect underlying the Payara oil discovery. The partners have identified prospects across multiple play types on the block so exploration drilling will continue into 2018.
According to analyst firm Wood Mackenzie, Liza-Payara has a breakeven price of $46/bbl and the short time it took ExxonMobil to declare FID highlights the field's potential. However, the analyst cautioned that with the discovery of almost 3 tcf of associated gas and the country's lack of a gas market and offshore infrastructure, the full development will need to address gas monetization. The analyst anticipates two large FPSOs to develop Liza and Payara and a further vessel for Snoek.
Pablo Medina, senior analyst, Upstream, Latin America at Wood Mackenzie, said: "Guyana will have the task of managing the complexities of developing its first oil and gas field. Within 10 years, we expect the Liza-Payara development to produce 330,000 b/d - allowing Guyana to join the ranks of other Latin American producers, where legacy production has been in steady decline."