Martial Burguieres
Wild Well Control
A new riserless plug and abandonment system offers the promise of revolutionizing deepwater operations at a time when the industry needs a cost-saving tool to shore up the bottom line. Now, recent improvements in Wild Well Control's DeepRange technology can help deliver cost-effective, enhanced P&As in record time.
August 2016 marked the completion of a highly successful riserless P&A campaign in the deepwater Gulf of Mexico. The project originally encompassed nine subsea wells in 6,300 to 7,300-ft water depths and was slated to take 331 days using conventional techniques.
The operator contracted Wild Well to deploy its riserless DeepRange methodology in an attempt to reduce the number of days. The end result: all nine wells plugged and abandoned in 206 days, creating a savings of 125 operational days.
The fastest full P&A requiring a B-annuli isolation took only 13 days. Another well requiring B, C, and D annulus isolation required only 21 days.
The plan that was delivered indicated 205 total days. Coming in on target (one day off) and completing the project without requiring a single regulatory waiver signified success. However, it was recognized that improvements to the DeepRange methodology could result in even greater time savings for operators. As soon as the systems were back on shore, engineers began to examine ways of reducing these times even further while attacking a broader range of well issues.
The post-operation analysis culminated in the discovery of new tooling and techniques that will make riserless P&As, completed in less than 10 days, possible in the immediate future. The improvements also increase the number of candidate wells that will benefit from this type of P&A operation.
Riserless intervention
Used as a complement to the DeepRange tool, the original 7Series riserless intervention system performed extremely well. Operating on multiple wells in 7,000-ft water depths, the relative simplicity and functionality of the system kept NPT to minimums. However, it was recognized that several changes to the system would further enhance field operability and speed.
Riserless operations are wireline intensive. Each wireline or slickline run requires disengagement and retrieval of the pressure control head (PCH) or grease "pack-off" so that new tooling can be loaded onto the line. The Wild Well Subsea engineering team drafted a design criteria for a new PCH that eliminated the need for hauling the entire PCH to surface. They selected Subsea Technologies Ltd. of Aberdeen, Scotland, to provide the improved PCH design.
The new PCH will allow the grease pack-off tubes to be lifted to surface on the wireline socket head. This eliminates the need for simultaneous crane operations and expedites wireline tooling changes. A savings of two to three days per well based on previous timelines is anticipated.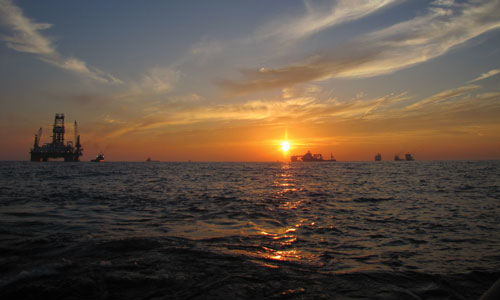 In August 2016, an operator embarked upon what would turn out to be a highly successful riserless P&A campaign in the deepwater Gulf of Mexico. The riserless DeepRange technology was deployed to reduce the number of days. (All images courtesy Wild Well Control)
The 7Series was originally designed as a riserless intervention system. Unlike high-pressure riser-based systems, riserless systems can be deployed and accomplish significant work scope efficiently. However, some wells present issues rectified only by "heavier" intervention techniques using coiled tubing. This is where a riser becomes a necessity.
Not content with being limited to riserless applications, Wild Well developed a technique to install a high-pressure drillpipe riser (HP DP Riser) onto the 7Series system. The key feature of the system is that the switch from riserless to riser can be done subsea.
A full Emergency Disconnect Package (EDP) with high-angle release connector is furnished below a tapered stress joint. Talks are in progress to have AlTiSS of Houston upgrade the tapered stress joint to titanium, which allows deployment of one stress joint in a wide range of water depths.
Now, operators have the ability to employ a riserless methodology without the potential "penalty" should the need for a riser occur. Similarly, a single intervention system can now service a field of wells, some requiring a riser and some not. The configuration of the system will be optimized on a well-by-well basis.
Open-water operations
Once a well has two primary tested plugs in place, it is safe to unlock and pull the upper completion tubing in "open water," with no barriers in place. Wild Well has conducted studies in which certain wells, due to geology or mechanical failure, might not be good candidates for open-water tubing removal without barriers in place. It is for this reason that the company developed its Subsea Shut-In Device (SSD).
Consisting of a dual 18¾-in. 15 kpsi BOP, the system sits on top of either the tree or wellhead and provides the ability to shut in the well should anything abnormal occur during open-water operations. Subsea accumulators, primary ROV controls and acoustic backup controls provide closure times in under 45 seconds. While ideal for open-water tubing removal, the system has been modified to assist with open-water removal of surface plugs.
Left: Wild Well says that its Subsea Shut-In Device eliminates the need to run a rig's riser system. Right: Used as a complement to the DeepRange tool, the original 7Series riserless intervention system helped keep NPT to a minimum.
Many wells in the Gulf of Mexico were previously temporarily abandoned with surface plugs (150 ft of cement within 150 ft of mudline) in place. Currently, regulations require annular isolation for full P&A. This makes it necessary to remove these surface plugs before annular isolation can occur. Because surface plugs are never pressure tested, they are never meant to hold back reservoir pressure.
The SSD can now be used in conjunction with appropriate BHA and a proprietary stripping element to safely and efficiently mill out surface plugs and employ the DeepRange riserless abandonment methodology, eliminating the need to run a rig's riser system.
Epoxy-based resins
CSI Technologies, a wholly owned subsidiary of Wild Well Control, has been at the forefront of epoxy-based resin solutions for several years. Due to the unconventional nature of Wild Well's work scope, CSI has participated in many projects where cement and cement derivatives could not be used.
The ControlSEAL resin product represents a family of epoxy-based resins whose chemistry is altered for specific tasks. The company's subsea intervention group saw immediate applications for resin products for both subsea P&A and interventions.
The first subsea application for the resin product was as a primary plug material. Resin, unlike cement, has the ability to significantly penetrate the formation. The reduced or eliminated solids content prevents dehydration and allows for a much more robust reservoir plug.
Besides providing more robust plug, resin's delivery mode can be radically different than that of cement. Due to contamination concerns, cement can only be bullheaded through small ID tubing and must avoid small restrictions, which can result again in dehydration. Resin can be bullheaded into wells through pipe or coiled tubing and continue through the production tubing into the formation without any adverse effect on the performance of the final plug.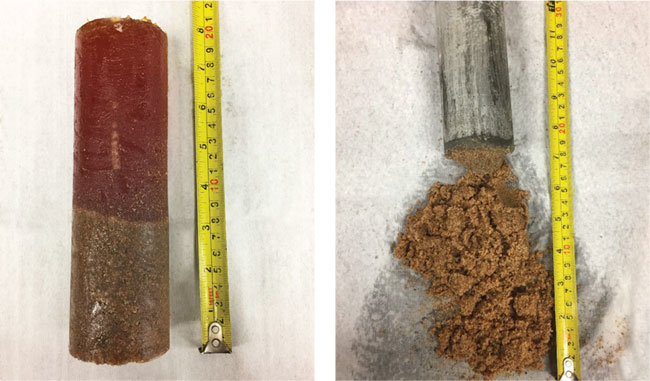 Whereas cement fails to penetrate 20/40 water wet sand (right), Wild Well says that its ControlSEAL penetrates to create a solid bond (left).
This exact procedure was employed on a critical subsea well with 13,000-psi wellhead pressure. The ControlSEAL resin was bullheaded from surface into the formation. Once cured, the plug was positively and negatively pressure tested. The plug was the first regulatory approved resin primary plug in the Gulf of Mexico.
The application for resin primary plugs carries over into P&A. Many subsea wells have damaged or malfunctioning production systems or older trees that cannot sustain the loads of modern intervention systems. Because the vast majority of these wells have vertical trees, resin can once again be bullheaded into the formation.
Upon completion of pressure testing, the problematic tree can be removed from the wellhead and replaced with an intervention system. The well can then be fully abandoned.
This methodology is a significant step-change in methodology as it eliminates the high costs attributed to locating, refurbishing, and testing tree running tooling or adapting existing intervention systems to antiquated production systems.
A holistic solution
The improvements to the 7Series intervention system, the addition of the SSD, and development of ControlSEAL resin all combine to provide operators with a total solution for subsea intervention and P&A. These tools and methodologies allow for a greater percentage of subsea infrastructure to be addressed with lightweight intervention systems without compromising quality, safety, or the environment.