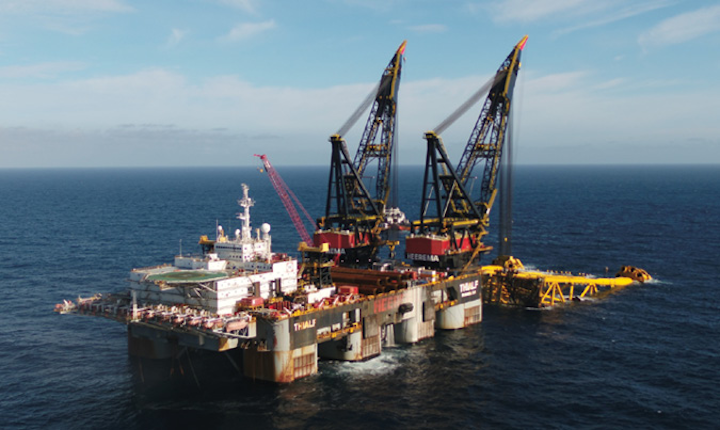 Fifth platform, area-wide subsea power under second phase
Jeremy Beckman
Editor, Europe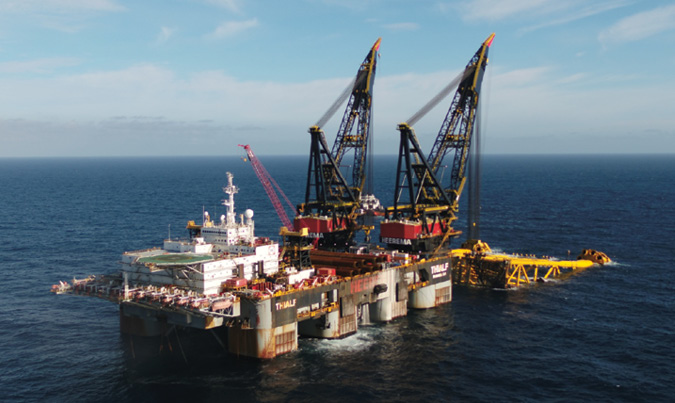 Above: TheThialf installing the Johan Sverdrup riser platform jacket this summer. (All images courtesy Statoil) Below: Phase 2 subsea layout.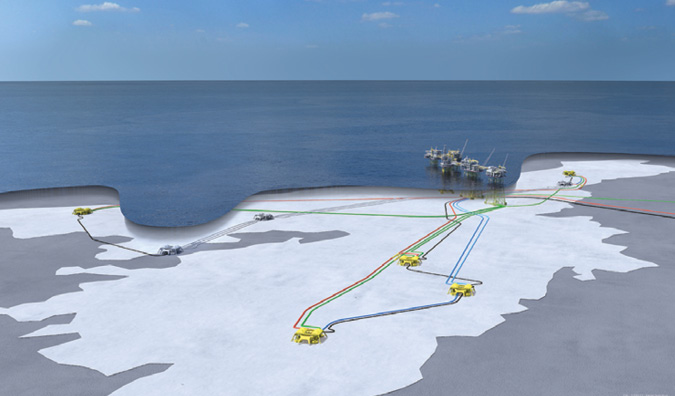 Statoil and its contractors are making steady progress on the Johan Sverdrup field development in the northern Norwegian North Sea. At the project's halfway point in September, construction of all elements of the Phase 1 facilities was 70% complete, with the first of the four platform jackets installed this summer. Offshore installation activity will ramp up next year in the run-up to first oil in late 2019.
This is one of Norway's five biggest field developments to date, and the costliest, although the projected capex has come down by 25% since the submission of the original Phase 1 plan in 2015, to NOK92 billion ($11.10 billion) at the latest estimate. Much of the reduction, Statoil admits, is due to cost efficiencies implemented throughout the offshore sector over the past two years, and to generally lower rates for equipment and services. There is little risk either of a technology cost over-run, because as Statoil recently pointed out, the company and its partners have solid experience of subsea development solutions in the area; and the combination of moderate water depths – 110-220 m (361-722 ft) – and good reservoir characteristics render new, customized solutions unnecessary. That may not be the case for Phase 2, however, when wide-ranging subsea electrification comes into play.
Exploration history
The first exploration well drilled at the Johan Sverdrup location was in 1967, but the initial discovery well followed 43 years later when Lundin Norway drilled the 16/2-6 well on the Avaldsnes prospect in 2010 on license PL 501. Lundin was applying a new geological model that it had previously trialed in the same Utsira High region to discover the Edvard Grieg (ex-Luno) field. In 2011, Statoil drilled the Aldous discovery to the north on adjacent license PL 265, and the appraisal wells that followed established that this was one giant connected field that also extended into PL 502. Subsequent drilling confirmed a 200-sq km (77-sq mi) structure with a lower Cretaceous/Jurassic sandstone reservoir at a shallow subsurface depth of 1,900 m (6,233 ft), with normal pressure and temperature. The oil is highly mobile with a low gas/oil ratio. Statoil assesses recoverable reserves in the range of 1.9-3 Bboe, and the ultimate goal is to produce 70% of this resource. Another exploration well drilled this February also proved a northern extension of the field, encountering oil in lower-quality Draupne reservoirs.
Following a general agreement by the various licensees, Norway's government unitized the development area, appointing Statoil operator with an equity interest of just over 40%, the other partners being Lundin Norway, state-owned Petoro, Aker BP, and Maersk Oil (recently acquired by Total). The government also renamed the field Johan Sverdrup, after Norway's first prime minister.
Planning for the project started in March 2012, with Aker Solutions initially awarded feasibility and concept studies, followed by the front-end engineering design (FEED). Due to the field's huge extent, the partners opted for a phased development, with the initial Phase 1 plan, sanctioned by Norway's Parliament in 2015, calling for a bridge-linked four-platform complex spanning 700 m (2,296 ft). This would comprise process, drilling, riser and utility/accommodation installations, all supported on steel jackets in 110 m (361 ft) water depth, and eventually delivering peak production of 440,000 boe/d from 35 production and injection wells, with three subsea water injection templates for disposal of produced water and sea water. The oil would be transported to Mongstad in western Norway through a new 275-km (171-mi), 36-in. pipeline; and the gas to Kårstø via a 165-km (102-mi), 18-in., 10-MMcm/d pipeline tied into the Statpipe system via a hot-tap connection.
Among the main contracts that followed, Aker Kvaerner was awarded an engineering, procurement, and management assistance (EPMA) contract, responsible for engineering and procurement for the process and riser platforms. Samsung Heavy Industries was appointed to fabricate the topsides for the process and riser platforms - total weight 46,000 metric tons (50,706 tons) - with Aibel responsible for the deck of the drilling platform under an EPC program. Kvaerner would provide the jackets for the drilling, riser and process installations, and Dragados Offshore the jacket for the utility/living quarter (ULQ) platform, with the Kvaerner/KBR venture assigned the 19,000-metric ton (20,944-ton) ULQ topsides. Apply is constructing the 9,300-metric ton (10,251-ton) accommodation module, which will house 450 personnel, in Norway and Sweden, while a yard in Poland is fabricating the 9,700-metric ton (10,692-ton) utility module under Kvaerner's supervision. Kvaerner will then assemble the completed structures in Stord for delivery in early 2019.
Statoil also contracted Odfjell Drilling for platform drilling and use of the semisubmersibleDeepsea Atlantic for the first-phase subsea wells; Baker Hughes for integrated drilling services, over a six-year period; FMC Kongsberg (now TechnipFMC) for subsea production equipment, including 13 trees/wellheads, three templates and control systems; IKM Ocean Design to undertake the FEED for the infield pipelines and detail engineering and other services for the subsea umbilicals, risers and flowlines; and Heerema Marine Contractors (HMC)/Allseas for the platform installations.
According to a recent statement by project partner Aker BP, pre-drilling of the development wells started in March 2016 through an eight-slot, 246-metric ton (271-ton) seabed template, supplied by Heerema Fabrication Group's Vlissingen yard, and is currently ahead of schedule. Eight production wells were completed by the end of last year, with results in line with expectations. In addition, three pilot wells were drilled to assist placement of the development wells. Nine of the 10 planned pre-start up water injector wells have so far been completed.
This summer, Kvaerner's yard at Verdal finished construction of the first jacket, for the riser platform, and this was installed by HMC's crane vesselThialf at the end of July. The 26,000-metric ton (28,660-ton) jacket, which is 140 m (459 ft) tall and connected to the seabed by 24 piles weighing in total over 9,000 metric tons (9,921 tons), is the largest jacket installed to date offshore Norway. In September, the Thialf also lifted three large modules for the drilling platform deck onto a giant barge inshore in the Klosterfjorden, south of Stord. This comprised a 10,500-metric ton (11,574-ton) module support frame and 8,200-metric ton (9,039-ton) drilling support module, built respectively by Aibel's yards in Thailand and Haugesund; and a 2,800-metric ton (3,086-ton) NOV-supplied drilling equipment set, assembled by Nymo. The mated deck structure was then transferred to Haugesund for onshore hookup and commissioning ahead of the arrival next summer of Allseas' Pioneering Spirit for the single-lift, offshore installation. The same vessel will install the process and ULQ topsides in 2019.
Next year Saipem'sCastoronevessel will start laying the two main export pipelines. Nippon Steel & Sumitomo Metal has been fabricating the pipes in Japan, with the steel provided by Mitsui, and Wasco Coatings Malaysia performing external anti-corrosion treatment and concrete weight coating for both lines, plus internal flow coating for the gas line. Recently, Statoil contracted Aker Solutions to supply Sverdrup's umbilicals.
This March the Johan Sverdrup partners decided to proceed with Decision Gate 2 (DG2) of the Phase 2 development, with start-up scheduled for 2022. Estimated capex is in the range of NOK40-55 billion ($4.83-6.63 billion), excluding improved oil recovery measures, with a targeted break-even price of below $30/bbl (compared with less than $20/bbl for Phase 1). The main features are a second processing platform, linked to the existing complex, lifting the total production capacity to 660,000 boe/d, with a further 28 producer and injector wells on the Avaldsnes, Kvitsøy, and Geitungen satellite areas. A final investment decision and formal submission of the development plan should follow during the second half of 2018.