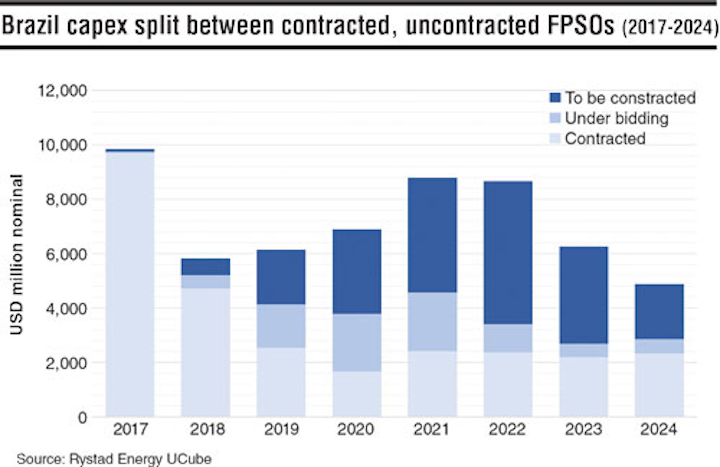 Aiming for 2.77 MMb/d of liquids production in 2021, Petrobras plans to install 19 FPSOs offshore Brazil over the next five years. With one FPSO producing and 10 under construction, Petrobras is currently negotiating contracts for a unit each on the Sepia, Libra, and Buzios fields. Tenders for the remaining five loom on the horizon, opening huge opportunities.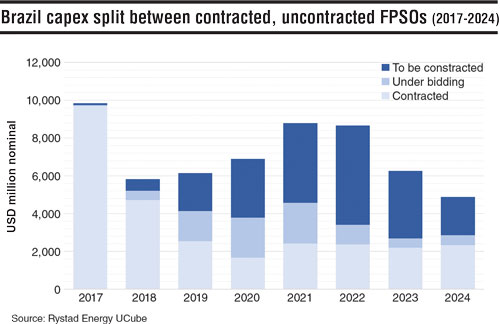 The analyst firm forecasts an increase in Brazil's total offshore liquids production to 3.2 MMb/d in 2021, delivering an average of 5% yearly growth from 2016 (2.6 MMb/d) - with the presalt layer accounting for two-thirds.
Rystad Energy data indicates that operational efficiencies and well productivity have helped Petrobras and its partners achieve a 50% reduction in the time to plateau, currently 10 months. The analyst firm believes that the presalt, with a break even lower than $50/bbl, has illuminated the offshore market in a challenging period.
- Aditya Ravi, Rystad Energy
Worldwide offshore rig count and utilization rate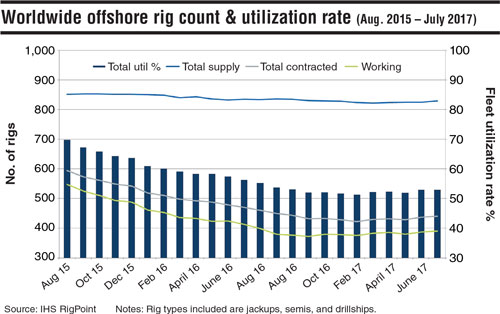 Offshore rig utilization stayed flat during July, holding steady at 53%. However, this is partially due to the fact that the global fleet size grew ever so slightly to 831 jackups, semis, and drillships, of which a total of 440 were under contract in the month, also a tiny bump over last month. Similarly, the number of rigs that are working also had a modest uptick in July, bringing that count to 391.
- Justin Smith, IHS Markit Petrodata
More orders imminent for floating production systems
Continued low equipment and service costs have combined with re-engineering have resulted in improved field economics. As a result, projects previously deemed uncommercial during the high oil price era, such as Mad Dog Phase 2 in the GoM are now being ordered, while others, such as Shell's Bonga SW project off Nigeria, are expected to be ordered. This, analyst Westwood Energy claims, demonstrates a renewed confidence in FPS developments in both deepwater and in shallow water.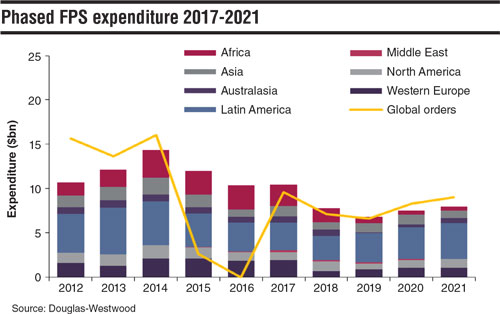 Currently 31 units are under construction. Seven FPS units have been ordered this year, and further high-capex orders are imminent, with the Libra and Sepia FPSOs offshore Brazil likely to be sanctioned late in the year. Latin America will remain dominant in the sector accounting for 32% of capex and 33% of installations.