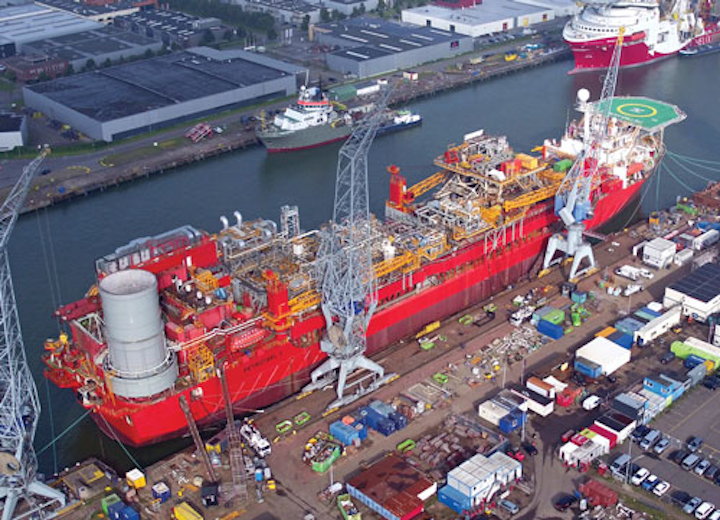 | | | |
| --- | --- | --- |
| | | Jessica Tippee Houston |
Transocean has agreed to acquire the entire share capital of Songa Offshore, under a transaction estimated at around $3.4 billion.
"The combination of Songa Offshore and Transocean is a strategic fit," said Frederik W. Mohn, chairman of Songa Offshore. "By adding Songa Offshore's four Cat-D rigs to Transocean's existing harsh environment fleet, the combined company will be the leader within this segment which is showing signs of recovery."
Transocean CEO Jeremy Thigpen added: "The acquisition will strengthen Transocean's position as the leading offshore driller with exposure to deep- and harsh-water markets. Upon closing, Transocean will add four high-specification harsh environment floaters, in addition to three legacy mid-water harsh environment rigs…"
Assuming shareholder approval for the transaction, Mohn will be nominated to serve as director on the Transocean board. The transaction is expected to close in 4Q 2017.
The combined company will operate a fleet of 51 mobile offshore drilling units (with a contract backlog of $14.3 billion) comprising 30 ultra-deepwater floaters, 11 harsh environment floaters, three deepwater floaters, and seven midwater floaters. Additionally, Transocean has four ultra-deepwater drillships under construction, including two contracted with Shell for 10 years each. Transocean also anticipates re-ranking the combined fleet, which may lead to some rigs being recycled. The combined company will likely establish a harsh environment center of excellence in Norway.
Total transaction value of approximately $3.4 billion, including premium, comprises: $1.7 billion net assumed Songa Offshore debt, $660 million estimated Transocean Inc. convertible bond, $540 million estimated Transocean Ltd. equity, and $480 million estimated Transocean cash.
As for the other major, recent drilling contractor merger, Ensco plc and Atwood Oceanics Inc. will hold their respective shareholder meetings on Oct. 5, 2017. On May 30, 2017, the companies announced that they have entered into a definitive merger agreement under which Ensco will acquire Atwood in an all-stock transaction that was unanimously approved by each company's board of directors. On June 29, 2017, the companies announced early termination of the waiting period under the U.S. Hart-Scott-Rodino Antitrust Improvements Act of 1976. The transaction is expected to close the first week of October.
Exmar takes delivery ofCaribbean FLNG
Wison Offshore & Marine has delivered to Exmar the world's first barge-based floating natural gas liquefaction and storage facility,Caribbean FLNG. Prior to the delivery, the contracts for project financing provided by Bank of China, Deutsche Bank and supported by China Export & Credit Insurance Corp. were officially signed.
Wison undertook the Caribbean FLNG project under an engineering, procurement, construction, installation, and commissioning (EPCIC) contract with Exmar. The barge-based FLNG vessel is 144-m (472-ft) long, 32-m (105-ft) wide and 20-m (66-ft) deep, with an operating draft of 5.4 m (18 ft), and an LNG storage capacity of 16,100 cu m (568,566 cf). It also has a liquefaction capacity of 500,000 tons/year.
The vessel successfully completed its performance test at the Wison yard in Nantong, China, in September 2016. The was the first time that LNG had been produced onboard a floating facility as well as the first time that a floating liquefaction unit had completed gas-trial and performance test before sail-out.
Wei Huaqing, Project Manager for the Caribbean FLNG project and Deputy General Manager of Wison (Nantong) Heavy Industry, said: "We appreciate the support provided by Exmar and Black & Veatch during the project execution.
"The final delivery of the FLNG project verified Wison's comprehensive competence from selection of process technologies, engineering, qualified supplier management, fabrication technologies to commissioning of process plants, demonstrating our integrated EPCIC solution and project delivery capabilities for complicated projects."
Refurbished FPSO ready for Brazil
Following a two-and-a-half year complete redeployment project, Damen Shiprepair Rotterdam has delivered the FPSOPetrojarl I to Teekay Offshore Partners. The self-propelled FPSO spent 14 months in the 300-m x 50-m (984-ft x 164-ft) Dock no. 8 undergoing refurbishment of its marine systems, underwater hull, seawater system, crane booms, heating coils in the cargo tanks and specialized steelworks in the upper and lower turret areas.
Simultaneously, new designed high quality, prefabricated equipment skids containing heating, cooling, separation, compression, boilers, centrifuges as well as a new E-house with electrical equipment were placed on board. Interconnecting piping and cabling was subsequently installed to complete the topsides and connect it to the remaining facilities.
According to Damen, the project involved more than 450,000 engineering hours and more than 50% of the process equipment was removed and replaced by new and additional equipment.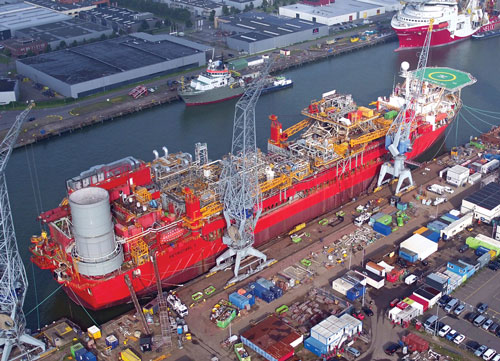 Petrojarl I measures 215 m (705 ft) in length overall and 32 m (105 ft) in breadth. ">
The FPSOPetrojarl Imeasures 215 m (705 ft) in length overall and 32 m (105 ft) in breadth.
Teekay had operated thePetrojarl I for 28 years in the North Sea, but it is now destined for the Atlanta field offshore Brazil. Located in block BS-4 in the Santos basin, Atlanta is a postsalt oil field, 185 km (115 mi) offshore Rio de Janeiro in a water depth of 1,500 m (4,921 ft). First oil is expected in 1Q 2018.
Queiroz Galvão Exploração e Produção S.A. (QGEP) is the operator of the block with a 30% ownership along with consortium members OGX Petróleo e Gás S.A. (40%) and Barra Energia do Brasil Petróleo e Gás Ltda. (30%).
In mid-July, QGEP announced that it signed an amendment to its five-year charter contract with Teekay Offshore Partners for the FPSOPetrojarl I.The amendment takes into account the technical issues surrounding retrofitting the FPSOand the resulting delays in delivering the unit to the Atlanta field. Under the terms of theamendment, QGEP will pay a lower day rate for the FPSO during the first 18 months ofproduction, which the company claims should reduce overall operating expenses at the field to $410,000/d, approximately 15% below the original cost. After the first 18 months of production,the original day rate will become effective, plus a variable rate which will be largely basedon oil prices during the remainder of the contract.