Recent designs have longer legs, can be placed in 575 ft of water
Jerry Greenburg
Special Correspondent
Several naval architects and marine engineers have introduced new jackup rig designs that trend toward larger units with deeper water depth capabilities, with one design rated for operations in up to 575 ft (175 m) of water. Other "new" designs are enhancements and upgrades of existing units that aim to meet more demanding criteria from operators, and to comply with requirements for more site assessments and preloading rules and regulations worldwide. Some of the more notable new designs are detailed below.
BASS design
Among these new designs is the BASS unit from Bennett & Associates, dubbed BASS 350 and BASS 400. The rig classes are essentially identical save for the rated water depth. The BASS class is an independent-leg, rack-and-pinion jackup designed for moderate environments. The design supports the higher loads required for drilling operations today while maintaining the industry-preferred footprint of the LeTourneau 116 design.
The leg length of the 350-ft (107-m) version is 492 ft (150 m) while the 400-ft (122 m) water depth unit has 544 ft (166 m) of leg. Both units can accommodate 150 people.
The 229.6 x 210 x 27.9 ft (70 x 64 x 8.5 m) hull features aft leg spacing of 142 ft (43 m) and longitudinal leg spacing of 129 ft (39 m). The large spud cans are 65.62 ft (20 m) in diameter. The helipad is rated for Sikorsky models S61-N, S-92, or EH-101. The rig's operational water depth ranges from a minimum of 30 ft (9 m) to a maximum of 400 ft with a nominal drilling depth of 35,000 ft (10,668 m). The cantilever features a drilling envelope of 70 x 30 ft (15 ft to either side of the transom), with a 3,000 sq ft (279 sq m) cantilever pipe rack (60 x 50 ft) as well as a 3,000 sq ft main deck pipe rack. The rig also has an open deck area of about 3,000 sq ft. The maximum variable deck load in operating mode is 8,500 kips, including hookload; 7,200 kips in storm conditions and during transit.

Bennett & Associates' BASS 400 is available in 350-ft and 400-ft water depth versions.
BASS class rigs are templates from which the final design can be modified to meet the owner's specifications for efficiency, performance, and capability. Main power is from four Caterpillar 3516C diesel marine gen sets each rated at 1,800 kW, with space for a fifth generator. Solids control is accomplished via five shale shakers with mud cleaner, two 1,000 gpm vacuum degassers, and space, utilities and piping for three decanting centrifuges.
JU3000N design
Noble Corp. ordered four JU3000N jackups in late 2010/early 2011 at Jurong Shipyard in Singapore for delivery beginning in 4Q 2012 through 1Q 2014. The JU3000N is an enhanced iteration of Friede & Goldman's JU 2000E, and, according to Noble, "represents the latest generation of high specification jackup drilling rigs with greater capacities and capabilities than most existing units."

(Above) Noble Corp. has ordered four Friede & Goldman JU3000N design jackups in Singapore. The rigs are an upgraded and enhanced iteration of the designer's JU2000E. (Below) Gusto MSC's latest CJ jackup is its largest, with a water depth rating of up to 575 ft.

In a recent report, the company said that jackup fleet utilization overall was about 75% but that utilization for the industry's 29 high-specification jackups was above 90% and is expected to remain high in coming years as demand increases. Additionally, the company said it receives "a lot of inquiries in places that we didn't necessarily target (for the rigs)."
The 231 x 270-ft (70 x 82-m) rigs will have a 75 ft (23 m) cantilever reach, 2.5 million lbs hookload capacity, a high-capacity mud circulating system and a 15,000 psi (103 MPa) BOP. The rigs will be capable of off-line pipe handling and provide accommodations for up to 150 people. They can operate in up to 400 ft of water and drill to 35,000 ft.
Cost for each rig is about $220 million for the first two units and about $235 million for the second two rigs ordered, according to the company. Costs include project management, spares, and start up.
Main power is five Caterpillar C-175 16 Tier II engines. Three National Oilwell Varco (NOV) mud pumps, five NOV shakers, desander, desilter and diverter handle the mud circulation and cleaning duties. The NOV pipe handling system can make up and break out triple stands. The 210 ft (64 m) derrick with 40 x 45 ft (12 x 14 m) base can rack back 35,000 ft (10,668 m) of 6 5/8-in. drill pipe and 9,000 ft (2,743 m) of 9 5/8-in. casing.
Gusto MSC designs
Gusto MSC's jackup designs continue to grow in number as well as size, designed now to operate in the harsh North Sea environment in up to 175 m (575 ft) water depth with its recently introduced CJ80 iteration. The largest of Gusto MSC's jackup design currently under construction is its CJ70 unit, of which Maersk drilling ordered two CJ70-X150-A rigs at Keppel FELS in Singapore for $1.2 billion.
Maersk's CJ70 rigs are rated to operate in up to 500 ft (152 m) of water (450 ft or 122 m in North Sea conditions) and to drill to 35,000 ft.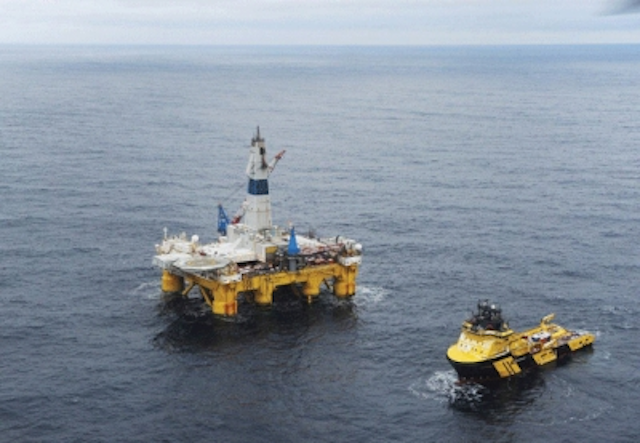 The range of Gusto MSC's jackup series, from smallest to largest.
One unique feature is its X-Y cantilever system that combines the cantilever and drill floor structures into one fixed package that can move longitudinally and transversely relative to the hull. This means there is no need to disconnect the BOP, cables, hoses, etc. when moving the drilling package since there are no flexible lines between the cantilever and drill floor. The design simplifies BOP handling and minimizes deck obstruction. Additionally, the elevated position of the cantilever minimizes the required air gap of the hull when drilling over a platform. The X-Y cantilever reach is 100 x 65 ft (30.5 x 20 m).
Maersk's rigs have accommodations for 120 people with the quarters wrapped around the forward leg and the helipad at the forward end of the quarters, resulting in a large free deck area.
Gusto MSC's latest iteration of the CJ series is its CJ80-X175-A unit, developed as a result of interest from its customers for a robust deepwater jackup for Norwegian and UK waters. The hull measures 328 x 360 ft (100 x 110 m) with 700-ft (213-m) long legs. The design will have a variable deck load capacity of up to 12,000 tons.
Emphasis of the design aims to support subsea operations to install subsea christmas trees, templates, etc. It will have accommodations for up to 150 people.
This design also features its X-Y cantilever with a capacity of 1,500 tons over a 100- x 80-ft (30.5 x 24 m) reach. The load can be increased to 2,250 tons over an 80- x 80-ft reach. The CJ80 will be equipped to drill with a subsea BOP and marine riser rather than a surface BOP as is found on most jackups.
The unit would be equipped with four 2,500 kW and two 1,750 kW generator sets in two engine rooms. This configuration results in better electrical load sharing and a reduction of CO2 and nitrous oxide. The rig will have offline stand building capability, four mud pumps, and separate oil-base and water-base mud supply and return systems.
Jackup foundation site assessment criteria drive some new rig designs
With most of the news in the offshore oil and gas industry about deepwater and ultra-deepwater drilling and production, and the huge drillships and semisubmersibles being built to meet deepwater exploration demand, it might seem the shallow-water segment is completely ignored. But this is not the case.
Several naval architects and shipyards have introduced during the past year new jackup rig designs for shallower water. Among them are Bennett & Associates, Friede & Goldman, and Gusto MSC. While it may seem that if you've seen one jackup, you've seen all jackups, that is hardly the case. Recent jackup designs are larger and more robust for harsh environments, with longer legs that can put some jackups in as much as 575 ft of water; enough automation to seemingly rival spacecraft; and sometimes with price tags comparable to the rigs themselves.
There is some method to the madness of introducing larger jackup designs and enhanced iterations of basic models. The region where a rig will be marketed is one criterion. The harsh North Sea, for example, is essentially a jackup market; although floating rigs have been used, they do not provide the best platforms for drilling high-pressure/high-temperature formations typical of North Sea gas fields – so larger, more robust jackups have found a home there. But there are other reasons for new, larger, deepwater jackup designs.
Bill Bennett, chairman of Bennett & Associates, says the 1991 GUMSHOE (Gulf of Mexico Storm Hindcast of Oceanographic Extremes) environmental criteria developed by Ocean Weather for the oil companies and used by drilling contractors to site jackups, resulted in year-round utilization in greater water depths during hurricane season for jackups in the GoM. Application of the reduced environmental criteria resulted in damage to several offshore rigs and platforms by hurricanes Katrina, Rita, and Ivan. The site assessments based on GUMSHOE permitted lowering the loads and required air gaps. Additionally, some jackups also lacked the capability to preload their foundations to the extent their spud cans were loaded during these severe storms.
"The situation was not necessarily a result of a structural problem but rather a foundation problem," said Bennett. "The Bureau of Ocean Energy Management, Regulation, and Enforcement (BOEMRE) issued stricter environmental regulations that require jackups to meet these more stringent criteria. Additionally, the jackups must have sufficient preload capacity for testing their foundations to the maximum spud can reactions imposed during the hurricane season and enough leg to provide air gaps sufficient to clear the maximum wave crest elevations."
In the Gulf of Mexico generally, jackups that were properly sited and followed the revised criteria did not have problems, and none were lost during subsequent hurricanes.
"It seems to say that any rigs that follow the SNAME RP5-5A or ISO rules for site specific assessment are going to be safe to operate," said Bennett. "The other piece of the equation is that there have been a lot of improvements of drilling equipment, monitoring systems, and other safety aspects of the new classes of jackups. Designers are utilizing new types of materials, equipment, and new safety systems as well as more powerful design tools and rigorous methodologies for assessing their capabilities."
Bennett also noted that in general, "you find that the new generations of jackups are truly new and robust and more suitable of withstanding the types of environmental and operational criteria required to drill in more hostile situations."
More Offshore Issue Articles
Offshore Articles Archives
View Oil and Gas Articles on PennEnergy.com