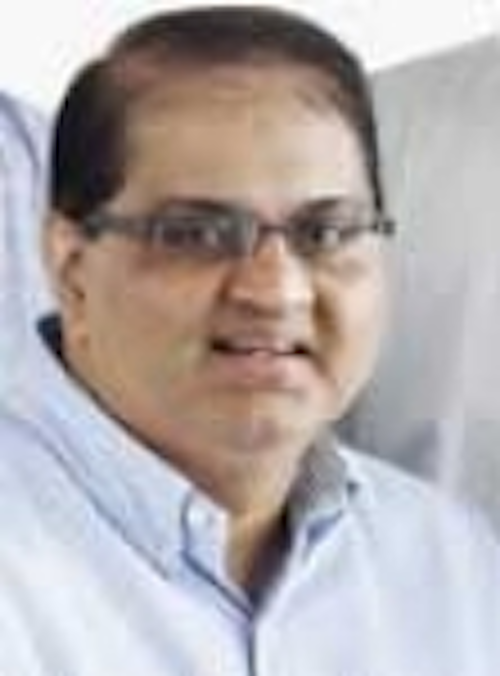 Executive director of Keppel FELS discusses how the latest rig designs target safety and efficiency
Gurdip Singh
Contributing Editor
Singapore's Keppel FELS says that the global drilling industry has begun to renew its rig fleet, with a wave of orders coming in the last quarter of 2010. More rig building orders are expected for units with the highest standard of safety, Aziz Merchant, executive director of Keppel FELS, says in an exclusive interview withOffshore magazine.
•••
Offshore: How is the demand for new drilling rigs?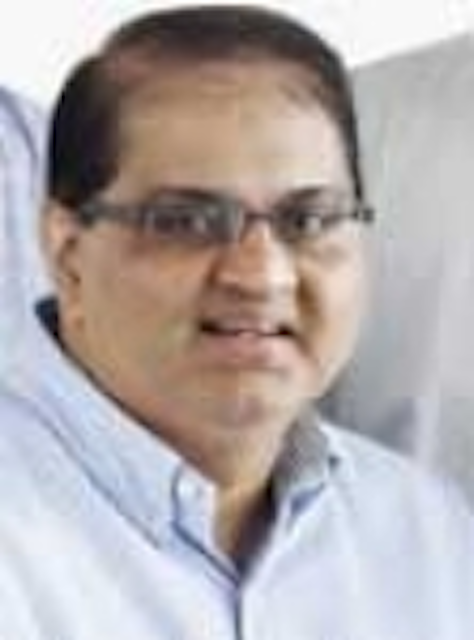 Executive Director of Keppel FELS Aziz Merchant.

Aziz: Presently, many oil and gas companies have either restored or expanded their plans, with the expectation that energy demand and commodity prices will remain relatively robust over the longer term. Pareto Securities has estimated that oil and gas companies will be raising their E&P budgets by 15%-20% in 2011.
The industry is also seeing a change after the Macondo oil spill accident in the Gulf of Mexico. Oil companies are looking at new rigs with good safety features and features which can improve productivity. This will certainly create more demand for new units in the coming year. We also expect significant fleet renewal, given that a large number of rigs are more than 30 years old. In fact, some drilling companies began placing renewal orders last fall. In the future, the age of the rig will be one of the main requirements by oil companies when choosing a particular rig. We expect them to favor new technology-savvy rigs in upcoming bids.
We have 24 confirmed orders in the jackup categories of the 46 ordered globally since the last quarter of 2010. We are still getting inquiries, and there is still an active market looking for new jackups. I believe that nearly 50% of the jackup fleet renewal orders may have been placed with global rig builders.
Drilling contractors will also be looking for specialized rigs to drill in the Arctic area in the future. Currently, we are completing two drillships with hulls designed to operate in the harsh Arctic environment. The steel that has been used for the hull are designed to bear the icy environment. We are working on two rigs for Noble Drilling –Bully 1 and Bully 2.
Unfortunately, political turmoil in the Middle East and North Africa has caused some disruption to oil supply. Overall, we expect the fundamentals of offshore marine industry to remain intact in spite of the unrest in the Middle East and North Africa, and the spate of natural disasters in Japan. Energy demand and oil prices are expected to remain robust, with demand driven by population and economic growth, particularly from developing countries across Asia/Pacific and Latin America.
Offshore: Do you expect more newbuild orders to expand rig capacity globally or to be replacements of older units? Or are there more contracts for upgrades and retrofitting?
Aziz: We expect oncoming orders for mid-water units, covering water depth below 500 ft (152 m) to 5,000 ft (1,524 m), an area which is beyond the operating capacity of jackups, which usually operate in water depths down to 450 ft (137 m). Of the 200 semisubmersible rigs in the world designed to operate in water depths of 2,000 ft to 12,000 ft (610 m to 3,658 m), 130 units are about 30 years old. We are hopeful that these new orders will replace these units.
Keppel's in-house KFELS B Class has been improved to Super B Class.
The jackup market is expected to stay active on the back of the recent surge of new orders. With majority of the installed fleet considered as low specification units, jackup fleet replacement is expected to continue throughout the decade and market conditions for premium jackup rigs are likely to further improve. Moreover, incremental demand from Brazil and newer deepwater locations such as Gulf of Mexico's Lower Tertiary trend, West Africa, the Mediterranean, and Southeast Asia will further support growth in demand for deepwater rigs such as semisubmersibles and drillships.
Offshore: What are the new challenges in drilling for oil and gas these days?
Aziz:Apart from increased safety considerations, oil and gas exploration has been moving into harsher and deeper waters in more remote locations. We are seeing demand for higher specification and more capable drilling, and we cater to these demands through our suite of proprietary designs and our "near market, near customer" strategy.
Offshore: How has the drilling environment changed?
Aziz: We are moving toward deepwater and ultra-deepwater semisubmersible rigs. We have built the semisubmersible DSS21 and DSS51, which are designed to operate in 10,000 ft (3,048 m) of water. These rigs have state-of-the-art dynamic positioning systems, since it would not be feasible for them to carry the additional load of the mooring systems onboard in deepwater locations. Rigs operating below 5,000 ft (1,524 m) water depth have self-contained mooring systems.
Overall, the offshore oil and gas exploration and production is barely six decades old yet the industry has already been pushing into the ultra-deepwater depths of up to 12,000 ft (3,658 m). Its latest frontiers lie in the difficult terrains of the Caspian Sea region and the Arctic Ocean, where the winter temperatures can reach below -60° C (-76º F).
Harvesting energy in these harsh environments is neither easy nor cheap. Operators and oil services companies are looking for companies to deliver innovative solutions with the right quality, on time, within budget, and without incidents. As a leading shipyard and offshore rig designer, the Keppel Offshore and Marine Group has to adapt, innovate, and develop solutions to address these needs and challenges. We have been done it through our B Class jackups, SSDT semisubmersibles, and DSS semisubmersibles, and will continue to improve on our designs.
Offshore: What have been the lessons from BP's Gulf of Mexico oil spill?
Aziz:As a result of the Macondo blowout incident in the Gulf of Mexico last year, there is a greater focus on newer drilling units that have superior technical and safety capabilities. The effects are already apparent and continue to provide impetus for the renewal and upgrading of the global offshore fleet. With the resumption of activity and cash flow, drilling companies are pushing their projects forward and planning for future expansions with newer and more capable fleets.
Overall, stricter regulatory standards and regimented focus on HSE (health, safety, and environment) by the industry will favor drillers and operators with stronger safety practices and newer high-specification equipment. The effects are already apparent and continue to provide impetus for the renewal and upgrading of the global offshore fleet. Specifically, the US Bureau of Ocean Energy Management Regulations, and Enforcement has listed the latest requirements required to operate in territories under its jurisdiction.
These include increased inspection testing and certification of BOPs; increased number of shear rams on all deepwater BOPs; increased scrutiny of casing and cementing of wells; requiring operators to demonstrate improve blowout containment and spill response plans; and environmental re-review of deepwater projects. We expect a good number of rigs to undergo retrofit and upgrade to meet these requirements for operating in the Gulf of Mexico.
Offshore: What changes has Keppel FELS made in building oil and gas drilling rigs?
Aziz:Our rigs are designed to meet the needs of the market. We work with our customers to customize the rigs to their requirements. A majority of the rigs have been based on our proprietary designs from the KFELS B Class rigs to the SSDTs and the DSS series of semisubmersibles.
For instance, during the 1990s, there were only two companies in the world supplying the critical jacking systems used to elevate jackup rigs, and we were totally reliant on them for quality control, pricing, and delivery schedules. This did not give us much choice and we had to do something that would give us better supply control and cost savings in the rig construction process. This led us to develop our proprietary jacking and fixation systems.
FELS has delivered a total of 33 KFELS B Class jackup rigs to customers operating in different parts of the world.
It was a very big move for us at that time; Keppel FELS was just a pure shipyard, building according to plans and designs provided by customers. To persuade a client to use our own products was a big step. We even went to the extent of purchasing an extra set of jacking and fixation equipment as a backup, in case ours did not work for some reason. Today, these jacking and fixation systems are key components used in all Keppel-designed jackup rigs.
It is important to note the increased accommodations being built on rigs. Rig operators are paying more attention to the drilling and marine crew working on the rigs, and have started providing them with better facilities for sleeping as well as recreation. Accommodations for people working on a jackup unit have increased from 110 men in one-, two-, and four-man rooms to an average of 150 men in one- and two-man rooms. Likewise, accommodations on semisubmersible rigs have been increased to 200 men from 150 men in the past. Fatigue is bad for work; and as such, rig operators emphasize the importance of rest for their offshore personnel.
Rig owners and operators also have optimized the drill floor and have increased automation with more safety features on the drill floor. This is all designed to require fewer people on the drill floor and to manage operation from the driller's cabin. The area for the drill floor has grown as well, with derrick-based footing increasing to 36 ft x 36 ft and in some cases 40 ft x 40 ft from the original 30 ft x 32 ft to accommodate for offline standbuilding and to accommodate larger setback. This all is aimed at increasing productivity.
The hook loads have also increased. Previously we had 1.5 million pound hook load, and now it is up to 2.5 million pound hook load for drilling deeper wells and also to carry heavy casing. Given the high cost of drilling for oil and gas wells, there are certainly more plans to always make rig operation more productive.
Offshore: Could you provide an overview of the R&D work being done in rig designs to meet today's drilling requirements?
Aziz: Keppel Offshore & Marine has its own research and development arms and technology centers for product development and process improvement to strengthen its core competencies in rig building.
The group's research and development, design, and engineering efforts are spearheaded by Keppel Offshore & Marine Technology Centre (KOMtech) which was set up in 2007; as well as the creation of the Offshore Technology Development (OTD) in 1994; the Deepwater Technology Group (DTG) in 2002; and the Marine Technology Development (MTD) in 2002.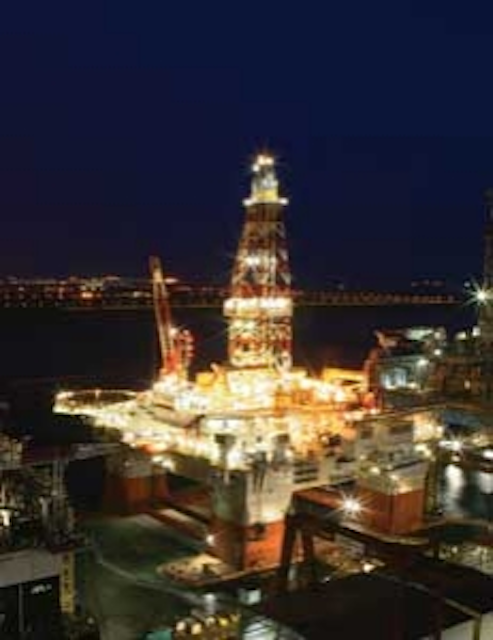 DSS 38 Gold Star, a semisubmersible drilling rig built by Keppel FELS, is performing successfully for Petrobras in Brazil.
In addition, these technology units are supported by established engineering centers in Singapore, Bulgaria, India, and China. Leveraging the time differences of each country, this global integrated engineering hub enables Keppel Offshore & Marine to work on projects with higher efficiency and offer our customers reliable services with a quick turnaround.
Much of the group's success today as total solutions provider has to do with the continuous investment and building up of technology and engineering capabilities over the years. As the exploration and development of oil and gas reserves move to less hospitable places and becomes more complex, technological capability will be a key differentiator.
Keppel's technology leadership will position us ahead of the game as we continue to offer value-added solutions that are innovative and cost-effective for customers. To be more specific, not only we have designed and built our in-house KFELS B Class, but we have also developed and built our KFELS B (Big Foot) Class which has larger spud cans to reduce bearing pressure and to expand operational coverage in more places, especially areas where soft soil is predominant.
In addition, we have also further developed KFELS N Class for operations in the Norwegian sector the North Sea. As for the United Kingdom sector of the North Sea, we have launched Super A Class design since 4Q 2010.
The KFELS N class meets the requirements of the Norwegian Petroleum Safety Authority and the KFELS Super A class meets the requirements of the UK Health and Safety Environment Agency. The Norwegians require the rig to have single-occupant cabins for accommodation. In addition, the level of automation is higher, following the goal to have fewer workers on the drill floor. Comparatively, the UK authorities allows for single or double-occupant cabins.
Load carrying capacities of semisubmersible rigs also have changed over the years, as these units need to carry more risers and drill pipe to accommodate the deeper waters. We have designed our semisubmersible rigs with risers to be stored vertically, which helps manage the size of the rig.
Offshore: How is Keppel FELS accommodating rig owners designs, or incorporating their own systems?
Aziz: We work hand-in-hand with trendsetting customers to get their inputs to further improve and refine our products. For instance, in July 2010, we entered into a partnership with Seafox Group, a leading offshore fleet owner and operator, to commercialize a new vessel concept for the offshore wind energy sector based on our jackup technology.
The KFELS MPSEP (multi-purpose self-elevating platform) is based on our proven jackup designs with further inputs from Seafox to customize it for the installation and maintenance of offshore wind farms, an area in which they have substantial operational experience.
Overall, the drilling companies are looking for turnkey contracts to build their rigs. We see the market moving toward a turnkey basis, with rig owners expecting the yards to provide complete drilling equipment and system packages, moving away from the traditional owner-furnished equipment.
Keppel FELS is always willing to build a rig to the owner's design, but things have changed. Rig owners today want Keppel FELS to propose a design based on their requirements.
Offshore: How has your rig design evolved in recent years?
Aziz: A good example of how rig design has evolved is our proprietary KFELS B Class rig design. The year 1997 was significant for Keppel FELS as it marked our entrance into the world of rig design, acquiring rights to the Freide & Goldman MOD V and MOD VI jackup rigs. The two jackup models were further improved upon by our Offshore Technology Development unit and evolved to become Keppel's proprietary KFELS A Class and KFELS G Class rig designs. These designs were further improved upon and gave rise to a comprehensive range of winning jackup models, such as the KFELS B Class, in our technology portfolio.
To date, Keppel FELS has delivered a total of 33 KFELS B Class jackup rigs to customers operating in different parts of the world. For its environmentally friendly features, the KFELS B Class design was also bestowed the prestigious Engineering Achievement Award from the Institution of Engineers Singapore in 2009.
As for the semisubmersible rigs, we have developed deepwater semisubmersible (DSS) series. We have built theDSS 51 and DSS 38 for 10,000 ft operations. Each is furnished with a DP-2 system. Recently we have designed the enhanced version of the DSS 38 with a DP-3 dynamic positioning system called the DSS38E. Trying to keep a rig on location is a major challenge and providing the state-of-the-art product gives the client the confidence that there will be no breakdown when they are performing a major drilling operation.
More Offshore Issue Articles
Offshore Articles Archives
View Oil and Gas Articles on PennEnergy.com