Anne Leonard
Tom Liskey
DrillingInfo
One of the world's most closely watched exploration wells was spudded on Nov. 13, 2015, about 135 mi (218 km) due east of Brownsville, Texas. The Tiaras-1 new field wildcat is being drilled by Seadrill'sWest Pegasussemisubmersible, which is one of three rigs working in more than 8,000 ft (2,400 m) of water in a 20-mi (28-km) radius on the Perdido Foldbelt in the northwestern Gulf of Mexico.
What makes this well so noteworthy is that it is in Mexican waters, within 10 mi (15 km) of Shell's Perdido field complex, where the other two deepwater rigs are employed. It is estimated that more than 30 Bbbl of oil lie on the Mexican portion of the Perdido Foldbelt, a premise that is bolstered by the fact that PEMEX has already made four Lower Tertiary discoveries.
Moreover, large swaths of these vastly underexplored waters are about to be made available to international explorers for the first time.
With interest growing in the expected announcement of the deepwater phase of Mexico's first bid round, there has been an uptick in activity on the US side. In addition to the ongoing development drilling by theNoble Don Taylordrillship andAtwood Condorsemisubmersible, exploration is planned by Shell to the northeast of the field complex and by Stone Energy to the southwest. Stone in particular is closely watching the progress of Tiaras-1, as the well is perhaps on the same structure as the company's Lamprey prospect.
So, PEMEX's Tiaras-1 new field wildcat may confirm cross-border reservoirs and therefore be the first deepwater well to fall under the jurisdiction of the 2013 Outer Continental Shelf Transboundary Hydrocarbon Agreements Authorization Act. In early December, it was drilling below 10,590 ft (3,228 m) in 8,179 ft (2,493 m) of water; the proposed total depth is about 15,850 ft (4,830 m), targeting the Lower Tertiary. Potential resources are 146 MMboe.
TheWest Pegasus is moored just 2 mi (3 km) south of the international boundary and 4 mi (6 km) south of the first of two locations mapped by Stone in its Lamprey exploration plan. Stone says the Lower Tertiary Frio and Wilcox appear to thicken at Lamprey, which has potential resources of 104-547 MMboe.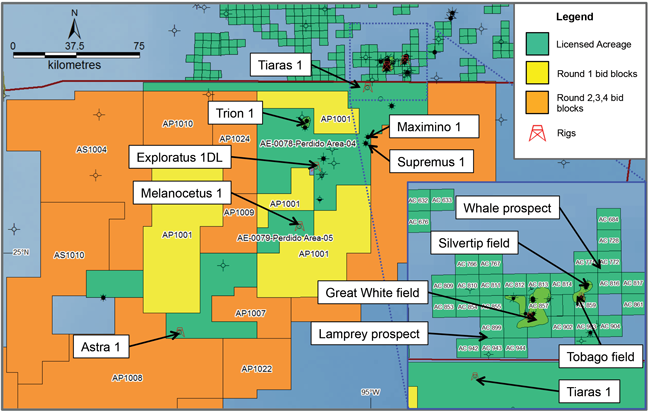 (Map courtesy DrillingInfo)
Stone calls Lamprey a potential hub adjacent to Shell's Great White field which, along with Tobago and Silvertip, is part of the Perdido field complex. Since coming onstream in 2010, Perdido has produced about 100 MMboe; estimated recoverable reserves are 500 MMboe. On Nov. 10, 2015, theNoble Jim Day spudded a Great White development well on Alaminos Canyon block 857. Further to the northeast on block 859, the Atwood Condor is working in the Tobago field. In addition, Shell plans to explore its Whale prospect, which is only 4 mi northeast of the Tobago host. The exploration plan proposes three locations in Alaminos Canyon block 772, and a well on block 815 where Shell made the Silvertip discovery in 2004. Shell says Whale is updip of Tobago and Silvertip, both of which are producing.
Because much of the Perdido Foldbelt lies south of the border, successful exploration of the Lower Tertiary in the Gulf of Mexico has expanded farther to the north and east beyond Perdido. However, it was the salt-cored anticlines trending southwest to northeast across the Mexico-US marine boundary that first caught the attention of explorers, leading to the discovery of Great White in 2002. Great White is the first Lower Tertiary field in the Gulf to produce, and the Perdido field complex remains one of just five producing fields on the Paleogene Trend.
Phase 4 of Mexico's Round 1 will offer 10-plus blocks in Perdido. The kick off has been delayed as regulators have been working on the draft contract to ensure maximum participation.
PEMEX scored its first Perdido Foldbelt discovery in 2012 at the Trion-1 wildcat, which was drilled to a total depth of 20,075 ft (6,119 m) in 8,307 ft (2,532 m) of water, resulting in a light oil (34° API) discovery. Trion potentially holds between 350 and 500 MMboe. It was quickly followed by Supremus-1 (2012), Maximino-1 (2013), and Exploratus-1 (2013-2014).
PEMEX is in negotiations with potential partners for both Trion and Exploratus. Company officials have said they believe that Maximino will be the next asset up for partnership. Trion, Exploratus, and Maximino are thought to collectively hold up to 1 Bboe.
In addition to theWest Pegasusat Tiaras, PEMEX has three other semisubmersibles under contract on the Perdido Foldbelt: the Centenarioat Melanocetus-1, the Bicentenarioat Astra-1, andLa Muralla IV at Exploratus-1DL.
With six deepwater rigs at work and an upcoming bid round, the Perdido Foldbelt is truly one of the world's hot spots. Without a doubt, Mexico hopes that the deepwater phase of Round 1 will lure supermajors and national oil companies to the portion within its border.