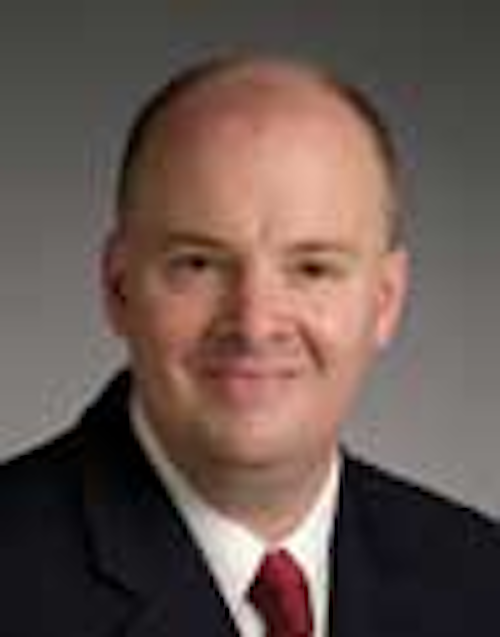 | | | |
| --- | --- | --- |
| | | Bruce Beaubouef • Houston |
The offshore drilling market remains depressed according to the latest Global Offshore Rig Market Snapshot offered by Evercore ISI's Oilfield Services, Equipment & Drilling group. The report covers early contract terminations, rig additions and attritions, and year-over-year contract coverage.
A total of eight contracts – seven new mutuals and one mutual sublet – have been announced so far in September, slightly below pace of 10 at this point in August, the analyst group found.
Contracting decelerated in the back half of last month with a total of 18 contracts signed, well below the August totals of the prior three years, which Evercore placed at 36, 32, and 48.
Three August jackup contracts were for terms of a year or more. Vantage Drilling International'sEmerald Drillerwill be heading to Qatar for Total while Seadrill's West Castorand China Oilfield Services Ltd.'s COSLHunter will operate in Mexico for independent E&Ps.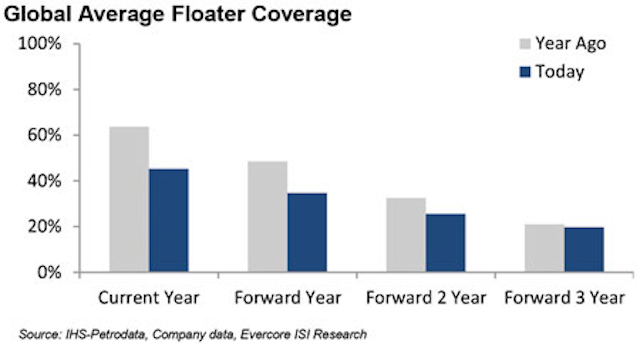 September brought additional activity into the Middle East and Mexico. Diamond Offshore'sOcean Scepter is headed to Mexico for Fieldwood Energy. Abu Qir Petroleum and Petrobel contracted El Qaher Iand El Qaher IIfrom Egyptian Drilling to work in Egypt. Saudi Aramco contracted Senusret from Egyptian Drilling and ENSCO 84 from Ensco to work in Saudi Arabia. Both of the Saudi Aramco contracts were for periods lasting more than 1,000 days.
Since the last report, on the floater side, two contracts were for terms of a year or more, with both Transocean'sSedco 712 and Diamond Offshore's Ocean Valiantsecured for UK P&A work. The UK accounts for two of the eight September contracts thus far, Evercore continued, with both harsh high-spec jackups working for independent E&Ps, including theMaersk Gallant(also for P&A work).
Separately, Cairn Energy noted earlier this week it expects to tender a 7th-generation drillship later this year for less than $200,000/d for a two-well (plus options) drilling program off Senegal.
Utilization continues to trend lower for rigs rolling off contract, while early contract terminations reaccelerated. Evercore said that the contracted global floater fleet fell by five units, or 3.2%, while the contracted jackup fleet fell by 10 units or 3.3%. Average day rates were flat for both floaters and jackups at around $410,000/d and $130,000/d, respectively.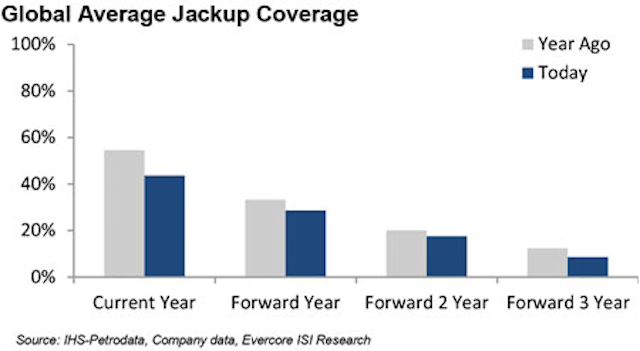 Contractors continued to cold-stack additional floaters, the analyst group found, citing a recent IHS report thatENSCO 8506 and Ocean Rig Myloswill be next to be cold-stacked. The cold-stacked floater count has increased by 30 thus far to 65 since the start of the year.
Evercore found that contract coverage for 2018 has slipped by 30 basis points (bps) to 26% for the global floater fleet but improved by 40 bps to 18% for the global jackup fleet. This compares unfavorably with the forward two-year coverage of 32% for floaters and 20% for jackups from this time last year. Within the analyst group's coverage universe, Ensco plc is the only company to increase its 2018 coverage over the past 30 days. While the company's forward two-year coverage is similarly lower than the level of one year ago,
Ensco's 21% floater coverage for 2018 is only 280 bps lower than its 2017 coverage of 24% at this time last year. In contrast, the industry's forward two-year floater coverage is down 690 bps.
Atwood, Transocean, and Vantage are the only companies to have a higher year-over-year forward two-year floater coverage, with Atwood's and Transocean's coverage incorporating one and six floaters scrapped over the past 12 months, respectively. On the jackup side, Seadrill and Vantage are the only companies to have a higher year-over-year forward two-year coverage versus the industry's average of -270 bps.
DW report sees bright spots
Meanwhile, Douglas-Westwood's (DW) latest World Drilling and Production (DWD&P) Market Forecast finds that while oversupply is likely to increase again in 2017, there are several areas that will have stable activity in the medium term.
Continued outages in Nigeria, a rumored OPEC production freeze as well as output reductions onshore US, due to bankruptcies and capital expenditure cuts amongst shale producers, have helped oil prices rally from record lows. As such, DW anticipates the first decline in onshore oil production since 2009. The oversupply is likely to increase once more in 2017 with a recovery in Nigerian production as well as large output additions from both OPEC and non-OPEC sources.
However, DW has identified several areas with stable activity in the medium term. In Russia, demands for supply agreements with China and new LNG projects will lead to growth in gas-targeted drilling, offsetting decreases in oil-related activity. Western Europe will see offshore development drilling levels maintained due to a number of developments sanctioned before the oil price crash.
Unsurprisingly, the Middle East will see strong drilling growth, both onshore and offshore, as the region's OPEC members continue with their strategy of defending market share. This will lead to over 21,000 development wells drilled over 2016-2022, up 28% on the preceding seven-year period.
The production gains in Western Europe are just one example of an offshore region increasing production in the medium term as a result of the positive effects of the last upcycle. Over 2016-2018, combined offshore oil and gas output will increase in all eight of the regions covered in DWD&P as a result of developments sanctioned in the "boom years" of 2011-2014. DW cautions, however, that this poses a significant threat to oil price recovery over the next few years.