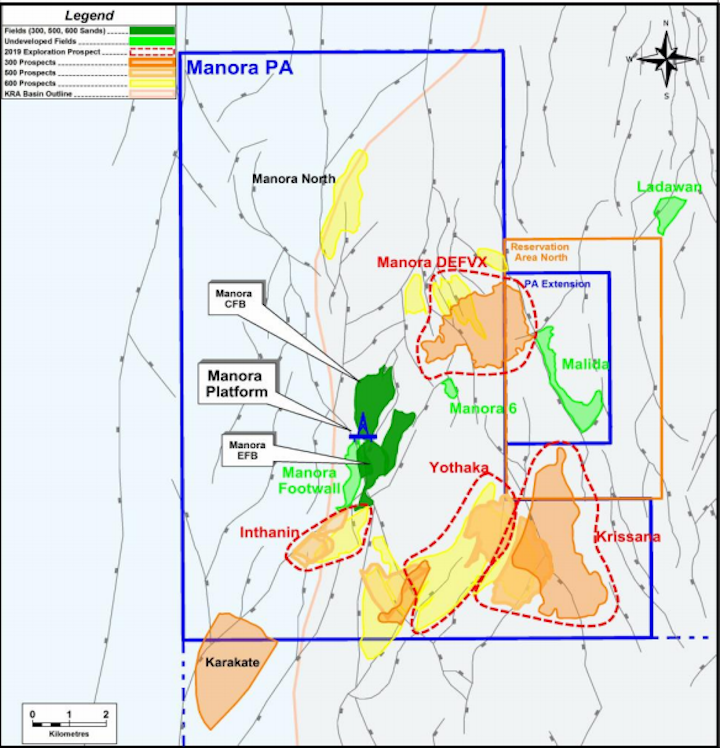 (Courtesy Tap Oil)
Offshore staff
PERTH, Australia – Mubadala Petroleum has revised its drilling plans for the G1/48 concession Manora production license in the northern Gulf of Thailand, according to partner Tap Oil.
This follows results from the Yothaka East-1 exploration well which reached a total MD of 3,367 m (11,046 ft) earlier this week.
The well encountered no significant shows while drilling the well-developed 400 and 500 series fluvial sands. The 600 series lacustrine sands were thinner than expected with 2-3 m (6.5-9.8 ft) of net oil pay identified on logs and in cuttings while drilling.
However, pressure data indicates the 620 series lacustrine sands at Yothaka East-1 are in pressure communication with the nearby Manora oil field via the aquifer.
The partners now plan to appraise the 620 series sands by drilling a side track from Yothaka East to a downdip location 1 km (0.6 mi) north of the current downhole location. They hope to identify the vertical extent of the oil column and the interpreted thickening of the sands to the north and west toward Manora.
If successful, they would develop the accumulation with an extended reach well from the Manora platform.
But the Krissana exploration prospect, immediately east of Yothaka East, will now not be drilled.
12/05/2019