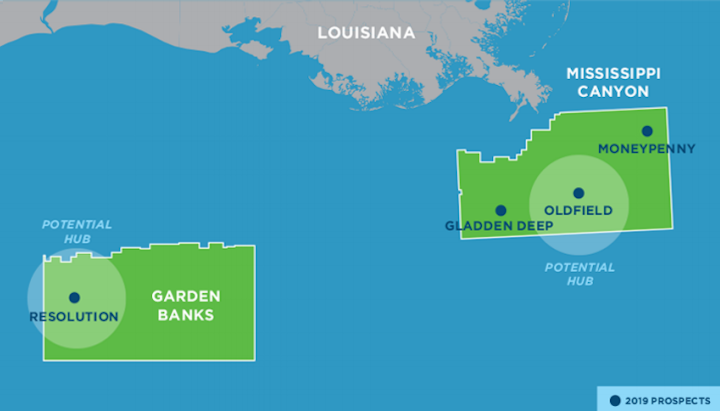 (Map courtesy Kosmos Energy)
Offshore staff
DALLAS – Kosmos Energy has completed drilling the Resolution exploration well on Garden Banks block 492 in the deepwater US Gulf of Mexico.
Resolution (Kosmos 50%, BP 50%) was designed to test an amplitude-supported sub-salt prospect in the underexplored western Garden Banks area. The well encountered reservoir quality sands; however, the primary exploration objective proved to be water bearing.
The well will now be P&A'd, and the well results integrated into the ongoing evaluation of the surrounding area.
The Resolution well was in about 600 m (1,969 ft) of water and was drilled to a total depth of approximately 7,700 m (25,262 ft).
The company expects to spud the Oldfield prospect (Kosmos 40%, Hess 60%) in early December with results in 1Q 2020.
In addition, Kosmos continues to high grade its multi-year infrastructure-led exploration prospect inventory in the Gulf of Mexico with a further three wells expected in 2020.
11/26/2019