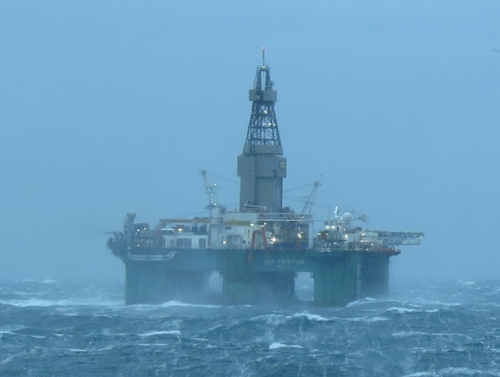 (Courtesy Transocean)
OPITO works with industry to support drilling safety 
OPITO says it is collaborating with drilling employers to develop an online assessment to reinforce the competency of roustabouts.
Developed as part of the OPITO Skills Screening online tool, a comprehensive question bank has been created by the International Association of Drilling Contractors (IADC) with input from IADC members Awilco (UK) Ltd, Transocean, Valaris, COSL Drilling Europe, and Diamond Offshore.
OPITO says that its Skills Screening tool provides an accessible online solution for organizations looking to assess the knowledge and understanding of current and potential employees across a wide range of disciplines and roles, including banksman slinger, pipefitter, process technician and rigger. Users have the flexibility to conduct assessments on and offshore and results are instantly available. 
The new Roustabout assessment contains a variety of role specific questions that have been reviewed and tested with the current offshore workforce to ensure the language and content is fit for purpose. There are more than 8,500 roustabouts employed in the oil and gas industry in Scotland alone, making up 5% of the total UKCS workforce.
Mark Cullens, director at OPITO said: "Working alongside the drilling community has allowed OPITO to offer a robust, relevant assessment option for employers to ensure their roustabouts have the knowledge to carry out their role competently. I look forward to continuing this work with the IADC and its members as we look to develop a Floorman assessment in the coming months."
Derek Hart, regional director at IADC added: "This initiative will assist drilling contractors and others with their selection process when hiring roustabouts. The development is another good example of industry working together with OPITO for the benefit of the whole oil and gas industry."
Aberdeen Drilling School expands
A globally recognized advanced drilling, well engineering and well control training business is investing more than a million pounds to open four new training centres.
Aberdeen Drilling School (ADS), which is part of the RelyOn Nutec group, is set to develop the new facilities to deliver drilling excellence training in Houston, Bergen and Stavanger in Norway, and Cuidad del Carmen in Mexico.
The move has been driven by client demand for more training worldwide after a fifty percent increase in contract wins in the past six months. The training firm's existing portfolio includes facilities in Aberdeen, Malaysia, Indonesia, Saudi Arabia, Oman and the Netherlands.
The four new training centers will be developed within existing RelyOn Nutec facilities but operated independently by the ADS team using its technology to deliver the most advanced simulator-based training currently available on the drilling market.
Expanding the services to four new locations will require ADS to increase its headcount to add five new bilingual instructors, while doubling the technical workforce in the coming six months with new instructors, simulator operators and software developers. The firm currently has a team of 20 based at its Aberdeen facility in Union Glen and 50 staff worldwide.
Managing director of Aberdeen Drilling School, Jason Grant, said: "This is really only the start for us. With access to the RelyOn Nutec network of over 30 training centers in 20 countries, we have a great platform for further expansion. Whilst this will continue to be driven by client demand, we have the opportunity and the capacity to look at opening up new facilities in multiple global locations simultaneously.
"A key region for us in the near future will be West Africa, where our clients need high quality and reliable training solutions. We are currently working with our partners and clients throughout West Africa to consider where the best and most accessible location would be. Our focus is both west and east, and our goal is to ensure clients have access to the same world-class training wherever their drilling operations are located."
The announcement follows the firm's recent acquisition of Norwegian simulation technology company, Oiltec Solutions, which has been integrated with ADS's simulation technology and development team to create an inhouse platform being rolled out through its global training centers.
The expansion will see ADS offer its clients access to certification training, well engineering training and advanced drilling simulation training in ten locations across the world. Work is already underway at the new centers in the US, Norway, and Mexico which are set to be fully operational before the end of the year. •