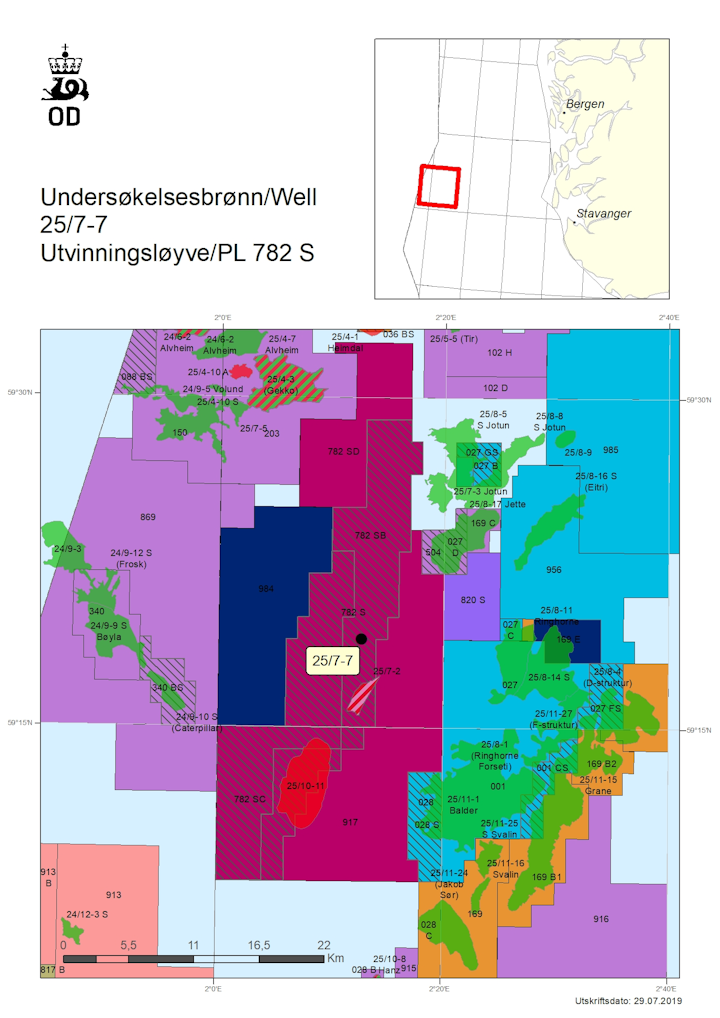 (Map courtesy Norwegian Petroleum Directorate)
Offshore staff
OSLO, Norway – ConocoPhillips Scandinavia has discovered gas/condensate and oil in the central Norwegian North Sea.
The semisubmersible Leiv Eiriksson drilled well 25/7-7 in 127 m (417 ft) of water in license PL 782, 15 km (9.3 mi) northwest of the Vår Energi-operated Balder field and 205 km (127 mi) west of Stavanger.
According to the Norwegian Petroleum Directorate, the well intersected two separate gas/condensate and oil-bearing intervals, with 25 m (82 ft) of sandy layers in the Draupne formation.
Early analysis suggests 1-10 MMcmoe recoverable. The licensees will consider assessing other prospects in the area.
The Leiv Eiriksson will next drill another wildcat well for ConocoPhillips in PL917.
This summer, ConocoPhillips submitted its plan for Tor II, a redevelopment of the Tor field in the Greater Ekofisk Area in the southern North Sea. Tor was in production from 1978 through 2015. The company described this as one of several development opportunities to sustain operations at Ekofisk through 2050.
Development calls for a two-by-four slot subsea production system with eight production wells which will be connected to the Ekofisk complex by multiphase production and lift gas pipelines to existing risers at the Ekofisk 2/4 M wellhead platform.
Controls and utilities will be provided through a service umbilical from the same platform. The new facilities will be located 1 km (0.6 mi) west of the original Tor platform.
ConocoPhillips plans to drill seven production wells in the Tor formation and a pilot well to test long-term productivity in the Ekofisk formation. It is pursuing recovery in the range 60-70 MMboe.
The company estimates a capex investment in the range NOK 6-6.5 billion ($600-800 million) and is targeting start-up toward the end of 2020.
11/12/2019