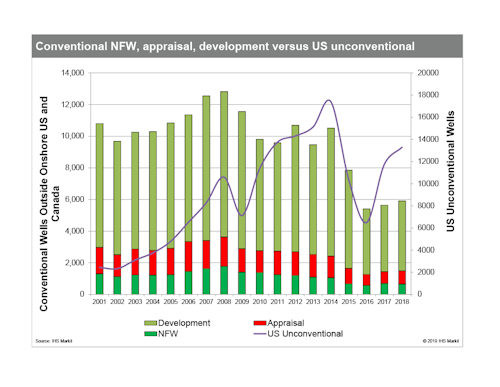 (Courtesy IHS Markit)
Offshore staff
HOUSTON – Conventional oil and gas discoveries worldwide over the past three years are at their lowest levels in seven decades, according to a report by IHS Markit.
This is largely due to the scaling back of wildcat drilling, and following the oil price collapse of 2014, on conventional oil and gas plays, the report claimed.
Other factors have been increasing competition from short cycle-time unconventional projects, and investors questioning the value of long-term, high-cost, frontier projects.
This shifted drilling away from areas where discoveries could have been larger, and led to reduced upstream exploration investment due to concerns over long-term oil demand.
In addition, the report found that the average discovery size for conventional fields varies substantially with the maturity of the basins being explored. Over the past decade, basins in the frontier and emerging life-cycle phases have typically generated discovery sizes 10 times greater than those made in the more mature basins (around 210 MMbbl vs 25 MMbbl).
However, operators have been drilling fewer wells over the past few years in deeper water and frontier/emerging basins. In 2014, 161 new wildcats were drilled in deep and ultra-deepwater, with the total dropping to 68 by 2018.
In the currently risk-averse environment, the industry prefers drilling in mature basins, close to existing infrastructure, where discoveries can be brought into production within two to three years, the report claimed.
IHS Markit added that some of the larger E&P companies and a few E&P independents with better track records continue to pursue selective deepwater exploration, but this activity is not offsetting the overall industry trend.
However, lackluster financial returns from unconventional production onshore in North America may drive more operators back to conventional exploration in the longer term.
A spokesman for IHS Markit pointed out that offshore companies have latterly cut the costs of building and operating offshore facilities for deeper water, and that could revive interest in conventional exploration in areas where larger discoveries can be made.
10/02/2019