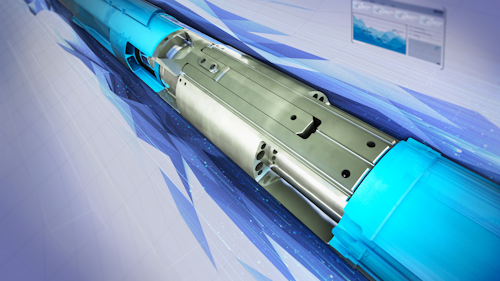 (Courtesy BHGE)
Offshore staff
HOUSTON and LONDON – Baker Hughes, a GE company has deployed its SureCONNECT downhole intelligent wet-mate system at the BP-operated Clair Ridge development west of Shetland.
The system enables real-time production monitoring and control of the completion system across the entire wellbore in multi-trip completions. It allows operators to make data-driven decisions to optimize reservoir performance and proactively mitigate risks.
The deployment at Clair Ridge is said to be the world's first multi-trip completion installation with fullbore fiber-optic capability.
The operations resulted in successfully mating six optical fibers—each the size of a human hair—between the upper and lower completions, more than a mile below the earth's surface. The data gathered will be used in parallel with conventional well surveillance data to provide a better understanding of fracture performance in real time.
"The SureCONNECT system gives operators the ability to respond to changing reservoir conditions and drive full asset characterization," said Toby Begnaud, president, BHGE Completions and Well Intervention. "Distributed fiber-optic technology has reached a level of maturity where the industry recognizes its ability to provide reliable and valuable insight into reservoir performance."
Multi-trip completion designs are most often used in offshore, subsea, and other complex wells to reliably get the completion assembly to depth without damaging the reservoir. While this addresses the associated risks, it also restricts the ability to run fiber, electronic, and hydraulic lines across the full wellbore, according to BHGE.
The SureCONNECT system is said to address this by enabling connection and re-connection of the upper completion components and lower completion. It offers a modular approach, connecting hydraulic, electronic and/or fiber with one system design, further driving reliability and consistency across applications.
The company claims operators can now achieve fiber-optic, real-time distributed temperature sensing and distributed acoustic sensing measurements simultaneously—across the entire well, for the life of the well—in these complex well designs. The information gathered is processed at surface and turned into actionable, data-driven solutions. This includes actions like shutting off water and gas-dominant zones through remotely actuated sliding sleeves to optimize production in real time.
The system also allows workover operations to be completed without retrieving the lower completion, such as installation or retrieval of an electrical submersible pump or repairing a safety valve. This decreases rig time, safety risks, and equipment costs.
09/03/2019