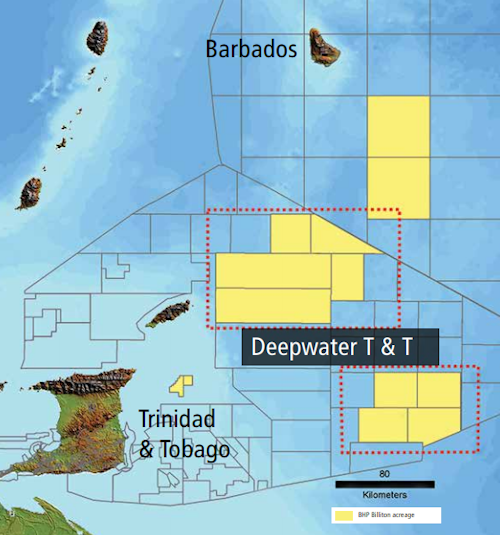 (Map courtesy BHP
Offshore staff
PERTH, Australia – Early results look encouraging from the latest well on the deepwater Trion oil field offshore Mexico, according to operator BHP.
Trion 3DEL, spudded on July 9, followed the earlier Trion 2DEL appraisal well and sidetrack.
It encountered oil in the reservoirs up-dip from all previous well intersections. Evaluation continues.
Elsewhere, BHP has submitted an exploration plan to the Canada-Newfoundland and Labrador Offshore Petroleum Board for licences it secured last October in the Orphan basin, offshore Newfoundland.
The company has completed Phases 2 and 3 of its deepwater drilling campaign off Trinidad and Tobago. This campaign included two wells in the Southern licenses, designed to further probe the commercial potential of the Magellan play.
Victoria-1 encountered gas, but there were no commercial hydrocarbons in the Concepción-1 well.
Four wells were drilled on the company's Northern licenses. The Bongos-2 discovery well opened a new play, while the subsequent Bélé-1, Tuk-1, and Hi-Hat-1 all found gas.
Technical studies are under way to assess commercial options for this gas play. The rig will return to the Northern licenses during 4Q to explore for additional volumes.
Earlier this month, BHP entered an agreement to sell its 50% stake in the Samurai prospect in the US Gulf of Mexico to a private equity firm. The sale should close in September.
08/20/2019