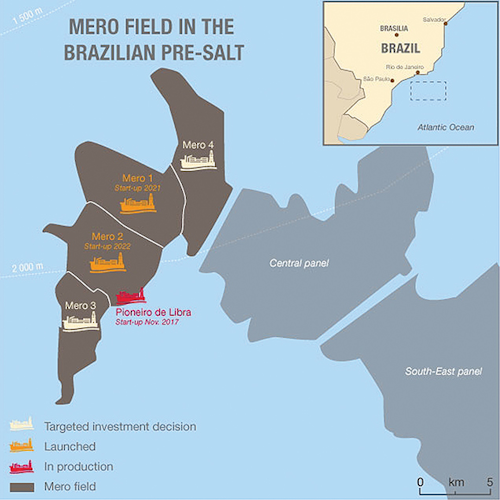 North America
PGS and TGS' latest 3D seismic survey off eastern Canada, due to start this month, will be the first ever offshore Labrador. The Torngat multi-client campaign will provide coverage over around 3,287 km (1,269 sq mi) of the southern sedimentary basins in the Labrador Sea, where drilling in the 1970s and '80s led to various gas discoveries.
◆◆◆
Eni's Amoca oilfield development in Mexico's offshore Area 1, 10 km (6.2 mi) from the coast, will feature an unmanned wellhead platform with a four-deck topsides in 32 m (105 ft) water depth, constructed by McDermott at its Altamira yard. The jacket and piles should be loaded out later this year followed by the deck in mid-2021. Produced fluids will head to an FPSO, chartered and leased by MODEC.
South America
ExxonMobil and its partners have sanctioned the deepwater Liza Phase 2 development in the Stabroek block offshore Guyana. The $6-billion project includes a $1.6-billion lease arrangement for the FPSO Liza Unity, which SBM Offshore will construct under its Fast4Ward program, based around a newbuild, multi-purpose hull with standardized topsides modules.
The vessel will have an oil production capacity of 220,000 b/d, associated gas treatment capacity of 400 MMcf/d, and storage for up to 2 MMbbl of crude. It will be spread-moored in 1,600 m (5,249 ft) of water at a location around 200 km (124 mi) offshore. SBM expects the Phase 1 floater, Liza Destiny, to complete its voyage from China to Guyana during the current quarter. The block partners look set to take a final investment decision on a third project later this year, focused on the area around the Payara discovery.
◆◆◆
SBM has also returned to the Brazilian stage, having signed a letter of intent with Petrobras to provide the FPSO for the second phase of the Mero field project in the northwest of the Libra block in the presalt Santos basin. The company had been excluded for years due to investigations by the Brazilian authorities of business irregularities.
As with Liza, the FPSO Mero 2 will be a Fast4Ward production, which SBM will lease and operate over a 22.5-year period. It will be designed to handle 180,000 b/d of oil, with storage for a minimum of 1.4 MMbbl, gas treatment and water injection facilities. Total weight of the topsides will be around 33,000 tons. The vessel, which will be moored in 2,000 m (6,562 ft) water depth, should enter service in 2022, a year after Mero 1. Libra partner Total said the partners would likely add two more floaters of similar capacity in order to recover up to 4 Bbbl of oil from the field.
◆◆◆
Total operates another consortium, with Petrobras as the minority partner, for the Lapa field development in 2,150 m (7,054 ft) water depth in the same basin. The company has contracted TechnipFMC to supply flexibles for oil production, gas lift and injection to connect Lapa to the FPSO Cidade de Carguatatuba.
West Africa
KBR's UK division is performing pre-front-end engineering design (FEED) for BP for phases 2 and 3 of the Greater Tortue Ahmeyim project offshore Mauritania and Senegal. The focus is on the requirements for expanding gas production capacity via an ultra-deepwater subsea system to be connected to gas processing platforms at a mid-water depth location. From there the gas will be sent to pre-treatment and offshore LNG facilities at the nearshore Phase 1 hub.
◆◆◆
Côte d'Ivoire's government has awarded Eni contracts as operator for two new blocks in the eastern part of the country's offshore Sedimentary basin. Blocks CI-501 and CI-504 are 60-80 km (37-49.7 mi) southwest of Abidjan in water depths ranging from 100-2,500 m (328-8,202 ft), and just north of block CI-205, which the company already operates. Eni plans to assess the three concessions in synergy, due to their geological continuity. In each case, state-owned Petroci has a 10% share.
Offshore neighboring Ghana to the east Eni has discovered gas and condensate with its first well in CTP-Block 4. The drillship Maersk Voyager drilled the Akoma-IX well in 350 m (1,148 ft) of water, 12 km (7.5 mi) northwest of the FPSO John Agyekum Kufuor that serves the Sankofa hub. The well encountered a gas/condensate column in a Cenomanian sandstone reservoir with good properties. Eni views the find as potentially commercial for a subsea tieback, with up to 650 bcf of gas.
◆◆◆
New Age (African Global Energy) has agreed to sell its 25% stake in the Eni-operated Marien XII license offshore Republic of Congo to Lukoil for $800 million, pending approvals. The license, 20 km (12.4 mi) from the shore in water depths of up to 90 m (295 ft), includes five discovered fields of which Nene and Litchendjili currently produce 28,000 b/d of oil and gas condensate and 1.7 MMcm/d of gas. Wood Mackenzie believes the concession could deliver over 100,000 b/d by 2025, with an FLNG project in prospect.
Off Angola to the south, Eni recently notched its fifth large oil discovery within a year on the prolific block 15/06. The well on the Agidigbo prospect, in 275 m (902 ft) of water, intersected a single hydrocarbon column with a gas cap. Estimated in-place volumes are 300-400 MMbbl of light oil, with upside. Agidigbo is 10 km (6.2 mi) from the FPSO Armada Olombendo that serves the block's East Hub.
◆◆◆
ExxonMobil and partners BP, Eni, and Equinor have agreed to step up investments in block 15 offshore Angola. This will call for a multi-year drilling campaign and new technology/infrastructure to raise the capacity of the existing subsea flowlines. The measures should boost oil production by 40,000 b/d. Under an agreement with Angola's new Agency for Petroleum, Gas and Biofuels, the production-sharing agreement for the block will be extended to 2032, with Sonangol entering the partnership.
Mediterranean Sea
Energean's recent Karish North gas discovery offshore Israel could contain up to 1.5 tcf in place. The liquids content has yet to be determined, but the company will look to produce the reserves via a tieback to the FPSO Energean Power, 5.4 km (3.4 mi) away. The drillship Stena DrillMAX has since resumed drilling of the three Karish Main development wells.
◆◆◆
Lebanon is offering five blocks under the country's second offshore licensing round. The Lebanese petroleum administration has invited interested parties to form consortia of at least three companies to bid for blocks 1, 2, 5, 8 and 10, and to consider exploration of multiple geological zones and different targets. Awards should follow in spring 2020.
Baltic Sea
Lukoil claims to have established new records for horizontal drilling in the Baltic Sea with two recent wells drilled from the shore into the D41 field in the Russian sector. One was 7,947 m (26,073-ft) long with a horizontal section of 616 m (2,021 ft), while the other was 7,517 m (24,662 ft) long with a horizontal borehole of 439 m (1,440 ft). The company applied its experience from similar wells at the Yuri Korchagin field in the northern Caspian Sea.
Allseas' Lorelay is due to complete installation of the new Balticconnector gas pipeline between Finland and Estonia this month. The system will then undergo pressure testing followed by drying and connection to onshore pipelines in both countries. After test runs during the fall, the pipeline should be ready for commercial operation in December.
Black Sea/Caspian Sea
OMV Petrom has contracted GSP Offshore to decommission Gloria, the longest-serving drilling/production platform in the Romanian sector of the Black Sea. The facility initially operated as a drilling rig between 1976 and 1986, and from 1987-98 as a production platform for Lebada East, Romania's first offshore field development. It has remained since on production duty in 40 m (131 ft) water depth, at a location 30 km (18.6 mi) from the shore.
◆◆◆
BP and its partners have sanctioned the $6-billion Azeri Central East project in the Caspian Sea, their first major investment decision since the ACG production-sharing agreement was extended to 2049. They plan a new 48-slot production, drilling and quarters platform at a site in between the existing Central Azeri and East Azeri installations, processing up to 100,000 b/d and producing up to 300 MMbbl of oil.
Middle East
Bids are due by Aug. 21 for 10 exploration blocks in the Red Sea offered by Egypt's Ministry of Petroleum and Mineral Resources. All are close to established hydrocarbon production. According to TGS, new 2D data has improved imaging of prospectivity in the salt and subsalt.
◆◆◆
Gulf Drilling International and Northern Offshore Drilling will supply a total of eight jackups for Qatar Petroleum's offshore North Field expansion drilling program. All the rigs are due to mobilize from January 2020 onwards to drill and complete 80 wells from eight new unmanned wellhead platforms, to be supplied by McDermott International. The increased gas production will be sent onshore to Qatar LNG, lifting capacity from the present 77 MMt/yr to 110 MMt/yr.
◆◆◆
Abu Dhabi will offer three more offshore blocks (3-5) under its second international licensing round. Block 3 is the largest, spanning an area of over 11,000 sq km (4,246 sq mi) and in places overlapping permits already granted to various IOCs. Bids are due in by the end of November 2019.
ADNOC and its partners in Abu Dhabi's offshore Upper Zakum oilfield plan to increase production capacity to 1 MMb/d by 2024 at a cost of around $8 billion. FEED studies are under way. In addition, ADNOC has contracted McDermott International to perform FEED services for phase one of the offshore Umm Shaif gas cap condensate development.
East Africa
Mozambique's government has approved the development plan for the Rovuma LNG project which will harness gas from the deepwater Mamba fields in the Rovuma basin. Eni, one of three partners in the Mozambique Rovuma Venture, will lead construction and operation of the upstream facilities, with ExxonMobil responsible for the onshore liquefaction complex. The two initial trains will deliver over 15 MMt/yr.
Asia/Pacific
Reliance Industries and BP have committed to the MJ (D55) HP/HT gas-condensate field development in the KG D6 block offshore eastern India. Water depth is 700-1,100 m (2,297-3,609 ft), and the planned depth of the wells is 4,200 m (13,779 ft). They will be connected to a subsea production system tied back to an FPSO, where the liquids and gas will be processed, separated, and exported through an existing 24-in. pipeline to an onshore terminal. Production should start in mid-2022. •