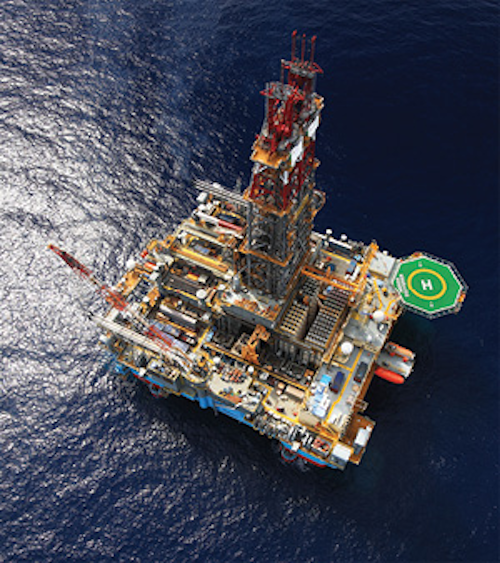 (Courtesy Maersk Drilling)
Maersk ultra-deepwater semi wins
long-term contract off Australia
Maersk Drilling's ultra-deepwater semisubmersible Mærsk Deliverer has received a three-year contract from Inpex Australia and joint venture participants for drilling at the Ichthys gas and condensate field in the Browse basin offshore Western Australia.
The estimated contract value is $300 million, including mobilization. The contract is expected to begin in 2Q 2020. It also includes two one-year options.
Delivered in 2010, the Mærsk Deliverer is currently operating offshore Timor-Leste.
Jørn Madsen, CEO of Maersk Drilling, said: "With this contract award we retain a well-balanced forward coverage in the floater market with long-term contracts while maintaining exposure to a market recovery."
Equinor sticks with drilling
optimization specialist
Equinor has extended eDrilling's contract to provide artificial intelligence and predictive analytics technologies to optimize drilling/casing operations. 
The contractor's software is said to deliver early detection of symptoms of downhole deterioration, along with diagnostics and actions to assist drilling/casing performance based on downhole conditions. wellAhead is designed by eDrilling for use on rigs, in real-time decision support centers, and for use by any other individual or teams supporting live drilling operations.
Offshore wildcatting on the rise
Rystad Energy estimates a further 35 high-impact exploration wells will be drilled offshore and onshore this year.
Three are already under way: The Shell-operated Peroba well offshore Brazil, with a prospective resource estimate of 5.3 Bboe; Eni's deepwater Kekra well off Pakistan (a potential 1.5 Bboe resource); and Total's well on the 2.7-Bboe Etzil prospect offshore Mexico.
"If these wells prove successful, 2019's interim discovered resources will be the largest since the downturn in 2014," said Taiyab Zain Shariff, Upstream Analyst at Rystad.
Global discoveries of conventional resources during 1Q 2019 totaled 3.2 Bboe, most of the gains being recorded in February, when 2.2 Bbbl were notified, the best monthly figure Rystad has recorded since August 2015.
"If the rest of 2019 continues at a similar pace, this year will be on track to exceed last year's discovered resources by 30%," Shariff added.
ExxonMobil led the way with three significant offshore finds that collectively account for 38% of the discovered volumes. Then came Total and Eni with offshore successes in South Africa, the UK, Angola, and Egypt.
Finlaggan wells nearing
completion in the North Sea
Both production wells have been drilled and cased to TD for Zennor Petroleum's Finlaggan field development in the UK central North Sea.
The project, in blocks 21/05c and 21/05d, license P2013, is targeting 30 MMboe of gas condensate from the two subsea production wells which will be tied back 20 km (12.4 mi) to the ConocoPhillips-operated Britannia platform.
In each case, drilling has delivered long and productive lateral sections through the Lower Cretaceous reservoirs, the company said, with the F1 well demonstrating good-quality hydrocarbon bearing sands in the northern extension of Finlaggan, and F2 proving sand continuity over the previously interpreted fault between the field's southern two segments.
Completion and clean-up operations should finish during the current quarter.
In late March, Zennor executed all the main offtake agreements providing for export of Finlaggan production through the Britannia facilities, the Forties Pipeline System, the SAGE Terminal, and the SEGAL System. First production should follow in late 2020.
Template drilling support systems
offer well cost savings
Neodrill has introduced new solutions for subsea templates for the pre-rig well construction process. They include a BOP/xmas tree soft landing and load support system, and a wellhead support frame and cementing system to control the flow of cement.
According to the company, these products can potentially lead to rig time savings of three to four days per well and cost savings in the range of NOK80-100 million ($9-11 million) for a four-slot template.
The soft landing and BOP/xmas tree support transfer the load away from the wellhead, with the resulting improvement in fatigue control enhancing the well life, the company said.
The wellhead support frame transfers the well loads to the template structure, and facilitates use of a short conductor. The cementing system is said to ensure full control of the cement level due to its fit-for-purpose design. Neodrill has licensed its technology, including the subsea template solutions, to Equinor.