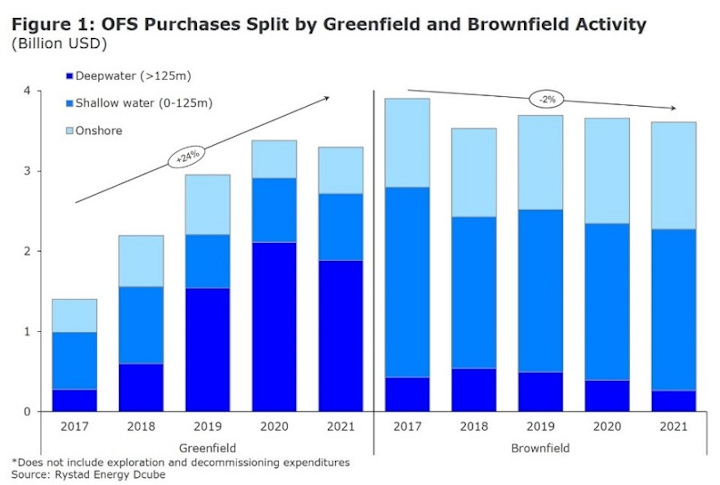 Offshore staff
OSLO, Norway – Reliance Industries' recent move to invite bids for the provision of an FPSO for its MJ gas and condensate field stands as the latest example of deepwater projects that are fueling a revival of activity in India, according to a recent Rystad Energy study.
The MJ project, with water depths ranging from 600 to 1,200 m, is poised to become the third step in the integrated development in block KG-D6, following on the heels of final investment decisions by Reliance and BP for the R-Series gas project and by ONGC for its Cluster 2A and 2B oil and gas developments.
Jo Friedmann, oilfield service research analyst at Rystad Energy, said that: "Activity in shallow water and onshore sectors is expected to continue to represent the largest markets in terms of oilfield service spending in India, but large new field developments in deeper waters are emerging as the key driver for growth and recovery in the market."
Rystad Energy forecasts greenfield spending to increase by a compound annual growth rate (CAGR) of 24% from 2017 to 2021, with purchases expected to climb above $3 billion in both 2020 and 2021. Growth is expected to be entirely driven by field developments in deepwater (> 125 m), as that segment is projected to increase by a CAGR of 61%.
The shallow-water market is expected to continue to be the largest market in India in terms of total OFS spending. The shallow-water sector saw a high degree of greenfield activity between 2011 and 2016, but, with a lack of new projects coming up, the segment will rely mainly on brownfield spending in the coming years.
"Brownfield projects usually involve lower investments and shorter payback time, and the shallow water market in India has been more resilient during the downturn, facing a relatively small decline in spending compared to the deepwater segment," Friedmann adds. "However, the Indian brownfield market is expected to remain relatively flat towards 2021, with a CAGR of -2% between 2017 and 2021."
India's total market for oilfield purchases amounted to $6.5 billion in 2017. Rystad Energy expects this market to grow at an average CAGR of 5% through 2021, expanding to $8.1 billion, with new deepwater development activity driving the recovery.
06/12/2018