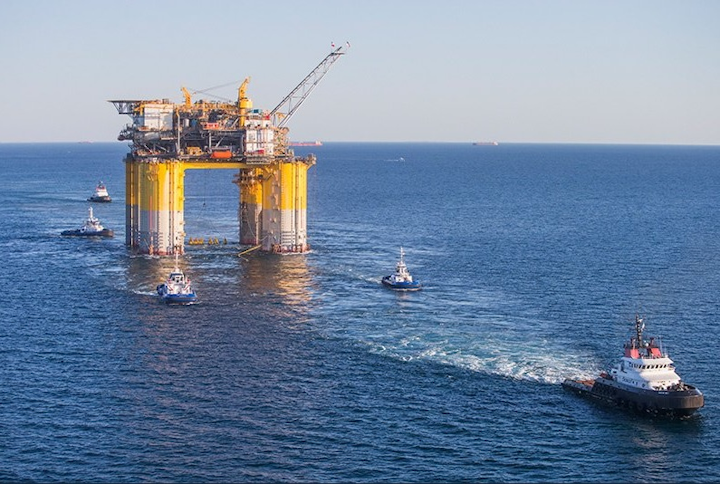 Offshore staff
CORPUS CHRISTI, Texas – Crowley Maritime Corp.'s ocean class tugboats and 455-series high-deck strength barges recently supported the safe, successful tow-out and installation of Hess' Stampede tension-leg platform (TLP) in the deepwater US Gulf of Mexico.
Six Crowley vessels worked alongside other third-party assets to deliver the platform, tendons, and other equipment from the Kiewit facility in Ingleside, Texas, to the Stampede field 115 mi (185 km) south ofFourchon, Louisiana, in Green Canyon blocks 468, 511, and 512. The field lies in about 3,500 ft (1,067 m) of water with a reservoir depth of 30,000 ft (9,144 m).
In the first stage, Crowley's ocean class tugboatOcean Wind and the 455-series barges 455-3, 455-5 and 455-7 worked with other contracted vessels to deliver many 300-ft (91.4-m) sections of nine 3,400-ft (1,036-m) tendons that would secure the TLP to the seabed. From there, the company's Ocean Sun and Ocean Sky, along with several third-party tugs, towed the TLP through the Ingleside Channel to offshore waters. After a scheduled brief stop at a holding location, the convoy of vessels began the second stage of the tow in offshore waters.
TheOcean Sun, Ocean Sky, and two third-party anchor-handling tugs safely towed the Stampede hull for four days before reaching the project site.
Upon arrival, Crowley's tugboats began the third phase of work, positioning and stabilizing the platform using the tugs' dynamic positioning capabilities while the TLP was secured to the tendons.
The company positioned the tugs in a stationary star pattern and used their tow wires to hold the platform steady in the middle. After Hess and its installation contractor, Heerema, completed installation and the platform was made storm safe, Crowley's assets were demobilized and returned to nearshore waters.
Discovered in 2005 and sanctioned in October 2014, the Stampede development plan calls for six subsea production wells and four water injection wells from two subsea drill centers tied-back to a TLP. Gross topsides processing capacity is about 80,000 b/d of oil and 100,000 b/d of water injection.
Hess Corp. has a 25% working interest and is operator. Union Oil Company of California, a Chevron subsidiary, Statoil, and Nexen Petroleum Offshore U.S.A. Inc. each have a 25% working interest.
Hess reported in its latest results statement that hook-up activities have begun, one well has been drilled and completed, and completion operations are under way on the second and third wells. First production is expected in the first half of 2018.
08/04/2017