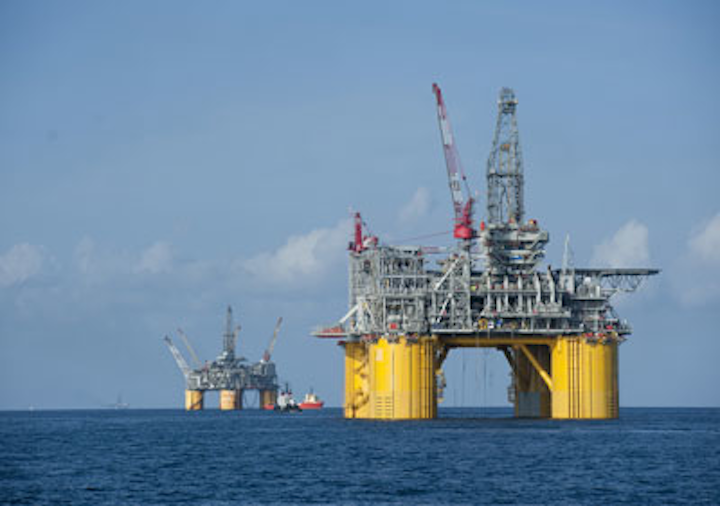 Offshore staff
HOUSTON – Shell's Olympus tension leg platform (TLP) reached its destination at the deepwater Mars field and was safely secured in place at the end of July.
The 120,000-ton structure, said to be the largest TLP ever developed for the Gulf of Mexico, is expected to start production in 2014 at a rate of 100,000 boe/d.Olympus, the centerpiece of the Mars B development, will be moored in 3,000-ft (914-m) water depths in the Mississippi Canyon area, about one mile from the existing Mars platform, which has been producing since 1996.
During a June 5 tour of the TLP at the Kiewit Offshore Services yard in Ingleside, Texas, Shell officials said the Mars B project is be the first in the region to employ an additional floating production system in a producing deepwater field.
"This is the first time in the Gulf of Mexico that a company has built another host structure to go in an existing field," rather than using subsea tiebacks to expand a field, said John Hollowell, Shell's executive vice president for deepwater.
The new TLP hosts 24-slot drilling unit supplied by Nabors Industries and includes capacity for six subsea wells to gather production from the nearby West Boreas and South Diemos fields. Noble Corp.'sNoble Bully I has drilled the top sections of the 24 wells at Mars B, and is on location to drill the satellite wells at West Boreas and South Diemos.
The project is expected to extend the field life of Mars to at least 2050, Hollowell said. Shell has said the field could contain recoverable reserves of 1.1 Bboe. Shell operates the field with 71.5% interest; partner BP holds the remaining 28.5% interest.
When Olympus begins production, the focus of the existing Mars production platform will shift to the field's shallower reservoirs and to water injection. Olympus, outfitted with 15,000 psi-rated trees furnished by FMC Technologies, will concentrate on high-pressure reservoirs that range in depth from 20,000-22,000 ft.
Shell will install a third platform at its West Delta 143 gathering hub to link production from Mars B with existing pipeline infrastructure.
Heerema'sBalder deepwater construction vessel will be used to install the TLP.
08/05/2013