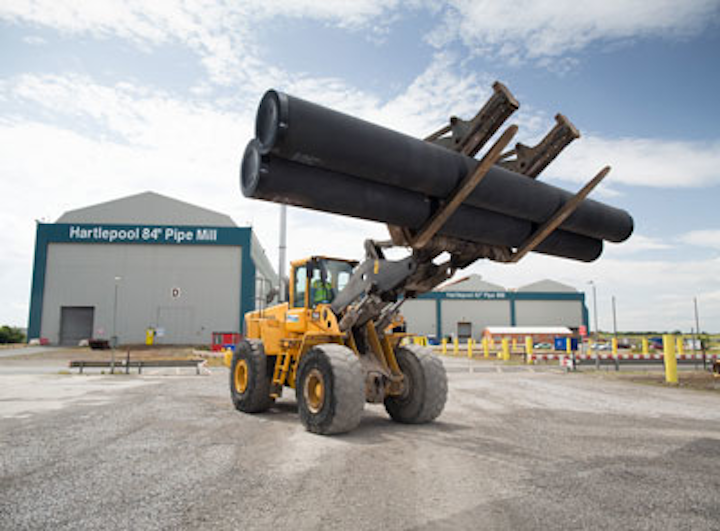 Offshore staff
HOUSTON – Tata Steel says a recent consignment of linepipe has set a new record for deepwater pipelay in the Mexican sector.
The company supplied more than 140 km (87 mi) of API 5L PSL2 X65MO linepipe (457 mm OD x 28.6 mm WT) from its double submerged arc welded (DSAW) mill in Hartlepool, northeast England.
The subsequent pipeline was laid in water depths greater than 3,000 ft (914 m).
Tata says it won the contract due to its experience in the manufacture of small diameter and thick wall deepwater linepipe.
Recent improvements at the plant in Hartlepool included upgrades to welding equipment using closed loop digital weld control technology to achieve greater weld stability, reduced repair rates, and total traceability of the process.
In addition, the company invested in a laser profiling system to provide a 3,600-point profile to monitor pipe straightness and provide a full dimensional survey of the pipe end. This data can be used to ensure minimum 'hi/low' in girth welding for high fatigue and other applications.
Finally, the mill's 'O' press control has been upgraded to optimize the forming process, ensuring uniform pressing along the full length of pipes to achieve optimum pipe shape. This is said to bring benefits to deepwater operations, as both the shape and balancing of the "forming ratio" of the pipe are critical for deepwater collapse resistance.
An official for the company said the combined repair rate for the small diameter and thick wall pipe for the Mexican project was 0.25%.
Share your news withOffshore at news@offshore-mag.com