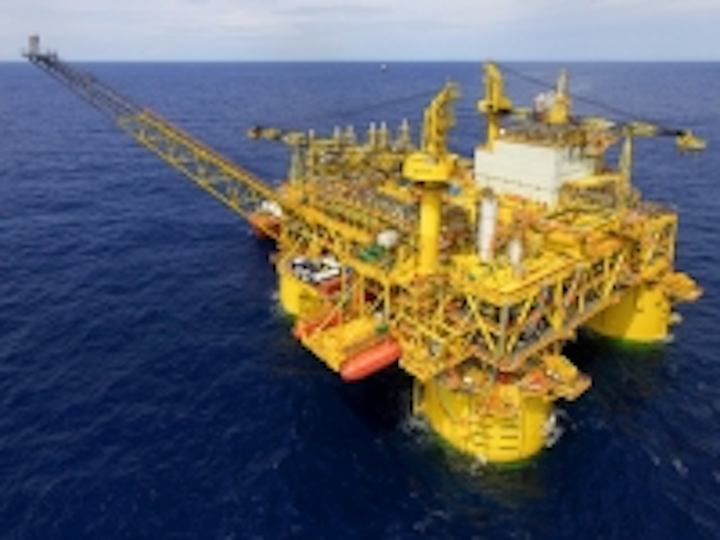 Offshore staff
THE HAGUE, the Netherlands – Shell has started oil production from the Malikai tension-leg platform (TLP), 100 km (62 mi) offshore Sabah, Malaysia.
Located in water depths of about 500 m (1,640 ft), Malikai is Shell's second deepwater project in Malaysia, afterGumusut-Kakap in 2014. Malikai is expected to have a peak production of 60,000 b/d.
Malikai is thefirst deepwater TLP in Malaysia and the first Shell TLP outside of the Gulf of Mexico. The TLP was designed and built in Malaysia. It is also the company's first TLP coupled with a tender assisted drilling rig.
The project features a cost-effective platform design and a unique, industry-first set of risers, or pipes that connect the platform to the wells for oil production, which required fewer drilling materials and lower costs.
Production wellheads on deck (connected directly to the subsea wells by rigid risers), instead of on the seafloor, allows simpler well completion and gives better control over the production from the reservoir, and easier access for downhole intervention operations.
Production is sent 50 km (31 mi) away to the Kebabangan oil hub for processing before evacuation to the onshore Sabah Oil & Gas Terminal.
TheMalikai project is a joint venture between Shell (35%, operator), ConocoPhillips Sabah (35%), and PETRONAS Carigali (30%).
Andy Brown, upstream director of Royal Dutch Shell, said: "Malikai marks an important milestone for Shell, its partners, Sabah, and Malaysia. The project has demonstrated our capability in delivering competitive deepwater projects utilizing our global expertise."
12/14/2016