Macondo well plugged for good
The drawn out, tragic case of the Macondo blowout ended rather anticlimactically on Sept. 19 with the successful testing of cement plugs pumped into it from a nearby relief well. The relief effort intercepted the well's casing near the producing formation at some 18,000 ft (5, 486 m) below the sea floor.
Nov 1st, 2010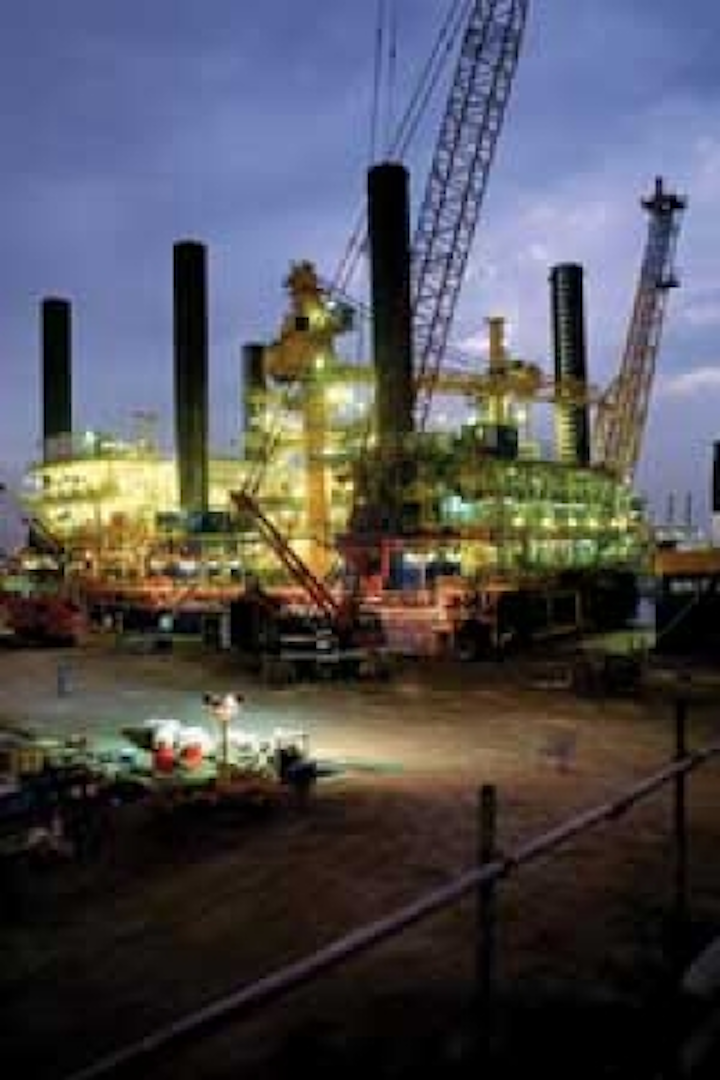 Controversial deepwater drilling ban ends as federal watchdogs deem that operators, floating rigs can resume making hole if they "clear the higher bar"
F. Jay Schempf
Contributing Editor
The drawn out, tragic case of the Macondo blowout ended rather anticlimactically on Sept. 19 with the successful testing of cement plugs pumped into it from a nearby relief well. The relief effort intercepted the well's casing near the producing formation at some 18,000 ft (5, 486 m) below the sea floor.
In reality, no oil had escaped from the damaged well since July 15, thanks to installation of a "capping stack" – a temporary flow control mechanism (see "Top, Bottom Kill Prospects Leave Macondo Just a Nasty Memory,"Offshore, October 2010, p. 48). But the September relief well test marked the conclusion of a nearly six-month battle to finally kill the source of a variously estimated flow of up to 60,000 b/d of crude oil that for several months fouled miles of Gulf Coast beaches from Louisiana eastward into Florida.
The well blew out and exploded on April 20, claiming the lives of 11 workers, sinking theDeepwater Horizon semisubmersible rig, and quickly bolting to the top of the short list of US environmental mishaps.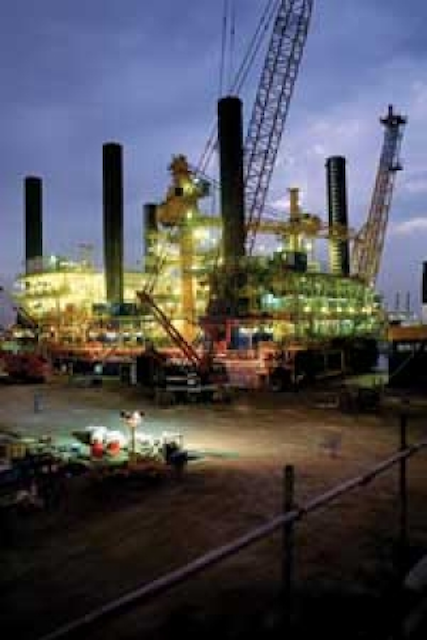 The drill bit that completed the relief well and made the intersection, onboard theTransocean DD III in the Gulf of Mexico on Sept. 17, 2010. Photos courtesy BP Americas.
After repeated attempts to quell the incessant flow of oil into the open Gulf, the successful installation of the capping stack allowed the joint BP-federal government team to finally replace the well's partially inoperative seafloor blowout preventer (BOP) stack with another, allowing the top of the cased bore hole to be sealed mechanically prior to intercepting its bottom via the relief well.
Once raised, the broken BOP stack and damaged lower marine riser package were taken into custody in August by a joint investigative team (JIT) staffed by the Interior and Homeland Security departments for subsequent forensic examination. The 50-ft, 300-ton (272 m ton) BOP and the riser package were then taken to NASA's secure facility in Michoud, Louisiana.
Chain of custody and evidence preservation protocols are being observed at Michoud in order to ensure proper handling, since the retrieved equipment could be regarded as evidence in any number of both civil and criminal initiatives underway currently, as well as others that may be brought in the future. The JIT contracted with DNV to conduct the initial examination.
Costly in many ways
BP plc, operator of the Macondo 262 well, says its financial outlay for the response alone, through Sept. 17, amounted to some $9.5 billion, including the cost of the spill response, containment, relief well drilling, static kill and cementing, as well as grants to the Gulf states, individual claims paid, and all federal government costs. Additionally, BP had announced in mid-June it had entered an agreed package of measures, including the creation of a $20-billion escrow account, to satisfy obligations stemming from the blowout and spill.
In addition to the potential damage from mobile oil slicks that followed tides onto shorelines, including the death of and injury to wildlife, other repercussions from the incident were felt all along the Gulf Coast. The fishing, shrimping, and crabbing industry in the region, for example, was virtually shut down for months by federal closure of Gulf inshore and offshore waters to both commercial and recreational activity. Affected, too, was the tourism industry, particularly in Mississippi, Alabama, and Florida, which all experienced reduced vacationing tourists for a time due to the negative publicity associated with news reports of oiled beaches, dead birds and sick marine life.
But perhaps the most alarming effect on the Gulf coastal region was the six-month federal moratorium on deepwater drilling imposed in late May at the order of the Obama administration and Interior Secretary Ken Salazar.
For a while, the cessation included even drilling in water depths beginning at 500 ft (150 m), despite the fact that "deepwater drilling" is generally recognized as that which takes place in water depths of 1,500 ft (600 m) or more. For "ultra-deepwater drilling," mobile rigs are operating in 5,000 ft (1,525 m) or more of water.
The closure shocked not only the offshore petroleum industry, but also the thousands of workers who depend on robust drilling and production activity in the Gulf for their livelihood.
Short on details
In all fairness, a halt to such activity seemed at first a logical step – to pause and take inventory of the preparedness of deepwater drilling equipment in the Gulf for preventing uncontrolled downhole pressure discharges and maintaining deepwater well bore integrity. Generally, the moratorium was hailed by environmental protection-minded citizens and anti-petroleum industry groups, including a large contingent of US lawmakers.
And at about the same time, creation of a new Interior Dept. office, the Bureau of Ocean Management, Regulation and Enforcement (BOEMRE), a brand-new federal regulator of offshore oil and gas operations to replace the Minerals Management Service (MMS), was also greeted with approval among those same interest groups.
But in the collective view of the offshore petroleum industry and a number of Gulf state government officials and members of Congress, the prospect of six months of virtually no offshore drilling activity seemed particularly harsh, given that only 33 floating rigs were drilling in deep water at the time of theDeepwater Horizon incident.
The anti-moratorium factions made their concerns known on numerous levels. Industry groups like the API, NOIA, the IADC and others, including even the National Assn. of Manufacturers (NAM) and the US Chamber of Commerce, all publicly shared their concern for the harmful effects on the greater Gulf region's economy of a moratorium with such protracted duration.
Gulf State lawmakers, including US Senators Mary Landrieu and David Vitter, along with Louisiana Governor Bobby Jindal and Mississippi Governor Haley Barbour, also weighed into what they deemed to be moratorium-based job killing of the first order in their respective states. The numbers of laid-off or terminated workers ranges from 8,000 to 23,000.
Employment figures disputed
In mid-September, the Commerce Dept. issued a report, ordered by Congress, that indicates – with little apparent backup data – that the ban on new deepwater drilling in fact has not caused massive job losses on the Gulf Coast. It estimates that the total number of rig workers involved in deepwater operations dropped by only 2,000 after the moratorium was put into effect. It also deems that estimated spending by offshore operators, which affected chiefly the oilfield supply and services sector, had declined by (only) $1.8 billion.
Also, the report states that while the ban may have "temporarily" eliminated 8,000 to 12,000 jobs in the region, most of these workers were expected to return after the moratorium was lifted or may have found alternate work cleaning up the oil spill itself.
According to updated figures supplied by the administration-wide response team, at the peak of the response to the blowout and cleanup, more than 45,700 persons were at work protecting the shoreline and wild life and cleaning up coastlines. Also, more than 6,900 vessels were on site, including skimmers, tugs, barges and recovery vessels – mostly shrimp boats – to assist in containment and cleanup efforts. Many local and regional citizens and small businesses are assumed to have been among these numbers.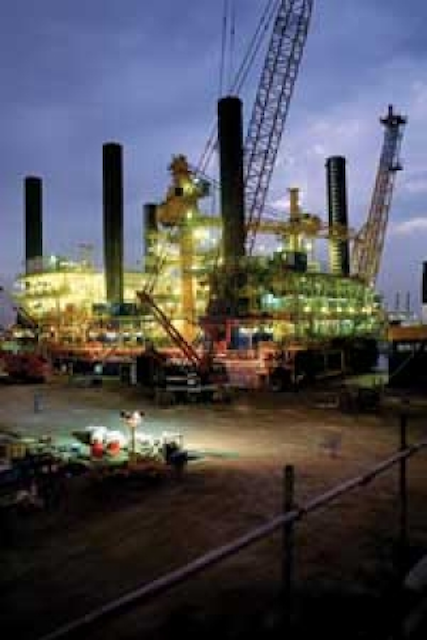 View of the TransoceanDD III derrick during cementing of the annulus to complete the bottom kill of the well, Gulf of Mexico, Sept. 17, 2010.
However, both Landrieu and Vitter repeatedly challenged the report's accuracy and noted that it did not address what they called a de facto moratorium on both deep and shallow-water drilling, which adds still more workers to the layoff lists. While the BOEMRE officially began granting drilling permits in shallower water (500 ft back to the shoreline) in June, fewer than a dozen such permits had been issued as of press time. This compares to an average of 40 a month before the Macondo incident.
This apprehension was heightened even more when Salazar and BOEMRE Director Michael Bromwich intimated at various times during the summer months that while the moratorium might be lifted earlier than its official Nov. 30 end date, no deepwater drilling would be allowed until operators working in deepwater and contractors with drilling units suitable for deepwater drilling in the Gulf fulfill a number of tough new technical and safety requirements. They also hinted at other such regulatory provisions not yet even fleshed out.
Ban lifted early
The Obama administration and its executive agencies apparently had telegraphed their punch when on Oct. 12, the deepwater drilling prohibition was lifted – sort of.
Using a BOEMRE report conducted by director Bromwich, Salazar determined it to be appropriate that deepwater drilling resume, but only after operators and contractors certify their compliance with all existing rules and requirements, including the aforementioned technical and safety measure only recently put into effect. What's more, the companies also must demonstrate the availability of adequate blowout containment resources.
Salazar said more changes were ahead in the DOI/BOEMRE "reform agenda." However, he said the industry's response to implementing stronger safety and environmental practices, along with improved spill response and blowout containment capabilities, "have reduced risks to a point where operators who play by the rules and clear the higher bar can be allowed to resume."
DOI's conditional lifting of the drilling ban apparently did little to enthuse either the industry or Gulf State legislators. On one hand, the probability of still more regulations coming down from BOEMRE leaves the industry in some doubt as to how much higher already sky-high deepwater drilling and production costs will go. On the other, a deeper lack of such understanding by operators adds to Gulf State politicians' doubts as to whether Gulf drilling activity will rebound to the point at which economic hardships to the coastal economies would pull through more quickly.
Damning with faint praise
Some state and federal lawmakers and at least a few industry groups applauded the lifting of the ban. However, many deem it "too little, too late," with a continuing downside for the region's offshore industry-based economy.
API President and CEO Jack Gerard said that while pleased that the moratorium had been stopped, his organization continues to be concerned that even more should be done to get American workers back on the job of exploring for, developing, and producing the oil and natural gas necessary to fuel the nation's economy.
Gerard reiterated the belief that a de facto moratorium might continue should the government not process and approve permits and other requirements expeditiously.
"Regulators need to quickly put in place a system that allows companies that show their compliance with new standards to resume operations immediately," he said.
NOIA President Randall Luthi mirrored API's concern, noting that his organization's companies "remain doubtful" that the announcement is anything more than symbolic until permits actually are issued for new drilling.
Luthi referred to the DOI's mention of the "dynamic" nature of future regulations in an effort to show they would adapt as circumstances warrant. "That sounds good," he said. "In reality, however, it introduces another level of uncertainty to a regulatory process that has come to be less predictable than in many underdeveloped nations around the globe. When billions of dollars of investment are at stake, a 'dynamic' regulatory process could be as dangerous to future offshore energy development as an outright ban."
Perhaps the most vehement comment about the moratorium lifting came from former Shell President John Hofmeister.
"This moratorium was a bad idea to start with," Hofmeister was quoted as saying on Oct. 12. "The industry has operated safely, with the exception of this horrible accident. But we have horrible plane accidents where we do not stop all planes from flying. There was no basis on which to stop the 33 drilling rigs from operating," he commented. "They all passed inspections. This was a political act for which there will be political consequences, I am sorry to say."
Elected officials carp, too
While approving the moratorium cessation as a step in the right direction, Louisiana Sen. Landrieu continued her qualms as to how quickly drilling would take on something like its pre-spill vigor unless permitting for both deep and shallow-water drilling is accelerated significantly.
Her continuing doubts apparently compelled Landrieu also to announce that she would continue to maintain her hold on the nomination of a key Obama administration official, a move she had made before Congress' most recent adjournment to create leverage for an earlier lifting of the moratorium. Apparently, the Senator still has no quid pro quo in the offing, at least in this instance.

The BOP from theDeepwater Horizon heads up the Mississippi River in route to a NASA facility in Michoud, Louisiana, on Sept. 11, 2010, after offloading from the Helix Q4000 in South Pass, Louisiana.
Meanwhile, the Great Gulf Blowout and Spill has shifted totally into the cleanup mode, as drilling contractors, supply, and service companies and Gulf Coast exploration and production workers watch as operating companies line up to gain permission to continue their long-delayed drilling plans.
As for the Macondo wells, the offshore location has been abandoned by the deepwater drilling and construction rigs, supply and service vessels; the seismic vessels and workboats have returned to their shore bases and, with the exception of occasional flyovers by spill-sniffing aircraft, the sky above it is once more clear – and empty. In fact, what once could be identified as "blowout/spill center" by the number of huge working barges and vessels milling around it, the Macambo well site in Mississippi Canyon block 252e probably can no longer be found without the aid of GPS coordinates.
More Offshore Issue Articles
Offshore Articles Archives
View Oil and Gas Articles on PennEnergy.com