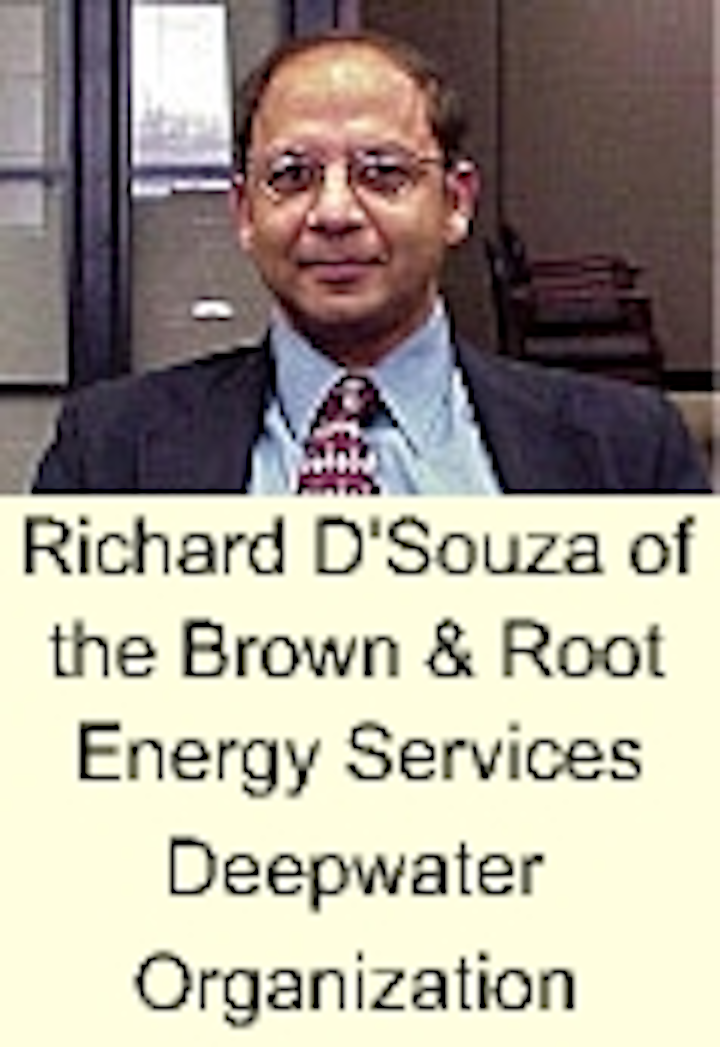 Despite record oil prices, Richard D'Souza of the Brown & Root Energy Services deepwater organization said oil companies are demanding inexpensive pro duction solutions for deepwater. In a recent discussion with Offshore's Technology Editor Bill Furlow, D'Souza explained the role technology will play in driving down production costs and opening up deepwater to marginal field production.
OFFSHORE: We've enjoyed high oil prices for several months now. What effect has this had on your business? Are oil companies greenlighting more new projects?
D'SOUZA: Regardless of where the oil price is today, I think it is abundantly clear oil companies are not going to be lulled into the belief that oil prices will remain at exalted levels for very long. In order to bring stability to their planning and avoid these episodic convulsions, they are focus ed on a band of oil prices. They are basing their economics on $14-16/bbl. In order for projects to be sanctioned under these assumptions, you're going to have to have a finding and development cost in the $4-6/bbl range. The challenge is to bring in development costs, including drilling, at a level between $2.5/bbl and $4/bbl.
How does this goal affect field development options?
Consider the present development costs. If you look what has been done in the deepwater Gulf of Mexico with TLPs and Spars, discoveries have to be at a minimum of 250 million recoverable barrels or larger. It takes a field of this size to justify a large host facility with a production and drilling platform local to the development area. Then you have to decide whether you want to develop it as production-only platform to host a number of subsea tiebacks or a production and drilling platform with wet or dry trees. This choice will be based principally on the reservoir, well fluids, and number of drill centers you can produce from.
You mentioned trees. Where does popular opinion fall on the question of wet or dry trees?
The issue of dry and wet trees is always an interesting one. Given the option, oil companies would much rather produce from dry trees. You have a higher capital expense, but a lower drilling cost. Also, flow assurance and intervention work is cheaper and easier. There is always this net present value/life-cycle cost battle being fought. Unless the wet tree concept can show a clear economic advantage, the option with dry trees will be preferred.
If the economics are already very tight, what is the effect of drilling and completing wells in deeper water?
Drilling is proceeding into depths of 9,000 ft. It is just a matter of time until large discoveries are made in 9,000 ft of water. The ability to drill these wells is there. It's the ability to produce, and produce robustly in those depths, that the industry is focusing on. In addition, costs must be dropped below economic hurdles, because it doesn't mater how deep the water is, if the per-barrel cost hurdles remain the same.
How can these costs be controlled?
The number one way to cut these costs is in drilling and completions, which represent about 30-40% of capital expense. It's the single largest chunk there is. A lot of work has gone into cutting drilling costs and the most effective way to do this is by reducing the number of wells drilled. The fewer wells you have to drill the lower, the cost will be. This can be done through multilateral technology and extended reach drilling. As new technologies develop, they will be key to driving down these costs. A lot of exploration and discovery drilling is performed by a fifth generation MODU with very high day rates. New riserless drilling concepts, preset moorings, and free-standing drilling risers will pave the way for second and third generation rigs to handle some of this work. These vessels will be much more economical.
When it comes to deepwater production, is the future Spars or TLPs?
If you're in 3,000 ft water depth or less, I think the capex (capital expenditure) is about the same for Spars and TLPs. It's really a question of customer preference. Shell is very comfortable with TLPs - they've standardized them. They have the cycle time down to a point where they are likely to have few surprises. Chevron, BP Amoco, and Exxon have all followed the spar path, starting with Genesis and following with Diana. They have perhaps been looking ahead, recognizing that the Spar is more versatile when it comes to moving into deeper water, while maintaining the use of dry trees.
When a producer has a prospect beyond 4,000-ft water depths, what are the options?
Wet tree solutions featuring semisubmersible or ship-shape production hubs will be attractive in ultra-deepwater. When a producer gets beyond 4,000 ft water depths, and a dry tree development is contemplated, then a Spar is likely, unless there is a breakthrough in tendon technology for TLPs, which industry is currently working on. The only other proven option out there currently is the mini-TLP. The choice between the two is very much payload dependent. For a large field with large topsides, the Spar would be the answer, but for smaller payloads, mini-TLPs do have the ability to compete with a Spar in water depths up to 6,000 ft.
Why is the payload a critical factor?
With larger payloads, you need to support the expanding deck, which requires multiple support points. This means multiple columns, and pontoons to interconnect them. With these additional elements, structural complexity goes up significantly. From a constructability standpoint, the single column with radial pontoons gives the mini-TLP an advantage over a full-sized TLP. A spar more easily absorbs the variable deck load than a TLP. Another feature that makes a spar attractive in deepwater and ultra-deepwater is the possibility for integrated storage built into the spar. This would offer a production solution involving shuttle tankers for transportation, rather than the expense of a deepwater export pipeline.