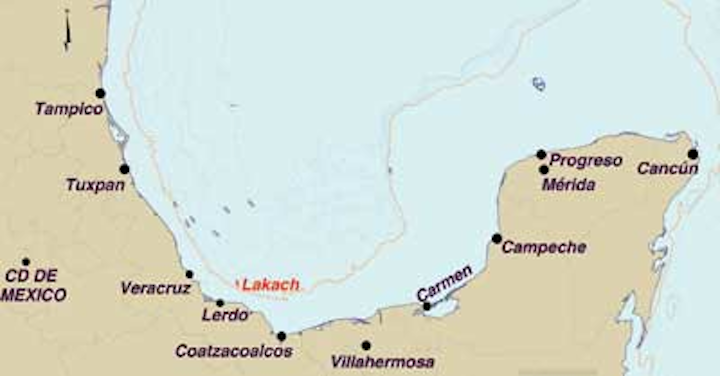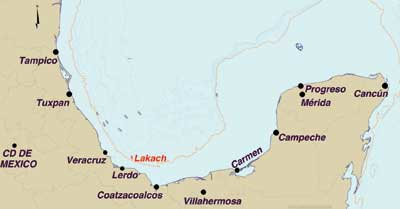 Location of the Lakach gas field offshore Veracruz.
State-owned company plans more widespread frontier activity
Jeremy Beckman
Editor, Europe
Mexico is keen to open up its fledgling deepwater sector to foreign players. At the same time, the country is looking to build domestic expertise in deepwater production engineering, starting with the subsea-shore Lakach project. Senior PEMEX executives outlined progress to date and future plans at the recent Offshore Europe conference in Aberdeen.
Revenue from oil and gas production in Mexico last year totaled $70 billion, around one-third of the country's total income, said PEMEX CFO Mario Beauregard Alvarez. However, the country's constitution declares that the state must perform all hydrocarbon functions, meaning that until now, only PEMEX has been able to explore, develop, and refine hydrocarbons. As a result, Mexico's oil production has fallen 26% from the peak of 3.4 MMb/d in 2004 to 2.5 MMb/d at present. However, despite the decline at Cantarell, the main offshore field, production has stabilized at Ku Maloob Zaap and other fields in the southeastern basin.
At the same time, Alvarez said, gas production has diminished and consumption is up, forcing the country to import more than one-third of its national gas needs. The growing number of gas discoveries in the deepwater sector could address that shortfall, and yet the pace of drilling remains slow. Last year, he pointed out, PEMEX drilled six deepwater wells in the Gulf of Mexico, compared with a total of 137 deepwater wells on the US side.
"Mexico's economy is losing competitiveness versus its peers, and needs to revamp its energy model to strengthen both the Mexican oil and gas industry and PEMEX," Alvarez observed. "Reform could lead to what has happened elsewhere in Latin America, such as Colombia and Brazil, where production has increased."
On Aug. 12, 2013, President Enrique Peña Nieto proposed amending the constitution to allow participation of foreign oil companies in E&P through profit-sharing contracts rather than licensing rounds, with investors paid in cash for production. Even though the state would retain full ownership of reserves, it is a step in the right direction, Alvarez claimed. He was confident that the Mexican senate would sanction the proposal within two months, with the process finalized by the end of the year.
The changes would apply to new fields, but not to existing offshore fields already in production. Foreign companies would be allowed to work either on their own or in partnership with PEMEX. He added that PEMEX already has good relations with numerous major oil companies, and is keen to broaden its knowledge of deepwater geology in the Gulf of Mexico.
Resource potential
Guillermo Mora, Manager Deepwater Exploration, said PEMEX's 2013-2017 plan was to increase reserves through new discoveries and to accelerate Mexico's deepwater potential. Around 50% of the country's prospective GoM resources are thought to reside in deepwater, which he classified as 500 m (1,640 ft) and beyond, within seven petroleum provinces.
To date the company has acquired 97,000 km (60,273 mi) of 2D seismic data across the most prospective regions, including 15,000 km (9,320 mi) of long-offset data; and 130,000 sq km (50,193 sq mi) of 3D data. Around 65% has been acquired using a dedicated ship on a long-term contract, lowering costs by 40% compared with previous contracts, Mora said. Since 2004, he added, PEMEX has drilled 18 deepwater wells, some this year in close to 3,000 m (9,842 ft) of water. The company's fleet includes four sixth-generation rigs capable of drilling in up to 10,000 ft (3,048 m) of water, and to a maximum depth of 35,000 ft (10,668 m).
In the northwest sector, the company is pursuing light oil targets in the Perdido Fold Belt province and the Salina del Bravo province. The Perdido Fold Belt comprises large anticlines that extend into waters more than 3,000 ft (914 m) deep. Here the main plays are Eocene and Oligocene turbidite deposits.
West of this structural belt, the Salina del Bravo province is characterized by giant allocthonous salt bodies, with the main plays underneath similar to those at Perdido. The Cretaceous play contains Miocene deepwater deposits related to mini-basins. Here the main challenges have been to improve subsalt image quality, and to define the turbidity systems at reservoir scale. PEMEX has acquired long-offset 2D seismic, gravity, and marine data over this area to improve its understanding of salt tectonics.
Following the success of wide-azimuth seismic (WAZ) surveys on the US side, the company acquired Centaur, one of the world's largest WAZ 3D surveys, to cover 24,000 sq km (9,266 sq mi) in the northwest Mexican sector. The data have been used to improve seismic imaging and processing, and the results integrated with electromagnetic data to help delineate drilling candidates. "Deepwater drilling costs are high, so these studies are needed to give greater certainty to exploration prospects," Mora explained. One of the resultant success stories was last year's 350-MMbbl Trion oil discovery, one of the largest to date in the northern Mexican deepwater Paleogene play.
In the Mexican Ridges to the south, the prospective plays are in Neogene-Paleogene deepwater sediments. The Mesozoic remains a hypothetical play - PEMEX's main focus at present is on predicting the type of hydrocarbons and the charge access to the upper plays, as exploratory drilling has demonstrated the presence of an associated petroleum system.
Between the southern end of this province and the Catemaco Fold Belt province the company has discovered a large gas-prone area, including the Lakach field, with prospective resources in the 5.5-16 tcf (155-453 bcm) range, Mora said. Main features are anticlines with Neogene deepwater deposits at their crests. There is evidence that the Neogene plays extend to the northeast, with strong potential for liquid hydrocarbons in that direction.
In the Isthmus Saline province there is strong oil potential in Neogene-Paleogene subsalt plays and in mini-basins on the western flank. Here PEMEX is looking to sharpen seismic imaging using pre-stack depth migration; to gain a better understanding of the turbidity systems; and to improve prediction of the oil type via geological modeling. Toward the eastern part of this province main plays are Mesozoic deepwater carbonate facies with a strong possibility of heavy or extra-heavy oil. To the north, the plays are Neogene and Mesozoic in age and include presalt to pre-Upper Jurassic (hypothetical) plays. Finally, the Campeche escarpment and Abyssal provinces remain under evaluation.
Lakach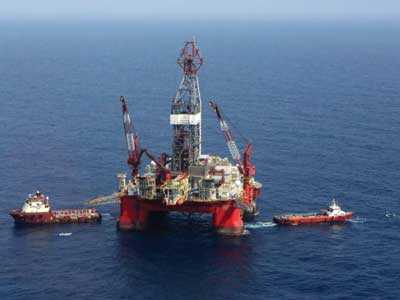 The semisubR Centenario, which drilled the Lakach discovery, is one of four ultra-deepwater rigs available presently to PEMEX. (Courtesy PEMEX)
The Lakach gas field is in 988 m (3,241 ft) of water, said Francisco Flamenco, design manager deepwater projects. It was discovered in 2007 with a well drilled by the semisubmersibleR Centenario. The location is 98 km (61 mi) southeast of the port of Veracruz in the center of the Gulf of Mexico. Lakach holds 850 bcf (24 bcm) of recoverable gas - there is another discovery nearby almost as large, and PEMEX plans further exploration in the area.
This will be the country's first deepwater development, and the gas is sorely needed. "Many industries in Mexico are transforming their source of energy to gas," Flamenco explained, "but there is not enough gas production at the moment to fulfill internal demand.
"Management decided to go for Lakach as our first deepwater project. It may not be the biggest discovery in value terms, but the experience gained will be very helpful for our future developments. It's a very simplistic concept for deepwater - a totally subsea system tied back from the field to the shore, with a process plant onshore along with field control systems." This is also the first subsea-beach scheme anywhere in the Mexican sector.
Flamenco described Lakach as a Lower Miocene reservoir with a large package of sands and sediments, interlaid with shales. PEMEX expects high productivity: the company plans to drill seven development wells delivering up to 400 MMcf/d (11 MMcm/d) of gas, exported to the onshore Lerdo de Tejada gas plant via a loop of one 18-in. and seven 6-in. pipelines. A 60-km (37-mi) umbilical will transmit data to the wells from the shore-based subsea control system and also transport injection chemicals, with 2.5-in. coiled tubing outside of the umbilical conveying services to combat hydrates.
A dedicated drilling rig has drilled the first development well. All seven Lakach wells will feature horizontal production trees. Since 1994, Flamenco pointed out, PEMEX has drilled 27 deepwater wells, in the process building up knowledge which has been factored into the current development. "We have improved a lot in terms of drilling time and efficiency, trying to incorporate best practices. We did a lot of work on avoiding shallow hazards and on wellbore stability, and developed a team to perform detailed assessments of the impact of geomechanical loads on the wells."
Due to the risks associated with long-distance transport of gas from remotely controlled wells, PEMEX is working on measures for temporary well abandonment at Lakach. It has also performed very detailed engineering on the completions to minimize the need for, and the associated cost of, intervention. Another issue under review is maintenance of the pipeline, particularly managing hydrate formation following a shutdown. Performing these tasks in deepwater is new to PEMEX, and the company is currently training staff in smart field operations and flow assurance tailored to Lakach's needs, with the assistance of experienced international contractors such as Technip.
Last March PEMEX contracted Doris Engineering in Houston and Petrofac Engineering and Consulting to supervise and assist construction, installation, commissioning, testing, and start-up of Lakach's subsea wells and infrastructure, along with tie-ins to onshore facilities. Mexican contractor Grupo R has put together a drilling team, with Halliburton providing downhole equipment and services including drillstem testing. Further packages will be awarded over the coming months for the subsea pipeline infrastructure and the onshore facilities. PEMEX also plans to build a new onshore conditioning plant to handle supplies from future gas field developments in the area.
Pre-front-end engineering design is under way for the Kunar wet gas discovery, and development of Trion will follow in the next few years, Flamenco said. "Our big challenge in deepwater is to reduce the time between discovery and production," he added.