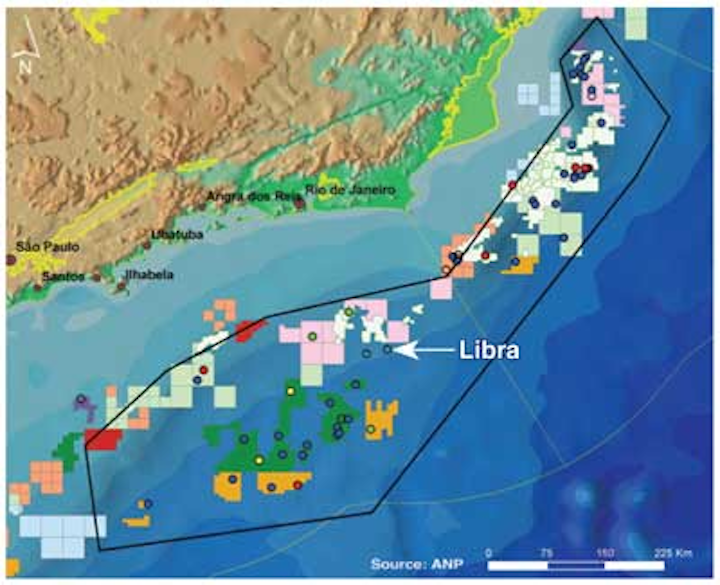 The world's largest undeveloped discovery, Libra, will be up for bid this October in Brazil's unprecedented presalt bid round. Aside from the fiscal parameters and full-field appraisal, Brazil's National Petroleum Agency (ANP) anticipates that the data available from seismic surveys of Libra and analogous discoveries will be sufficient to draw international investors. An independent evaluation by Gaffney, Cline & Associates suggests the field could hold 4-15 Bbbl of recoverable resources. The best estimate is about 8 Bbbl of oil. Full field development of the 727-sq km (281-sq mi) area could require at least 10 FPSOs and 200 wells, according to estimates from IHS. The government, however, is moving to a production-sharing framework for the presalt blocks from a concession-based approach that was followed in May's auction and drew $1.4 billion in signing bonuses. A total of 30 domestic and international oil and gas companies were awarded 87 onshore and 55 offshore blocks in Brazil's 11th bid round. Under the new system, the bonus payments and local content requirements will be fixed, and it will be the percentage of profit oil that companies are prepared to sign over to the government that will determine the success of the bids. And the current law requires Petrobras to be the principal operator and 30% minimum stakeholder in the blocks up for auction. Will the increasing regulatory risk, local content requirements, and government take deter foreign investment in the upcoming lease sale? Will geological data trump fiscal terms? A recent industry note by Raymond James calls the Santos basin's presalt reserves "best in class" among other prominent deepwater areas. That was the conclusion of an economic analysis of the inflationary pressures on select deepwater projects in the US Gulf of Mexico, Brazil, and West Africa. These and other pressing issues are explored in our annual Latin America report, beginning onpage 34.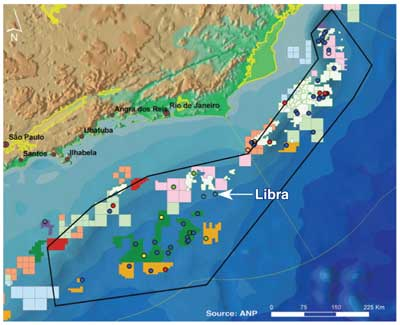 Libra
The final scope of the presalt lease sale is expected to be available to the public this month. For more information, visitwww.anp.gov.br.
Rig construction trends
The global rig construction fleet continues to grow as operators seek newer, higher-spec equipment. According toOffshore's annual MODU rig construction survey, produced by IHS Petrodata, 131 rigs (37 drillships, 11 semis, 75 jackups, and eight tender-assisted) are under construction and an additional 81 units are on order. Since last year's survey, 81 rigs have been ordered with the majority being premium jackups rated for 350-ft (107 m) water depth or more. Meanwhile, the older jackups in the global fleet are being retired. During the past year, nine jackups left the fleet with hulls built between 1975 and 1983. As of June of this year, there are 289 jackups with a year-in-service date of 1983 or earlier. In a special report for Offshore, Cinnamon Odell, IHS Petrodata, discusses these and the other changes in the annual rig construction survey. Odell also reviews the evolution and growth of the deepwater fleet, citing trends in the preference of drillships versus semis, deeper water-depth rated rigs, and DP-capable units. The global supply of deepwater rigs has more than doubled during the past 10 years, from 86 in May 2003 to 204 units as of May 2013. Odell's comprehensive analysis of the global drilling rig fleet and accompanying survey begins on page 50.
| | | |
| --- | --- | --- |
| | | David Paganie • Houston |
To respond to articles in Offshore, or to offer articles for publication, contact the editor by email(davidp@pennwell.com).