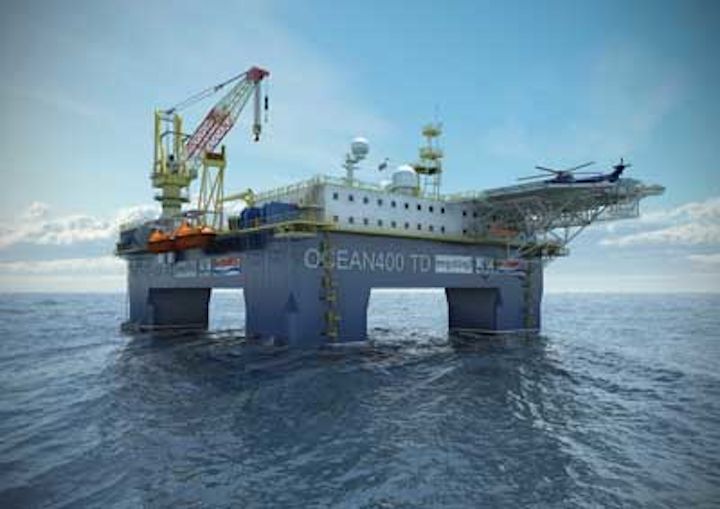 Jeremy Beckman
Editor, Europe
Singapore-based Energy Drilling has ordered three newbuild tender rigs from COSCO Shipyard in Guangdong, China. Two are barges, while the third –EDrill-3 – will be the first tender-assist semisubmersible based on GustoMSC's OCEAN400-TD design. Energy Drilling is actively marketing the unit throughout Asia and West Africa and is confident firm contracts will be in place before the rigs are delivered.
The company aims to be the leading provider of tender drilling solutions. Its management team, comprised of ex-employees from Seadrill and Smedvig Tender Assist Drilling Division, previously developed specifications and managed construction for over 10 new tender rigs and has operated these for various major oil companies. Currently 80% of the world's tender rig fleet operates in Southeast Asia, with growing interest off West Africa. However, the OCEAN400-TD offers numerous technical and cost advantages that would also suit harsher metocean conditions and deepwater operations in the Gulf of Mexico, Brazil and Western Australia.
Energy Drilling claimsEDrill-3, due to be delivered in June 2015, will be the world's most modern tender-assist production drilling semi, with the highest variable deck load and the largest air gap, 10 m (32.8 ft). COSCO, the sole specialist in tender rig construction in China, is using MagaWay Engineering to provide the derrick equipment set.
The package is designed to drill on wellhead platform elevations over 130 ft (40 m) above main mean sea level, and comes equipped with a bootstrap quad-mast rated for a 1-million lbs hook load and 1.2 million lbs setback load.EDrill-3 will be able to support batch drilling with offline casing, tubing and drillpipe stand building, and a rated drilling depth of 9,000 m (29,527 ft).
Improved motions
According to Jelmer de Weerd, project manager for Gusto MSC, "historically, tender-assist drilling was performed on jacket structures in waters too deep for a jackup rig. Now these units can work over fixed platforms or in deeper water alongside spars, TLPs and compliant towers."
For deepwater operations, de Weerd explains, "the main driver is the weight difference – with tender-assist drilling, only the derrick and solids control unit are located on the TLP or spar, and these have a total dry and wet weight of around 1,000 metric tons (1,102 tons) maximum. For a full-size drilling package on a TLP or spar, the total dry/wet weight is close to 6,000 mt (6,614 t) – that means you have to design the platforms to be larger in order to support the additional weight. Tender-assist development drilling is cost effective in deeper waters using dry trees as opposed to subsea completions, conventional drilling semis, or drillships."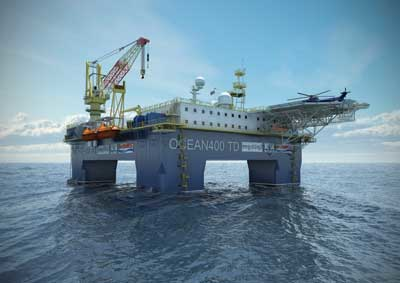 Artist's impression of the OCEAN400-TD tender-assist semisubmersible.
The Ocean400-TD is a deep-draft, column-stabilized unit, but with only four columns. This provides better motions than six-column tender-assist semis, de Weerd said, and therefore improved uptime in rougher seas. "That was the main reason Energy Drilling selected this concept. It is not intended for operations in conventional severe environments, but is suited to handle severe weather presented by sub-tropical monsoons and cyclones."
With the four-column design, the motions are the same in all directions, de Weerd notes. "With a six-column tender-assist semi, due to the center column and smaller beam the roll motions are worse, resulting in lower operability figures. The estimated gain for the OCEAN400-TD for long-term operations offshore Brazil is over 15% more workable days."
EDrill-3 will have an overall length of 101 m (331 ft), and a 3,250-sq m (34,983-sq ft) main deck area, 10% greater than conventional semis, de Weerd said. Its operating displacement will be in the range of 26,800-31,100 mt (29,542-34,282 t), with an operating draft of 13-18 m (42.6-59 ft), and a transit draft of 7.2 m (23.6 ft) during towing moves. Variable operating load is 4,000 mt (4,409 t), well above the 2,000-3,600-mt (2,204-3,968-t) range of typical tender-assist rigs, he added. The new rig will not be equipped with thrusters or dynamic positioning capability. Its main power source will be six Caterpillar 3516C HD DITA diesel engines providing total output of 9.18 MW.
Mooring options
OCEAN400-TD is designed to operate in water depths of 90-350 m (295-1,148 ft) using its self-contained eight-point mooring system, deployed via traction winches, or with a pre-laid mooring spread in deeper waters up to 2,000 m (6,562 ft). In shallower locations, the self-contained moorings are attached to high holding power 12-mt (13-t) Vryhof Stevpris anchors, with no piggyback retrieval lines required. This reduces the time needed for an anchor handling vessel.
Connection to a TLP or spar is achieved using a 100-m (328-ft) long hawser. "The basic idea is to have a connection that is both flexible enough to allow both units to move (semi-independent), but at the same time limit the relative offset between the two units," de Weerd explained. "Without the hawser system, there would be a risk of collision between the two free-floating bodies. This arrangement provides just enough flexibility to reduce motions."
If a hurricane or typhoon approaches, he adds, "disconnection and withdrawal of the OCEAN400-TD is even more straightforward than with conventional semis, as only the flexible mud and electrical lines and gangway need to be disconnected. The unit will then change location to Stand-off position at a larger offset from the platform. The drilling equipment including BOP remains on the platform with the well secured and shut-in."