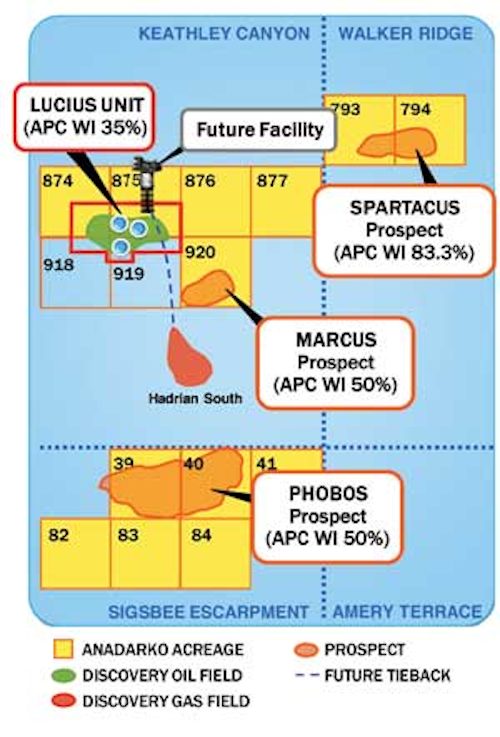 In mid-December, the Bureau of Ocean Energy Management (BOEM) held Western Gulf of Mexico Lease Sale 218 in New Orleans. This was the first oil and natural gas lease sale in the GoM since all leasing and most drilling activity was suspended in the wake of the Macondo accident in April 2010. Lease Sale 218 follows the gradual resumption of exploration and development drilling in the deepwater US GoM (see page 26 for more details).
According to BOEM estimates, the 20.6 million acres on offer in Lease Sale 218 could generate production of 222 million to 423 million barrels of oil and 1.49 trillion to 2.65 trillion cubic feet of natural gas, much of which would be from deepwater fields. It is unlikely, however, that any oil or natural gas discovery made in the deepwater portions of the acreage will be brought into production over the near term. It could take several months or even years before an operator decides whether to start drilling an exploration well on a tract acquired in Lease Sale 218.
In addition, the lag from discovery to first production can be years for deepwater fields, particularly if located in more remote areas relatively far from existing production and pipeline infrastructure.
Central to the Gulf's near-term production prospects, therefore, is a group of nearly 30 deepwater projects in various stages of development, several of which had been delayed by the drilling moratorium. These include "stand-alone" projects targeting discoveries of several hundred million barrels and more modest-sized projects connecting comparatively small discoveries to existing host production facilities. Further production increases are expected from the re-development of mature producing deepwater fields. Oil, which sells at a significant premium relative to natural gas on an energy-equivalent basis, is generally the primary target of deepwater GoM operators due to the relatively high cost of deepwater exploration and production programs.
One major deepwater development – the Who Dat field operated by LLOG Exploration – was placed into production on Dec. 9. Several smaller projects were also slated for a late 2011 start-up, but have not yet been reported as producing.
It can be expected that production starts for many of these will be pushed into 2012. One such project is the ultra-deepwater Cascade-Chinook (Petrobras), the GoM's first development using a floating production, storage, and offloading vessel (FPSO).
Among other key projects scheduled for production starts between 2012 and 2014 are: Galapagos (Isabela, Santa Cruz, Santiago fields; BP); Caesar-Tonga (Anadarko); Lucius (Anadarko); Tubular Bells (Hess); and Jack-St. Malo (Chevron). These larger developments generally target estimated recoverable oil reserves of at least 100 MMbbl and as much as 500 MMbbl or more. Ultimate recoverability will depend on several factors, including reservoir performance. Further delays to some of these projects are possible, and could result for a variety of reasons, including rig availability (particularly those with ultra-deepwater capabilities); third-party pipeline completion schedules; cost increases associated with escalating demand for contractor services; and the pace of permitting by the Bureau of Safety and Environmental Enforcement (BSEE).
It is important to note that the challenges and costs associated with deepwater developments generally, and ultra-deepwater projects in particular, make it difficult for operators to predict production start dates with precision. This holds true for more recent deepwater discoveries undergoing or awaiting comprehensive appraisal programs, such as ExxonMobil's Hadrian and Julia discoveries, Shell's Appomattox find, and BP's Tiber discovery. Many of these are high-profile discoveries for which initial estimates point to resource potential of between several hundred million and one billion barrels. Should these fields' production volumes be commensurately impressive, then they will underpin longer-term production prospects for the deepwater GoM.
Anadarko sanctions Lucius project
Anadarko Petroleum Corp. says that it, along with its co-venturers, have sanctioned the development of the Lucius field in deepwater Gulf. The field is located in the Keathley Canyon area in about 7,100 ft of water.
"We are very pleased to achieve this important milestone in the development of the deepwater Lucius project," said Anadarko President and CEO Al Walker. "We expect Lucius to be among the most economic projects in our portfolio, as we plan to utilize 'off-the-shelf' technology and leverage our proven project-management skills in an area where we have extensive expertise."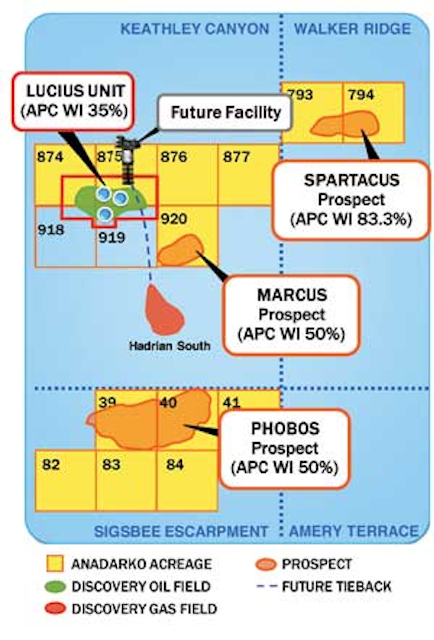 Anadarko estimates that the Lucius unit holds more than 300 MMboe with relatively shallow and highly productive reservoirs that can be developed in a capital-efficient manner.
Anadarko estimates that the Lucius unit holds more than 300 MMboe with relatively shallow and highly productive reservoirs that can be developed in a capital-efficient manner. Once completed, the company says that Lucius will establish important infrastructure in an emerging area of the Gulf where it has identified additional prospects and opportunities. "We expect to have an active drilling program in the unit beginning in 2012, and we look forward to working with our partners to achieve first production in 2014," said Walker.
Lucius will be developed with a truss spar floating production facility with the capacity to produce in excess of 80,000 bbl of oil per day and 450 MMcf of natural gas per day. The spar is currently under construction at Technip's facility in Pori, Finland, and will be the largest of Anadarko's operated spars – a deepwater production solution pioneered by the company in 1997.
Wood Group company Mustang says it has been awarded the topsides detailed engineering, procurement support and equipment inspection contract for the Lucius truss spar floating production facility. Detailed engineering is scheduled to be completed in 3Q 2012 and first production is expected in 2014. Mustang recently completed conceptual and front-end engineering design for the project.
The Lucius unit includes portions of Keathley Canyon blocks 874, 875, 918 and 919. Anadarko operates the unit with a 35% working interest. Following the previously announced unitization agreement, Lucius interest owners entered into an agreement with the Hadrian South co-venturers whereby natural gas produced from the Hadrian South field will be processed through the Lucius facility in return for a production-handling fee and reimbursement for any required facility upgrades.
Co-venturers in the Lucius unit include Plains Exploration & Production Co. (23.3% interest); Exxon Mobil Corp. (15% interest); Apache Deepwater LLC (11.7% interest); Petrobras (9.6% interest); and Eni (5.4% interest).
More Offshore Issue Articles
Offshore Articles Archives
View Oil and Gas Articles on PennEnergy.com