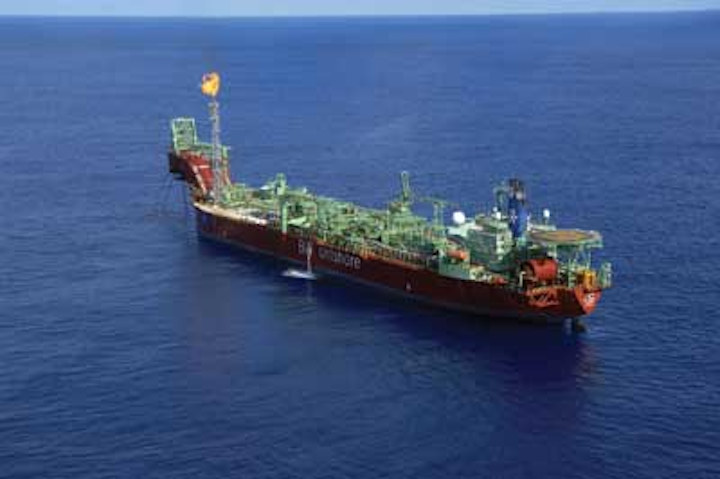 Oil companies continue to push the boundary of deepwater drilling, but technology sometimes trails their requirements. Representatives of some of the leading majors and service contractors outlined their goals and frustrations at two recent conferences in Europe.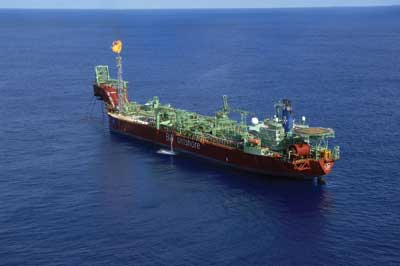 BW Cidade de Sao Vicente recently started a new well test for Petrobras in the Iracema area of the presalt Santos basin." title="The BW Cidade de Sao Vicente recently started a new well test for Petrobras in the Iracema area of the presalt Santos basin.">
TheBW Cidade de Sao Vicente recently started a new well test for Petrobras in the Iracema area of the presalt Santos basin.
At GE Oil & Gas' annual meeting in Florence, Kevin Kennelley, VP Engineering and Technology for GPO (BP), said that BP expects global energy demand to increase 40% by 2030. That would require current production of 85 MMb/d to climb to more than 100 MMb/d, he said, and deepwater fields would play a major part. "We expect deepwater production to grow at 6%/yr between 2010 and 2030, and ultra-deepwater (1,500 m-plus) at 12%/yr." BP has allocated $3 billion capex to new deepwater projects this year, he added, and that figure should double during the next four years.
However, a catalog of issues and uncertainties have to be managed, he cautioned. "The challenges of deepwater today are working in water depths of 1,500 m (4,921 ft) and beyond, with thousands of pounds of pressure, temperatures just above freezing, and penetrating the mix of rock, sand and shale 10-11,000 m (32,808-36,089 ft) below sea level." Depending on the region, hurricanes and cyclones also can impact design. "In the Gulf of Mexico the largest wave – above the 100-year storm height – hit our spar, although it survived and is still in production.
"So structures have to be tethered to the seabed, and in deepwater there is quite a bit of movement both in the structure and risers. Often we're dealing with corrosive high-pressure, high-temperature fluids which require inhibitors to ensure technical integrity. Plus, there are remote facilities, far from the host platform, that must have power and reliability. And there are reservoir uncertainties; you don't know what's down there until you drill, but with some wells now costing $150 million, you don't want to have to drill too much before starting production."
Some of BP's most recent discoveries in the Gulf of Mexico contain very viscous fluids, he pointed out, "which makes flow assurance complex. Over the last decades, BP and others have been moving out to greater water and reservoir depth. The technology you need depends on what you've found and what you're looking for."
Safety focus
At the same time, Kennelley noted, "we're expected to be flawless operators. Regulators won't tolerate any kind of release." Since theDeepwater Horizon incident two years ago, he said, BP has taken action to turn itself into a stronger and safer organization. The company has formed five key focus groups: Accident Prevention and Drilling Safety; Containment; Spill Response; and Crisis Management. "We've established guidelines for what we want our operations to do. We've also used the experience of our response teams to build a package of deepwater well surveillance that can be flown anywhere in the world in 24 hours from our base in Houston, if an incident occurs again."
Kennelley pledged that from now on, "you will see an intense focus from us on reducing operational risk and increasing the reliability of our equipment for deepwater projects, and we will do more testing of equipment than you've ever seen before. We plan to test any defects out of equipment before putting it in, and once installed, there will be more monitoring of the reliability and integrity of that equipment."
As for producing from deeper waters, current spar platforms are typically 40 m (131 ft) in diameter and 150 m (495 ft) deep, he said, with three decks of process equipment. "But there's only so much buoyancy you can put into these structures. Over the next decade, we believe we will still need more floaters, although with lighter topsides, and more emphasis on getting equipment off these facilities and onto the seabed, as we're reaching the limit of how deep we can go with existing production systems."
The goal is to deliver current capability but with a lower footprint, he added, citing lower weight power packages as one possibility. However, the bigger challenge is to marinize this equipment, he claimed, and then put it on the seabed. One solution, he suggested, could be greater use of subsea multi-phase pumps to boost fluids to the surface. Although not new technology, over the next five years these systems will have to cope with higher power requirements and significantly higher differential pressures to accommodate the next generation of discovered fields in the Gulf of Mexico, he said. "But we will also need redundancy to allow us to pull these pumps out if there is a premature failure. And we want the pumps to last five years before pulling them from the seabed."
However, the greatest challenge facing the industry, he claimed, would be developing and qualifying equipment and design codes for drilling wells at pressures beyond today's limit of 15,000 psi (1,034 bar). "That means new well designs, new completion systems, new BOP equipment, and even new rigs. A key enabling technology will be HIPPS (high integrity pressure protection systems) located close to the wells to stop pressure building up. For all this to happen in the next decade it will require billions of dollars of investments, but we will move it forward."
Performance improvements
Offshore Brazil, presalt drilling has to date delivered around 16 Bboe of discovered reserves in an average water depth of 2,100 m (6,890 ft), said Carlos Tadeu, Petrobras' executive manager, Research & Development, at the GE forum. By early February, he added, a total of 37 presalt wells had been drilled with a success rate of 88%.
Petrobras has had 10 rigs on duty in the Santos basin, and expects to take delivery of a further nine this year. The company also has two FPSOs contracted for extended well tests (EWT), with the larger vessel working on the Lula field. All wells tested so far have delivered high flow rates, he said, and have demonstrated very good lateral connection and good reservoir behavior.
The company is targeting presalt production of 2 MMb/d of oil by 2020, out of its projected total output of 6.4 MMb/d. What helps, he said, is that presalt imaging is improving. Petrobras has completed its largest 3D deepwater seismic survey in the area (16,000 sq km, or 6,177 sq mi), and more recently was acquiring very high-resolution 3D data, and its first 4D survey on the Jubarte field.
Typical drilling time for Brazil's ultra-deep presalt wells has come down from one year for the initial well to 60 days currently, he claimed. "We have developed new materials for casing and production strings that have led to 50% cost savings. Another achievement was a horizontal well with 85° of inclination in the salt layer." Petrobras had very little experience to draw on elsewhere in the world for its presalt carbonate structures. The company has therefore sought to build its own knowledge bank, for instance by taking 1 km of cores from its wells, and intensive integration of logs, seismic and EWT data into its reservoir models.
As for new technologies, Tadeu said presalt "offers a huge opportunity for innovation in terms of riserless drilling, laser drilling, and use of nanoparticles to interact chemically with the reservoir to boost recovery." Petrobras' goals include more monitoring of the production process from the wellhead through topsides and subsea equipment, and smaller, lighter, and more efficient production facilities. He added, "And why not subsea power distribution or even platform-less development in the future?"
High exploration stakes
At the Institute of Petroleum's Deepwater Offshore conference in London, Ali Moshiri, president of Chevron's Africa and Latin America E&P Co., said Chevron expects deepwater fields will soon provide at least 10% of global production. "Although it could reach 15%," he claimed. "It's do-able, and can be done in many regions and play types. Advances in seismic imaging mean that we can now see fields in 10,000 ft (3,048 m) of water. The question is, how can we develop it?"
He cited analysts Wood Mackenzie's estimate of 280-300 Bboe for global deepwater resources, "and there is hardly any secondary recovery beyond pressure maintenance in that figure. As we go into deeper water, there will be more reserves to find."
Saudi Arabia has a similar level of conventional reserves, he pointed out, but the impetus to develop in deepwater is much greater, "because when deepwater production comes in, every barrel goes straight to the market."
Most of Chevron's deepwater activity remains focused on West Africa, he said, "and most companies' exploration plays are Cretaceous plays off West Africa or East Africa. If you estimate West Africa's deepwater Cretaceous reserves, they could be as big as the total resources in Europe, although it's still primarily in the exploration phase." However, deepwater drilling is a risky business, he claimed, with some wells costing around $140 million. "In deepwater, a 150-250 MMbbl discovery is considered good for a development. The perception is that this is a high-deliverability, high-impact market. But if you are not successful at exploration, you are bankrupt - simple as that."
Ultra-deepwater, Moshiri continued, requires different types of drilling technologies. "Those prospects need DP drillships or floating systems to access…Currently there are 14 rigs capable of drilling in up to 3,500 m (11,483 ft) of water. Is it enough? No, although there are 10 more rigs under construction."
As for coming deepwater technologies, "going downhole with subsea separation will become significant," he suggested. This year Chevron expects to trial dual-gradient drilling in 9-10,000 ft (2,743-3,048 m) of water on a field in the Gulf of Mexico, a technique he believed would result in improved safety, drilling performance, well integrity, and predictability. "But we must be cautious how we manage deepwater operations," he concluded. "We've got to go through risk mitigation, understand everything, because the consequence of something going wrong can be huge. We must recognize there are certain technologies we don't have, and the industry must work to get them. Also, in case something goes wrong, can you recover it? It's like a plane – if you can't land it, don't go in it."
At the same conference, Lyle Finn, chief technology officer for Horton Wison Deepwater, claimed that many deepwater discoveries "are uneconomic with today's technologies." As for the new subsalt finds, he suggested, development costs are high partly because of the time taken to drill through salt to the deep-lying reservoirs.
Finn also highlighted reservoir uncertainties. "Subsalt seismic quality can be poor -- one way of reducing the uncertainty is to gather data below the salt. The cost of making the wrong decisions about compartment size is greater in deepwater because of the need to minimize well numbers. But you also need high productivity wells in deepwater, otherwise you lose money. To achieve this often requires long-term tests, and you may not know how much the wells will produce until you've been doing this for a year. This too can be very expensive."
Horton Wison's solution is a deep draft semi known as the Multi Column Floater (MCF), designed for use with a surface BOP and mostly dry trees, "so drilling time is less and safer. And with this concept, you produce while drilling, so you get a reservoir stream which offsets the cost. And you find out about how the wells will produce. The MCF is designed for easy fabrication, with near-shore integration and no heavy lifts, providing greater control over the schedule." Compared with an FPSO, he added, "our drilling costs are lower, and there is less weather downtime, with no need to pull the riser when a hurricane approaches. There is direct vertical access to the wellbore, and you can add gas lift or electric submersible pumps (ESPs) when pressure is not good. More importantly, with dry trees you recover more oil from the reservoir – historically 25% more in the Gulf of Mexico. And you can perform waterflood even with dry trees, with lower back pressure on the reservoir."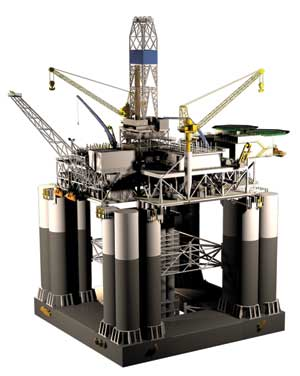 Horton Wison Deepwater's Multi Column Floater.
Another speaker at the IP event, Schlumberger's Executive VP for Operations Satish Pai, said service companies were always affected by the industry's cyclical nature. "But even during the downturn of 2009-10, the deepwater rig count continued to rise steadily. Last year 30 new deepwater rigs joined the global fleet, with 25-28 more expected in 2012, and 69-70 under construction."
Pai described 2011 as "an amazing year," with big new finds in the North Sea, the Mediterranean, off East Africa, and French Guiana. "And there are still a lot of exploration wells being drilled, so the situation looks fairly robust for the next 10-15 years." But Pai also noted that "safety and integrity are much more heightened and critical than for the previous shallow-water discoveries or developments. Mitigation activity is up since Macondo, but a couple of notches higher for deepwater development. Costs are pretty high on the agenda for our clients for development, and complexity is higher both on the surface and subsurface. There is not much margin for wells not coming in as planned."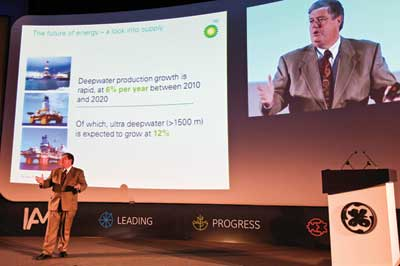 BP's Kevin Kennelley.
Among emerging technologies for deepwater, Pai highlighted seismic-at-bit – "looking at pore pressures as you drill ahead. And the industry has to pay a lot more attention to cementing in terms of pre-job and post-job analysis, because over time, deepwater cementing can have problems."
"Also, we have to foster integration between service companies and equipment providers to make sure all aspects of the well are planned," said Pai. "On any deepwater rig there may be eight to 12 Schlumberger product lines available. Maybe what the wireline guys see, the mudline people should also know. These are expensive wells, and the clients therefore want the maximum value."
More Offshore Issue Articles
Offshore Articles Archives
View Oil and Gas Articles on PennEnergy.com