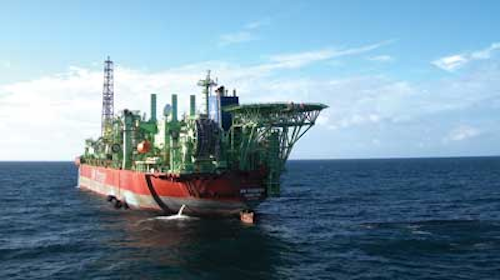 Two years after the Macondo oil spill, offshore operators and drilling rig contractors are gradually increasing their E&P activities in the Gulf of Mexico. The deepwater rig fleet is on its way to reaching pre-Macondo drilling levels, and is expected to reach that point either by the end of this year or sometime in 2013.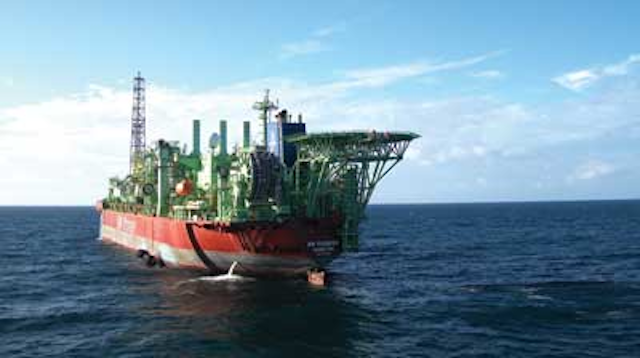 BW Pioneer, the Gulf's first FPSO vessel. Photo courtesy Petrobras." title="Production began from Petrobras America's Cascade and Chinook fields in February from the BW Pioneer, the Gulf's first FPSO vessel. Photo courtesy Petrobras.">
Production began from Petrobras America's Cascade and Chinook fields in February from theBW Pioneer, the Gulf's first FPSO vessel. Photo courtesy Petrobras.
Deepwater drilling activity has increased steadily, if slowly, since the Marine Well Containment Co. and the Helix Well Containment Group systems became available for the industry. To illustrate, when the deepwater drilling moratorium was officially lifted in October 2010, six semisubmersibles and one drillship were working. By the end of February 2011, when the first plans of exploration and applications for permit to drill were beginning to be approved, seven semisubmersibles and three drillships were working. Six months later, at the end of July, 12 semisubmersibles and six drillships were working; and by February 2012, drilling contractors had 15 semis and nine drillships working.
Those figures were expected to continue increasing during the year as nine deepwater rigs, including eight newbuild semis and drillships, are expected to begin operating in the GoM during 2012 and 2013. In fact, during 1Q 2012, five rigs were already en route to the Gulf, including theNoble Globetrotter I, Pacific Santa Ana, West Capricorn, Ensco 8505, and Stena Forth. Additional rigs scheduled to journey to the Gulf are Dragon Quest, Atwood Condor, Ensco 8506, and Noble Globetrotter II.
With these nine rigs plus the 15 semisubmersibles and nine drillships working at the beginning of February of this year, the deepwater fleet could see as many as 33 deepwater units working by early to mid-2013. Additionally, there are still a few deepwater rigs that could return to the Gulf from international areas, as well as a few rigs still in the Gulf that are currently without contracts.
As the industry returns to normal, individual drilling contractors are seeing their rigs move from the idle column to the working column. Noble Drilling, for example, was able to return all five of its active deepwater rigs in the Gulf to their full operating dayrates during 2011.
A recent analysis by EIC Consult, the market research and consultancy arm of the Energy Industries Council, predicts that deepwater drilling in the Gulf of Mexico is on its way toward "regaining the momentum" it had before the Macondo incident.
The report indicates that there are 5,981 active leases in the Gulf, and following the issuance of the new permitting regulations, more than 130 new well permits have been granted, mostly in waters greater than 5,000 ft (1,500 m). Plus, there are many more applications pending.
Specific projects cited in the report through EIC DataStream include Shell's Cardamom oil field, the first deepwater plan to be approved after Macondo; Chevron's Big Foot deepwater oil field; BP's Mad Dog oil and gas field; Anadarko's Lucius oil and gas field where appraisal drilling took place in July 2011; and future projects such as ExxonMobil and Anadarko's Hadrian oil and gas field where first production is expected to begin in 2014. (For more on EIC's analysis, see Phil Goddard's article starting on page 60.)
Upcoming deepwater developments
From 2012 to 2014, nearly two dozen deepwater and ultra-deepwater development projects are scheduled to come onstream. They include, tentatively, 14 projects during 2012, three during 2013 and six in 2014. They range in water depths from about 2,700 ft (823 m) to more than 9,000 ft (2,743 m).
Among the production projects is Petrobras America's Cascade and Chinook fields being produced from the Gulf's first FPSO vessel. Production began Feb. 25 with the Cascade field in about 8,100 ft (2,469 m) of water. The Chinook field is in about 8,800 ft (2,682 m) of water. TheBW Pioneer FPSO has the capacity to process 80,000 bbl of oil and 500,000 cu ft of gas per day.
The fields will produce from the Lower Tertiary trend. This development originally was scheduled to come onstream in early 2010; however, the deepwater drilling moratorium delayed the drilling of additional development wells. A problem with the riser system resulted in additional delays.
Other projects scheduled to come online during 2012 include Galapagos, comprised of the Isabela (BP), Santa Cruz, and Santiago fields (Noble Energy) in about 6,500 ft (1,981 m) of water. Anadarko is scheduling three field start ups this year: its Caesar field, West Tonga and Cheyenne East (in 9,100 ft of water).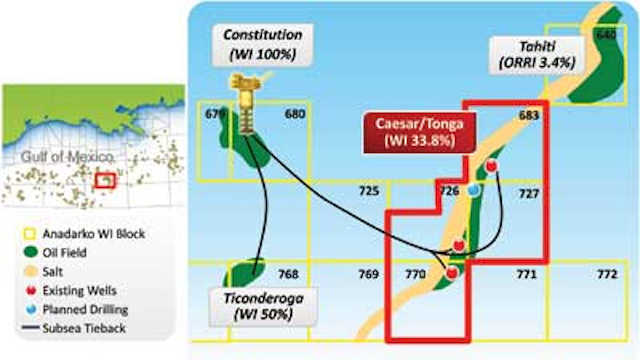 First production is flowing from the deepwater Caesar/Tonga development located in Green Canyon blocks 683, 726, 727, and 770.
In fact, Anadarko recently reported that first production is aleady flowing from the deepwater Caesar/Tonga development. The company expects production to reach about 45,000 boe/d from the first three subsea wells, with a fourth well expected to be completed later this year in the Phase 1 development.
The Caesar/Tonga development is making use of the Constitution spar floating production facility, and represents the first application in the GoM of steel lazy wave riser technology. The development is located in blocks 683, 726, 727, and 770.
The Constitution spar is located in Green Canyon block 680 in about 5,000 ft (1,524 m) of water. It began production in 2006 with a capacity of 70,000 b/d of oil and 200 MMcf/d of natural gas. In 2009, Anadarko began making modifications to the topsides of the Constitution facility to accommodate production from the Caesar/Tonga area, approximately 10 mi (16 km) to the east.
Among the 2013 starts is the Knotty Head field, where Nexen is the operator. During 2014, Anadarko plans to begin production from its Lucius field while Hess is anticipating its Tubular Bells field to come onstream; and Chevron has scheduled its St. Malo and Jack fields for production start up in this year as well.
Meanwhile, Anadarko says it has also found oil in the Heidelberg-2 appraisal well in Green Canyon block 903. The well was drilled to TD of 31,030 ft (9,458 m) in 5,000 ft of water and encountered 250 net ft (76 m) of oil pay in high-quality Miocene sands.
The successful penetration of high-quality, oil-bearing sands confirmed the continuity of the reservoir, and validated the company's geologic model, and initial resource estimate of more than 200 MMbbl of oil, says Bob Daniels, senior VP, Worldwide Exploration for Anadarko. The company plans to immediately side track the well to evaluate the down-dip extent of the field, and plans to initiate pre-FEED (front-end engineering and design) activities to prepare for sanctioning a development project.
Anadarko operates the block with a 44.25% working interest. Co-owners include Apache Deepwater LLC, Eni, Statoil, ExxonMobil, and Cobalt International Energy, L.P.
Shallow-water operations
While the jackup market was not hit nearly as hard as the deepwater rig fleet, shallow-water drilling contractors still experienced a decrease in activity following the Macondo blowout. Numbers have been rising of late. On Feb. 1, 2012, 35 jackups were working out of a total fleet of 73 units. However, 28 of those rigs were cold-stacked and not marketed for contract, leaving an effective jackup fleet of 45 rigs.
Observers note that shallow-water operators went from a "de facto" drilling moratorium, where permits were being issued at a very slow pace, to a regulatory environment in which drilling permits are beginning to increase.
In 2010, post Macondo, an average of about 13 shallow-water drilling permits per month were issued; this improved to an average of 16 shallow-water drilling permits per month issued during 2011. Through February 2012, the industry has seen almost 40 permits already issued.
One of the leading shallow-water operators, McMoRan Exploration Co., recently announced that it is continuing to flow test the Davy Jones 1 well in South Marsh Island block 230, offshore Louisiana. The company reports that initial attempts to perforate and flow test the Wilcox F sand encountered a hydraulic equipment malfunction, so McMoRan elected to move up the hole to test another zone using electric-line perforating equipment. This test on the Wilcox D sand got a positive pressure response, and the company plans to perforate the Wilcox C sand, and comingle the zones. Future plans for the F sands are being considered.
Elsewhere in the GoM, McMoRan has reached a TD of 34,162 ft (10,413 m) in its Lafitte exploration well on Eugene Island block 223 in 140 ft (43 m) of water. The company logged two potential new hydrocarbon bearing zones in the Upper Eocene section of the well with an aggregate thickness of approximately 65 net ft. These new Upper Eocene sands correlate to the Jackson and Yegua sections found onshore Louisiana. These are the first hydrocarbon bearing Upper Eocene sands encountered either on the GoM shelf or in the deepwater offshore Louisiana.
Gulf OCS lease sales
Western Gulf Lease Sale 218, the first offshore U.S. sale since the Macondo blowout, was held last December and attracted what is reckoned to be the highest single bid in any Western Gulf sale. This particular bid also nearly matched a single high bid in a recent Central Gulf Lease Sale, which typically attracts significantly higher bids. ConocoPhillips offered up $103 million for Keathley Canyon block 95, which represented about two-thirds of the operator's total high bids of $157.8 million for 75 tracts, and about 30% of all high bids of $337.7 million submitted during the sale.
Keathley Canyon block 95 attracted a total of seven bids (ConocoPhillips, BP, Hess, Maersk, Shell, Chevron, and Ecopetrol) ranging from $11.5 million to $103 million. Chevron submitted the second highest bid of $84 million while Maersk offered the lowest bid of $11.5 million. BP submitted a bid of nearly $79 million for the block. The block is about 20 mi (32 km) from BP's Tiber discovery in Keathley Canyon block 102 announced in 2009, which was estimated then to contain more than 3 Bbbl of oil from the Lower Tertiary formation, one of the Gulf's most productive deepwater trends. Partners in that block when the discovery was made were BP, Petrobras, and ConocoPhillips. The Tiber discovery was drilled by Transocean'sDeepwater Horizon semisubmersible.
The next proposed OCS lease sale schedule covering the five years from 2012-2017 includes a total of 15 sales, 12 of which are in the Gulf of Mexico. These include five each in the Western and Central Gulf, and two proposed sales in the Eastern Gulf that are not currently under Congressional moratorium.
North America offshore summary of projected field developments 2012-2016 © infield systems 2012

More Offshore Issue Articles
Offshore Articles Archives
View Oil and Gas Articles on PennEnergy.com