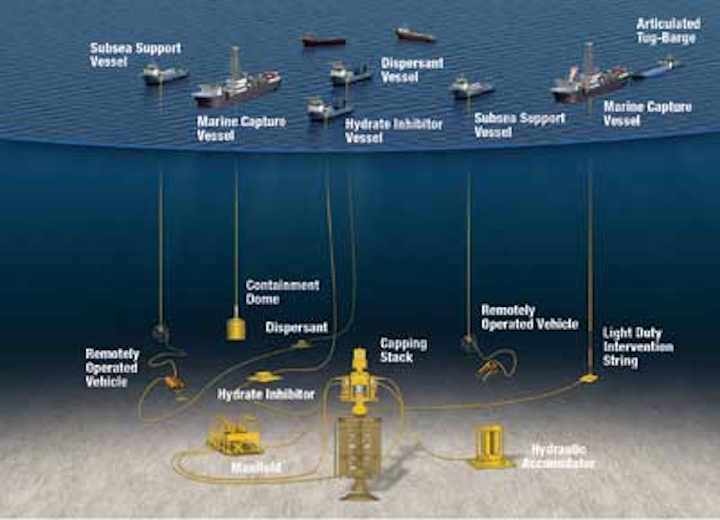 Ted Moon
Special Correspondent
In the aftermath of the 2010Deepwater Horizon event at the Macondo well, which claimed 11 lives and discharged roughly 4.9 MMbbl of oil into the Gulf of Mexico (GoM), the offshore industry has taken a long, hard look at its processes for well control and spill remediation. This reflection—driven by both increasingly stringent federal regulations and individual company initiatives to operate in safe and environmentally responsible ways—has prompted operators to come together in a variety of consortia to improve well control systems and services. A review of the industry's progress in some of these initiatives follows.
Helix Well Containment Group
The Helix Well Containment Group (HWCG) is a consortium of 24 deepwater operators in the GoM with a mandate of expanding the industry's capabilities to quickly respond to a subsea spill. Members include Anadarko Petroleum, BHP Billiton, Hess Corp., Marathon, Plains E&P, and Statoil Gulf of Mexico. Collectively, these members represent approximately two-thirds of deepwater operations and roughly half of all deepwater oil and natural gas production in the GoM.
A key mission of the group is to develop a comprehensive and rapidly deployed deepwater containment system. Building upon equipment owned by Helix Energy Solutions Group that was used in theDeepwater Horizon response, the consortium signed an agreement with Helix to provide the primary components of the response system. These components were brought together to form a new Dual Ram Intervention Capping Stack, a system capable of containing spills of up to 55,000 b/d and 95 MMcf/d of gas in water depths of up to 10,000 ft (3,048 m). The system incorporates two capping stacks – one rated to 15,000 psi (1,034 bar) and the other to 10,000 psi (689 bar) – which are designed to control deep, high-pressure wells in the event that a BOP is inoperable.
Since the unveiling in mid-2011, HWCG has upgraded the system to include a wideband acoustic monitoring system by Sonardyne. The system, consisting of a surface command unit, intelligent deep acoustic remote transducers, and a subsea electronics module, will be used to remotely monitor pressure and temperature sensors fitted to the capping stack and then transmit the data to the surface for near real-time analysis.
In terms of procedures and processes, HWCG developed a Deepwater Intervention Technical Committee comprised of more than 30 technical experts from the member companies to establish well control procedures in accordance with regulations set forth by the U.S. Bureau of Ocean Energy Management (BOEM) and the Bureau of Safety and Environmental Enforcement (BSEE).
In addition to making a financial investment supporting the development of the group's deepwater containment system, each HWCG member company has committed to a mutual aid agreement, which calls for full cooperation and technical support for other members in the event of an uncontrolled well incident or spill.
Marine Well Containment Co.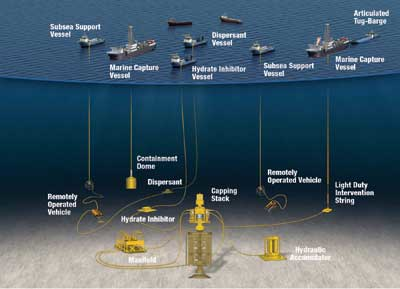 MWCC's interim containment system was first sited in a drilling permit in March 2011.
The Marine Well Containment Co. (MWCC) is a nonprofit company formed in March 2011, and comprised of Anadarko, Apache, BHP Billiton, BP, Chevron, ConocoPhillips, ExxonMobil, Hess, Shell, and Statoil. Membership remains open to all operators in the US GoM.
With input from its members, the MWCC developed the interim containment system (ICS), a capping stack-centered system capable of handling pressures up to 15,000 psi and water depths of up to 10,000 ft.
The ICS provides both a BOP ram and cap for dual barrier containment, and is designed to meet requirements for subsea well containment set forth in BSEE's NTL No. 2010-N10, National Notice to Lessees and Operators of Federal Oil and Gas Leases, Outer Continental Shelf. The system has a capacity to contain up to 60,000 b/d of liquids and can handle up to 120 MMcf/d.
In designing the ICS, MWCC worked with BSEE regulators to ensure that the new system would not only safeguard the Gulf, but also would allow new permits to be issued. MWCC has continued to stay in regular communication with the BSEE, through onsite reviews, witness testing and demonstration of the capping stack, as well as a review of the interim containment system equipment. BSEE has also participated in a responsible party workshop for member companies, and TLP/spar plan development workshops.
In July 2012, MWCC deployed the ICS for a BSEE-mandated GoM spill drill, which was designed to evaluate the industry's readiness to respond to a deepwater well control incident. The system, which was tested with cooperation from consortium member Shell, was loaded onto the Laney Chouest at the Houston ship channel and deployed to the test site. It was then lowered via wire to a depth of 6,900 ft (2,103 m) and latched to a simulated wellhead. All necessary functions were completed, and pressure testing confirmed that the ICS could successfully control the well.
MWCC has also completed a plan to cap a well under a floating structure such as a TLP or spar. This operation requires either moving the structure out of the way to allow access to install the capping stack, or pulling the stack underneath the structure for installation. This activity has been carefully defined by consortium members, and is pre-planned before a well is drilled from a floating structure.
MWCC is building an expanded containment system (ECS) that will possess increased cap-and-flow depth capability (10,000 ft) and a greater handling capacity of 100,000 b/d of liquids and up to 200 MMscf/d of gas. Once completed in 2013, the ECS will also include modular capture vessels to process well fluids.
Beyond the GoM
UK-based Oil Spill Response Ltd. (OSRL) has provided a range of offshore preparedness services since its founding in 1985, including technical advice, specialist personnel, equipment rentals and maintenance, and spill response training. The industry-owned cooperative, which includes BP, Shell, Petrobras, Chevron, ConocoPhillips, ExxonMobil, Devon, Marathon, Hess, and PDVSA, has boosted its efforts to reach out to its members and UK regulatory bodies to discuss issues of mutual interest in a post-Macondo world.
The cooperative hosts technical forums and meetings around the world every year to review oil spill response measures, and update operators and regulators on the latest technical developments affecting them. The meetings also allow OSRL to elicit firsthand feedback on the services and initiatives it offers.
Recent service upgrades include the July 2012 signing of an eight-year contract with Cobham to provide oil pollution detection and surveillance services around the UK coast. Under the contract, Cobham will operate a dedicated, specially modified maritime surveillance Dornier 228 aircraft to serve as a rapid response spill-monitoring service to OSRL members, while enabling compliance with environmental regulations put forth by the UK's Department of Energy and Climate Change.
OSRL is also partnering on the development of a new well capping system with fellow consortium the Subsea Well Response Project (SWRP), a nine-member initiative with a similar mandate to enhance the industry's ability to better respond to subsea well control incidents. SWRP is made up of and financed by BG Group, BP, Chevron, ConocoPhillips, ExxonMobil, Petrobras, Statoil, Total, and Shell, who also serves as the team leader.
Under the terms of the collaboration, OSRL will procure, own, and maintain all equipment for the new intervention system, and make it available to subscribers on a global basis. SWRP has designed a capping toolbox with all necessary equipment to allow wells to be shut in; designed additional hardware for the subsea injection of dispersant; and fully assessed deployment options and those regions interested in a global containment solution.
OSRL has contracted Trendsetter Engineering to manufacture four capping stack toolboxes capable of handling a variety of well control scenarios, and has contracted Oceaneering AS to develop two hardware kits for the subsea application of dispersant at the wellhead.
The first system is slated for completion by the end of 2012. During 2013, the equipment will be moved to four strategic storage locations in northern Europe, South America, Africa, and Asia/Pacific to enhance international deployment and response readiness.
OSPRAG
A schematic of the OSPRAG well capping device.
On May 25, 2010, Oil Spill Prevention and Response Advisory Group (OSPRAG) was established to help coordinate the UK's response to the safety, environmental, and commercial challenges that the Macondo spill brought to light. Formed by Oil & Gas UK, OSPRAG was designed to review the industry's best practices with regards to well control and then make recommendations for improvement in advance of the conclusion of investigations into the GoM incident.
Chaired by James L. House, regional vice president and managing director of Apache North Sea Ltd., the group included senior representatives from all sides of the industry, the relevant regulatory authorities, and trade unions.
The group helped direct and support three major specialist review groups:
• The Technical Review Group, which reviewed the UK offshore sector's practices in well examination verification, primary well control, BOPs, and basic competencies and risk factors. Several best practices were identified during this review, which were compiled and disseminated by the Well Life Cycle Practices Forum, a group chaired by ExxonMobil. This group was charged with producing and releasing a series of guidelines related to safe operation of subsea BOPs, well integrity guidelines, relief well planning requirements, well capping, well suspension and abandonment, and human factors and behaviors.
• The Oil Spill Response Review Group was tasked with ensuring that the UKCS possesses and maintains a robust and sustainable oil spill response capability. The group worked with industry and regulators to secure a range of remediation options based on the type and size of a potential oil spill, with the Macondo response serving as an important metric. Options ranged from stockpiling a sufficient volume of booms, dispersants, and response vessels for higher probability/lower impact spills, to developing new capping technologies and an enhanced spill response toolkit for more serious and larger spill scenarios.
• The Indemnity and Insurance Review Group made several recommendations designed to more carefully define the industry's financial liability for spill response and increase the robustness of its financial responsibility for cleanup and compensation. A joint study with the Offshore Pollution Liability Association found that an upper liability limit of $250 million per incident would be adequate for the vast majority of well operations in the UK.
Another major initiative begun under OSPRAG was the development of a new well capping device for subsea wells flowing at pressures of up to 1,034 bar (15,000 psi) and temperatures of 121°C (250°F), with a maximum flow rate of 75,000 b/d. The device was designed for deployment in water depths ranging between 100 and 3,048 m (328 and 10,000 ft) from various multi-service vessels or drilling rigs. The system was designed by OSRL, built by Cameron over 10 months, and officially unveiled in September 2011.
After an aggressive 16-month period of researching and making recommendations on various technical, environmental, and financial changes to the UK offshore oil and gas industry's spill response measures, OSPRAG submitted a final report and disbanded in September 2011.