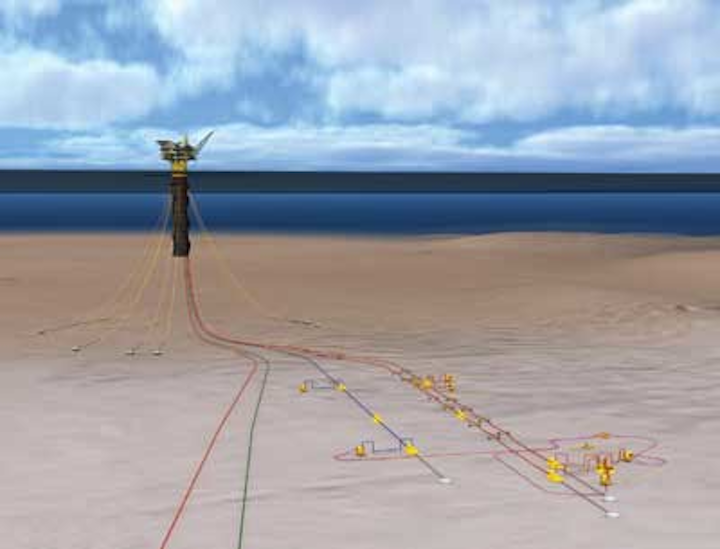 Bruce Beaubouef
Managing Editor
The resurgence of E&P activity in the Gulf of Mexico is being increasingly driven by deepwater plays, and operators and developers are employing a range of new technologies and applications to exploit these hard-to-reach hydrocarbon resources.
A recent report by Wood Mackenzie projects that GoM E&P will return to pre-Macondo levels by 2015, and much of that growth will be spearheaded by new, large deepwater fields. These fields – including Hadrian, Jack/St. Malo, and Lucius, as well as development activity at legacy assets – are expected to drive production to more than 2 MMboe/d by 2016.
Technological developments prior to and post-Macondo have revolutionized deepwater drilling and production. Deepwater finds in the Gulf of Mexico have continued to expand the already large subsea infrastructure in place, composed of pipelines, wellheads, and connection systems. Subsea pipelines have also been adapted to endure the challenging conditions on the seabed including subsistence, erosion, and high pressures.
Producing wells are topped by subsea trees which monitor and control production, and multiple subsea wellheads in close proximity are often tied to a manifold connecting the wells to export pipelines or risers. Manifolds integrate the flow of hydrocarbons from several wells and manage the injection of water and chemicals during subsea operations.
But, future production is expected to become more challenging as activity moves into deeper water. By 2015, the majority of the new fields will be located in ultra-deepwater (> 1,500 m, or approx. 4,921 ft). Development is also moving to the oil-rich subsalt Pliocene/Miocene and Lower Tertiary plays. These frontier fields will require innovative advancements in engineering and technology, and will be more expensive to develop. High oil prices and lessons learned from Perdido and Cascade/Chinook will facilitate progress in these emerging plays.
Growth will be driven mostly by subsalt fields, which will account for over 65% of production by 2016. Development work at the legacy subsalt Miocene Atlantis, Mad Dog, and Thunder Horse fields, as well as the subsalt Mars project, is expected to contribute a combined 290,000 boe/d by 2016.
Also by 2016, production from the new subsalt Pliocene/Miocene Hadrian and Lucius fields is expected to contribute a combined 175,000 boe/d. Meanwhile, the subsalt Lower Tertiary Jack/St. Malo and Cascade/Chinook developments will add a combined 150,000 boe/d.
Eight companies – Anadarko, BP, Shell, Chevron, BHP Billiton, ExxonMobil, Statoil, and Petrobras – out of 63 with production in deepwater GoM are expected to account for 93% of the growth from 2012 to 2016.
Deepwater regains momentum
A recent analysis by EIC Consult, the market research and consultancy arm of the Energy Industries Council, indicates that there are 5,981 active leases in the Gulf. Following the issuance of the new permitting regulations, more than 130 new well permits have been granted, mostly in waters greater than 5,000 ft (1,500 m). Plus, there are many more applications pending.
Specific projects cited in the report through EIC DataStream include Shell's Cardamom oil field, the first deepwater plan to be approved following Macondo; Chevron's Big Foot deepwater oil field; BP's Mad Dog oil and gas field; Anadarko's Lucius oil and gas field; and future projects such as ExxonMobil and Anadarko's Hadrian oil and gas field where first production is expected in 2014.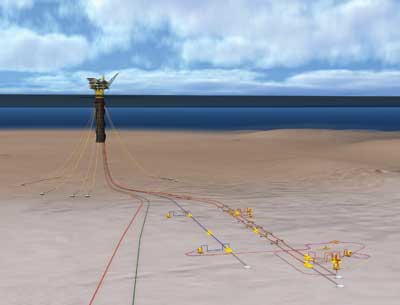 Hess's Tubular Bells project will make use of Williams' proprietary Gulfstar FPS system to serve as the central host facility in 4,100 ft of water in Mississippi Canyon block 724. Illustration courtesy C-Ray Media, Inc.
A number of deepwater projects are cited in the EIC Consult report – all with significant opportunities for the supply chain. These include the first deepwater plan cleared after Macondo – Shell's Cardamom oil field, which is expected to produce 140 MMbbl of oil, and which involves the construction of a complete subsea system.
BP's Mad Dog oil and gas field is one of the largest deepwater developments in the Gulf with an estimated 4 Bbbl of oil in place. In April 2011, contractor Technip gained the rights to provide a wet tree spar with water injection for the new field.
Chevron's Jack and St. Malo oil fields are at a water depth of 2,100 m (7,000 ft) and will be connected to three subsea centers tied back to a semisubmersible hub production facility. A 136-mi pipeline is under construction linking the Jack and St. Malo fields to a platform in Green Canyon block 19.
In addition, there is Hess's Tubular Bells oil field in Mississippi Canyon block 724 in 4,100 ft (1,240 m) of water. Three subsea production wells and two water injection wells will be drilled from two subsea drill centers tied back to the wet tree Gulfstar spar production facility owned by Williams Partners.
Future deepwater projects in the Gulf include ExxonMobil's Hadrian oil and gas field, discovered in 2010; Anardarko's Heidelberg discovery in Green Canyon block 859 at a water depth of 1,600 m (5,341 ft); and Shell's Appomattox discovery in blocks 391 and 392 in the Mississippi Canyon.
From 2012 to 2014, nearly two dozen deepwater and ultra-deepwater development projects are scheduled to come onstream. They include, tentatively, 14 projects during 2012, three during 2013 and six in 2014. They range in water depths from about 2,700 ft (823 m) to more than 9,000 ft (2,743 m).
Projects onstream
One of the most notable deepwater production projects to come onstream is Petrobras America's Cascade and Chinook, which are being produced from the US Gulf of Mexico's first FPSO vessel. Production began Feb. 25 with the Cascade field in about 8,100 ft (2,469 m) of water. The Chinook field is in about 8,800 ft (2,682 m) off water. TheBW Pioneer FPSO has the capacity to process 80,000 b/d of oil and 500,000 cf/d of gas. The fields produce from the Lower Tertiary. This development originally was scheduled to come onstream in early 2010; however, the deepwater drilling moratorium delayed the drilling of additional development wells. A problem with the riser system resulted in additional delays.
Also under way is the Galapagos development in the deepwater Gulf of Mexico. It is a joint development of the Isabela, Santiago, and Santa Cruz fields tied back to the Na Kika host facility. The BP-operated platform is located about 140 mi (225 km) southeast of New Orleans, in 6,500 ft (1,981) of water. BP is the operator of the Isabela field, while Noble Energy operates the Santiago and Santa Cruz fields.
All three Noble Energy Inc. wells at the Galapagos development in the deepwater Gulf of Mexico are now producing and at rates greater than forecast. Production at Galapagos started from the BP-operated Isabela field in early June, followed by the Noble Energy-operated Santa Cruz and Santiago fields. With the addition of Galapagos, Noble Energy's deepwater Gulf of Mexico production has increased to approximately 30,000 boe/d, with more than 80% of that as oil.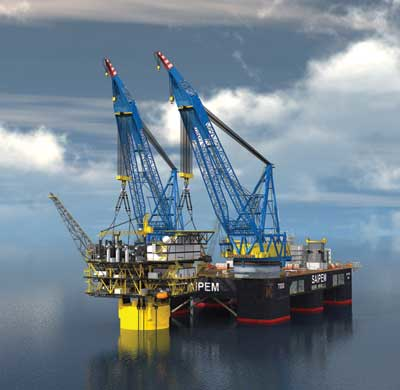 The Gulfstar FPS host facility will be a spar-based floating production system that uses a traditional three-level topsides mated to a classic spar hull. Illustration courtesy C-Ray Media, Inc.
Anadarko is scheduling three field start ups this year: its Caesar field, West Tonga, and Cheyenne East (in 9,100 ft, or 2,774 m, of water). In fact, Anadarko reports that first production is flowing from the deepwater Caesar/Tonga development. The company expects production to reach about 45,000 boe/d from the first three subsea wells, with a fourth well expected to be completed later this year in the Phase 1 development.
The Caesar/Tonga development is using the Constitution spar floating production facility, and represents the first application in the GoM of steel lazy-wave riser technology. The development is in Green Canyon blocks 683, 726, 727, and 770.
The Constitution spar is in Green Canyon block 680 in about 5,000 ft (1,524 m) of water. It began production in 2006 with a capacity of 70,000 b/d of oil and 200 MMcf/d of natural gas. In 2009, Anadarko began making modifications to the spar topsides to accommodate production from the Caesar/Tonga area, approximately 10 mi (16 km) to the east.
Recently, Helix Energy Solutions Group reported an oil discovery at the Danny II exploration well at the Bushwood field in Garden Banks block 506, approximately 145 mi (233 km) offshore from Galveston, Texas, in the Gulf of Mexico. The Danny II exploration well encountered more than 70 ft (21 m) of net pay. The Danny II exploration well was drilled to a TD of 14,750 ft (4,496 m), in a water depth of approximately 2,800 ft (853 m). The well is being completed and probably will be developed via a subsea tieback to Helix's East Cameron block 381 platform 31 mi (50 km) to the north in 370 ft (113 m) of water. First production from Danny II is expected in 4Q 2012.
Upcoming production starts
During 2014, Anadarko plans to begin production from its Lucius field while Hess is anticipating its Tubular Bells field to come onstream. Chevron scheduled its St. Malo and Jack fields for production start up in 2014 as well.
Hess's Tubular Bells project is making use of Williams' proprietary Gulfstar FPS system to serve as the central host facility. Williams will construct and install its Gulfstar FPS in 4,100 ft (1,240 m) of water in Mississippi Canyon block 724, roughly 135 miles (217 kilometers) southeast of New Orleans.
The host facility will be a floating production system that uses a traditional three-level topsides mated to a classic spar hull. This standard design allows customers to reduce the time between discovery and first oil. From sanctioning the project to completion, Gulfstar FPS is expected to be delivered in 30 months. This will be the first spar-based FPS with major components to be built entirely in the US Gulf Coast area. The hull is being fabricated in Aransas Pass, Texas. The topsides is being fabricated in Houma, Louisiana. The FPS has a capacity of 60,000 b/d of oil, up to 200 MMcf/d of natural gas, and the capability to provide seawater injection.
Annual gross production is expected to peak in the range of 40,000-45,000 boe/d. Total estimated recoverable resources for Tubular Bells are estimated at more than 120 MMboe. Drilling is under way, and initial production is expected in 2014. The development is estimated to cost $2.3 billion, with additional commitments for production handling, export pipeline, and oil and gas gathering and processing services.
In August, McDermott was awarded a contract by Williams to transport and install the Gulfstar FPSGS-1 spar hull and moorings. McDermott's DB50 vessel will install the moorings before transporting the spar hull to the installation site where it will be upended and ballasted before installing a temporary work deck. The offshore campaign is expected to begin in 3Q 2013.
Hess has selected Technip for the design, engineering, fabrication, and subsea installation of more than 28 mi (45 km) of flowlines, steel catenary risers, pipeline end terminations, piles, and structures for the Tubular Bells project. Offshore installation is scheduled to be completed with Technip'sDeep Blue pipelay vessel during the first half of 2013.
Meanwhile, Anadarko says it has also found oil in the Heidelberg-2 appraisal well in Green Canyon block 903. The well was drilled to TD of 31,030 ft (9,458 m) in 5,000 ft (1,524 m) of water and encountered 250 net ft (76 m) of oil pay in high-quality Miocene sands.
The successful penetration of high-quality, oil-bearing sands confirmed the continuity of the reservoir, and validated the company's geologic model and initial resource estimate of more than 200 MMbbl of oil. Anadarko plans to immediately side track the well to evaluate the downdip extent of the field, and plans to initiate pre-FEED (front-end engineering and design) activities to prepare for sanctioning a development project.