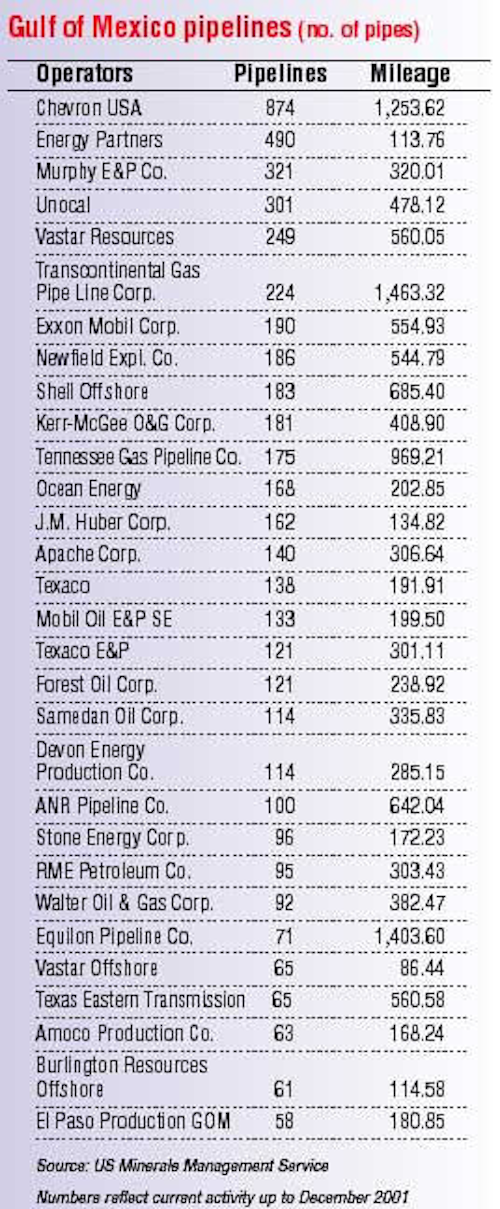 Back in 2000, the US Minerals Manage-ment Service (MMS) predicted 300-500 miles of exclusively deepwater pipelines would be installed in the Gulf of Mexico annually, up to the year 2010. If that pipeline installation figure was attained in 2001, then more pipeline mileage has been shut down than installed in deepwater (>1,000 ft).
A recent table provided by the MMS shows that 4,255 miles of pipelines existed in deepwater in 2000. By 2001, that figure had dropped to 4,121, a deficit of 134 miles. These mileage figures do not include replacement pipelines on the continental shelf to support deepwater operations.
The situation is just the opposite in shallow water. Pipeline installation in shallow water (< 1,000 ft) increased by 1,924 miles. The total miles of pipelines installed in 2001 were 27,100, while the total miles in 2000 were 25,176, an increase of 1,924. This increase was posted, despite the fact that a number of pipelines on the shelf were shut down.
For the entire Gulf of Mexico in all water depths, total pipeline mileage in 2001 was 7,837. That total mileage figure was 7,664 in 2000. The tables do not include lines within state boundaries nor abandoned pipes that have been removed completely.
Installation lull
As of a year ago, deepwater Gulf of Mexico pipelaying became an operators' market. "There are too many contractors and not many projects for all these contractors. The market is saturated," claims J. Mario Fuzetti, Commercial Manager for Saipem Inc.
Line maintenance is one responsibility conventionally shouldered by pipeline contractors. Fuzetti said that the fierce competition among pipeline contractors for contracts in the Gulf has lowered prices to such a degree that these contractors are apparently cutting back on remedial work. With this cutback, there is an increasing risk of pipeline accidents, he said.
The current lull in deepwater pipelaying could simply be market saturation, but some engineers in the industry believe it more likely to be a result of equipment incabable of successfully performing in deepwater. An additional factor is that pipeline installation can be difficult due to harsh environments common in deepwater.
Even though some difficulties exist in laying pipelines in deepwater, Fuzetti predicts that pipelaying may reach water depths of 10,000 ft within the next few years.
Operators' dilemma
With pipelines in greater depths, an eventual problem for operators and contractors may be that maintenance and repair methods get more complicated and expensive. One type of situation that creates maintenance and repair needs as well as intervention is production component crystallization and slug flow. Colder temperatures in deepwater pipelines cause wax to crystallize within oils as the oil temperature drops below the cloud point. The cloud point is the highest temperature at which wax crystal forms.
When physical conditions are right, hydrates form, or waxes and asphaltenes come out of the well stream fluids, plugging up flowlines and processing equipment. This can cause slug flow in the pipeline.