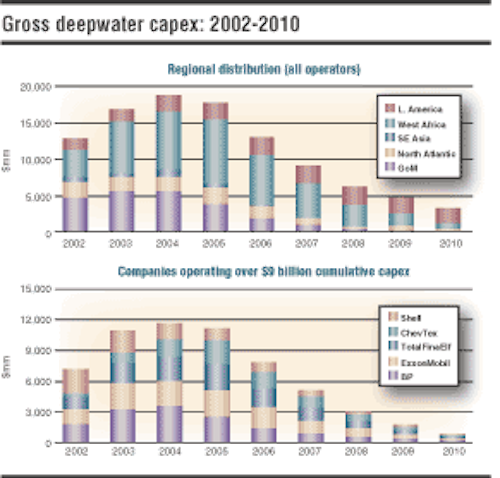 Capital spending on deepwater projects will increase sharply over the next two years, reaching close to $20 billion by 2004, according to forecasts based on industry spending trends and projections. The majority of the expenditures will be in West Africa and the Gulf of Mexico, with BP, ChevronTexaco, ExxonMobil, Shell, and TotalFinaElf controlling more than 60% of the spending because they operate a large percentage of the projects. The capital expenditures (capex) levels shown in the accompanying Gross operated deepwater Capex: 2002-2010 chart represent the amount of capex the operators control through operatorship, not net working interest capex.
PFC's projections incorporate capex figures for projects and discoveries in more than 1,000 ft of water, including some significant discoveries currently under appraisal in the Gulf of Mexico and West Africa. The figures are based on cumulative gross mean capex from more than 120 individual probabilistic project models.
For most of the 23 deepwater operators, a single region overwhelmingly dominates global capex responsibilities through 2010. Exceptions include BP, ChevronTexaco, Shell, and Unocal, each with material capital commitments in two separate areas. Two regions in particular – the Gulf of Mexico and West Africa – account for a considerable portion of anticipated capital outlays in the global deepwater, with West Africa gradually overtaking the GoM by 2003 or 2004, based on the actual or likely development schedules.
The drop in spending after 2005 reflects the fact that the inventory of known discoveries is developed, and in this projection, PFC made no attempt to project future discovery rates or volumes.
The top five global players – BP, ChevronTexaco, ExxonMobil, Shell, and TotalFinaElf – plus regional Petrobras dominate the deepwater operatorships, accounting for over 75% of the identified spending to 2010. An increasing number of smaller companies are entering the arena as operators. Most of the activity for the smaller operators will be in the US Gulf of Mexico, but Amerada Hess and Eni have ventured into West Africa, Unocal and Woodside into Southeast Asia, and Statoil and Norsk Hydro in Norway.
PFC Energy is an energy advisory firm specializing in strategic, economic, political, and commercial aspects of the international oil and gas industry. Their Global Deepwater Competition service provides analysis of over 120 deepwater projects that are aggregated into company and regional deepwater portfolios.
For more information, contact Susan Farrell at Tel: 281-599-7099, email: sfarrell@pfcenergy.com.