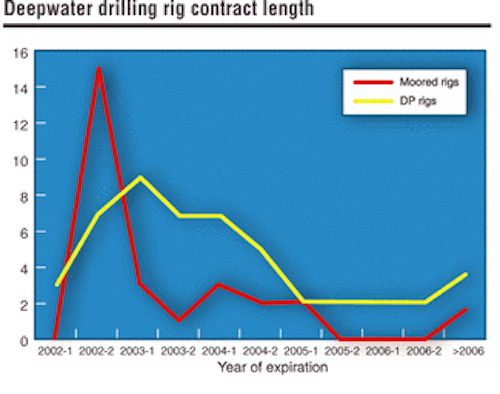 Barry W. Harding
Harding Resources Inc.
Although the building/upgrading of new deepwater rigs has slowed, and many operators find themselves with more rig time than prospects, the tide is about to turn. Expect to see a steady increase in upgraded deepwater rigs entering the market within the next several years, even though the number will be smaller than in the industry's heyday.
At the same time, the consolidation of drilling contractors is not over. Consolidation has also occurred on the operator side of the industry. How the consolidation will affect the deepwater drilling industry is not yet clear. Regardless of the outcome, neither consolidation nor deepwater drilling activity is expected to slow anytime in the near future.
New construction and conversion of offshore deepwater drilling rigs has significantly declined within the last three years. Since Offshore's 2001 Deepwater Drilling Rig Poster was published last July, six rigs have entered the industry's fleet of deepwater units (>3,500-ft water depth capability), bringing the total to 89. Three upgraded semisubmersible rigs, two new-build semisubmersibles, and one drillship that had not previously submitted data are included in this year's survey.
Of the total 89 deep-water rigs, 62 (70%) are semisubmersibles, and 27 (30%) are drillships. The deepwater fleet further breaks down to 53 (60%) dynamically positioned (DP) rigs and 46 (40%) conventionally moored. One interesting fact revealed by the deepwater spreadsheet is that the moored deepwater rigs are outfitted to an average water depth of 5,033 ft, while the DP rigs are capable of an average water depth of 6,408 ft.
Additionally, 74 (83%) of the deepwater rigs are operated by US-based companies, while the remaining 15 (17%) are operated by contractors outside the US.
Rig contract status
An analysis of contract terms shows that the DP rigs have contracts with longer durations than the moored rigs. At present, more moored than DP rigs are idle and available for contract. Five of the eight moored rigs are out of service to be upgraded. The remaining three are available for hire. The four deepwater DP rigs are all in shipyards being constructed or being finished as drilling units.
Upgrade history
Since the beginning of 2000, only 10 deepwater rigs have been upgraded, while in the five years previous to that, 39 were upgraded. Rig modifications included:
Water depth increases
Additional mud pump installation
Derrick strengthening
Riser tensioning
Automated equipment installation
Variable deck load increases
Accommodations upgrades
Mud volume increases
Riser grade increases
A look at the strictly new-built deepwater rigs since 1999 shows that only three moored rigs were proposed for construction, while 28 new DP rigs were built. As so much of the world's drilling activity moves into deepwater, there is an evident trend toward more DP vessel construction.
Area of operation
Nearly two-thirds of the worldwide deepwater drilling fleet is in the Gulf of Mexico or offshore Brazil. These two regions, combined with West Africa, contain 75% of the world's deepwater rigs. Almost half of the world's dynamically positioned rigs are operating off South America, most of them off of Brazil.
Author
Prior to beginning Harding Resources Inc. in 1995, Barry W. Harding worked for offshore drilling contractors as a project manager, principal design engineer, and area rig manager. Barry owned and operated a drilling company in the early 1980s. From 1984 to 1994, he was manager of engineering and drilling operations of the Ocean Drilling Program at Texas A&M University.
---
null
null