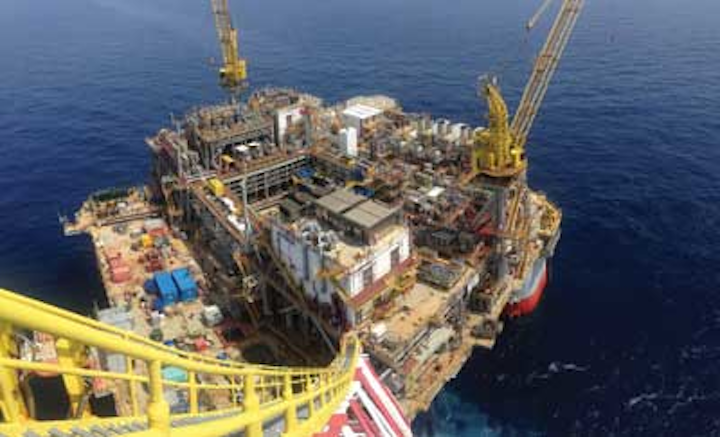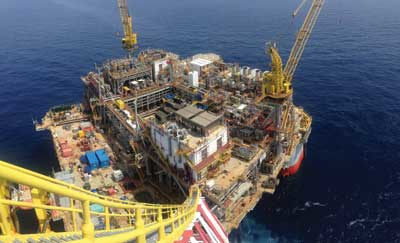 Chevron's Jack/St. Malo fields in the deepwater Gulf have been co-developed with subsea completions flowing back to a single host, semisubmersible floating production unit located between the fields. (Photo courtesy Chevron)

Demand for floating rigs still strong, but jackup demand slowing
Bruce Beaubouef
Managing Editor
As the offshore industry moves into 2015, E&P activities remain robust in the Gulf of Mexico. Demand for deepwater services remains strong, but the combined impact of falling oil prices and rising project costs are beginning to take a toll in some areas, notably in older and shallow-water fields. Work is also winding down in some areas as a number of field development projects are coming onstream.
On the drilling front, floating vessels are largely booked for 2015, but the shallow-water jackup market seems to be down. As of late November 2014, the actively marketed US Gulf drillship fleet was almost fully booked for all of 2015, with about 98% of available days already contracted, according to IHS Petrodata. In addition, the semisubmersible fleet is nearly 84% booked for 2015.
In general, those floaters set to roll completely off contract this year are older, less high-spec units. "If they are not able to secure follow-up jobs in the US Gulf, they are likely to be bid on international programs, or be stacked as a last resort," said Cinnamon Odell, Senior Analyst-Rigs for IHS Petrodata. For operators still in need of a floating rig next year, there are also some sublet opportunities available, as well as several rigs currently under construction that are coming up for delivery that do not yet have firm commitments in hand, she added.
The US Gulf jackup market is in a more precarious state than the floater segment for 2015. "As we prepare to enter the new year, only a little over 8% of the days are already booked for actively marketed rigs," Odell noted. While the past couple of years have seen a turn away from the traditional spot market-style contracting toward term contracting, "in 2015 we are likely to see this reverse," Odell observed. She notes that with so much available capacity, operators can be pickier about the conditions to which they agree. "However, as the number of premium rigs in the region continues to decline, the few remaining should expect to see stronger demand," she noted. "Additionally, if rigs stay idle for too long, they are in danger of being cold stacked in order to reduce costs, which would further reduce availability."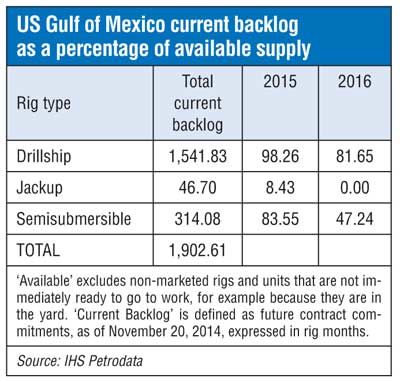 Recent discoveries
There have been at least a couple of notable discoveries in the Gulf in recent months. In late October, Repsol announced that it had a new oil discovery some 352 km (219 mi) from the Louisiana coast in an ultra-deepwater well named León, located in the Keathley Canyon block 642.
Repsol is the operator of the discovering consortium. The well found more than 150 m (492 ft) of net oil pay within a column of over 400 m (1,312 ft). The well was drilled in water 1,865 m (6,119 ft) deep, and reached a total depth of 9,684 m (31,772 ft), making it one of the deepest wells operated by the company. Repsol has a 60% participation in the license, with Colombia's Ecopetrol holding the remaining 40%.
Also in October, Chevron reported an oil discovery at the Guadalupe prospect in the deepwater Gulf. The well encountered significant oil pay in the Lower Tertiary Wilcox sands, the company said. Situated in the Keathley Canyon block 10, Guadalupe lies about 180 mi (290 km) off the Louisiana coast in 3,992 ft (1,217 m) of water. The well reached a depth of 30,173 ft (9,197 m).
Chevron subsidiary Chevron U.S.A., Inc. began drilling the Guadalupe well in June 2014 using Transocean'sDiscoverer India deepwater drillship. More tests are being conducted on the discovery well and additional appraisal wells will be needed to determine the extent of the resource. Chevron U.S.A., with a 42.5% working interest in the prospect, is the operator. Guadalupe co-owners are BP Exploration & Production, Inc. (42.5%) and Venari Resources LLC (15%).
Chevron also announced that it had launched another drilling campaign in the Gulf last fall, when the deepwater drillshipPacific Sharav arrived in the Keathley Canyon area to work under a five-year contract with Pacific Drilling.
ThePacific Sharav is an upgraded dual-load-path, Samsung-12000-design, dynamically positioned drillship, specially modified to accept a dual gradient drilling system, and able to operate in moderate environments and water depths up to 12,000 ft (3,658 m).
"The addition of thePacific Sharav as Chevron's fifth drillship in the deepwater Gulf of Mexico confirms our consistent exploration and development drilling program in the area," said Jeff Shellebarger, president of Chevron North America Exploration and Production Co. "Chevron subsidiaries are among the top lease holders in the Gulf of Mexico, and the area continues to be a key enabler in our growth plans."
For more on deepwater Gulf of Mexico discoveries, see the full survey in this issue starting on page 48.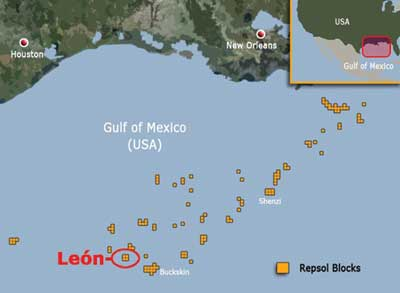 Repsol has announced a new oil discovery in an ultra-deepwater well named León, located in the Keathley Canyon block 642. (Image courtesy Repsol)
Displaying 1/2 Page 1,2,3Next>
View Article as Single page